Green Line E Service Changes
Throughout 2020, we'll be performing maintenance and planned work on the Green Line to bring you better, safer, and more reliable subway service. Some of this work is part of Building a Better T 2020—which accelerates previously planned work so we can deliver results to riders sooner.
Shuttle schedules are subject to change, dependent on weather, city-wide events, and construction progress.
Shuttle Service During Coronavirus
Due to the COVID-19 outbreak, all riders are required to wear face coverings and should leave extra space between themselves and other riders. Shuttle capacity is limited to 20 people.
---
North Station – Lechmere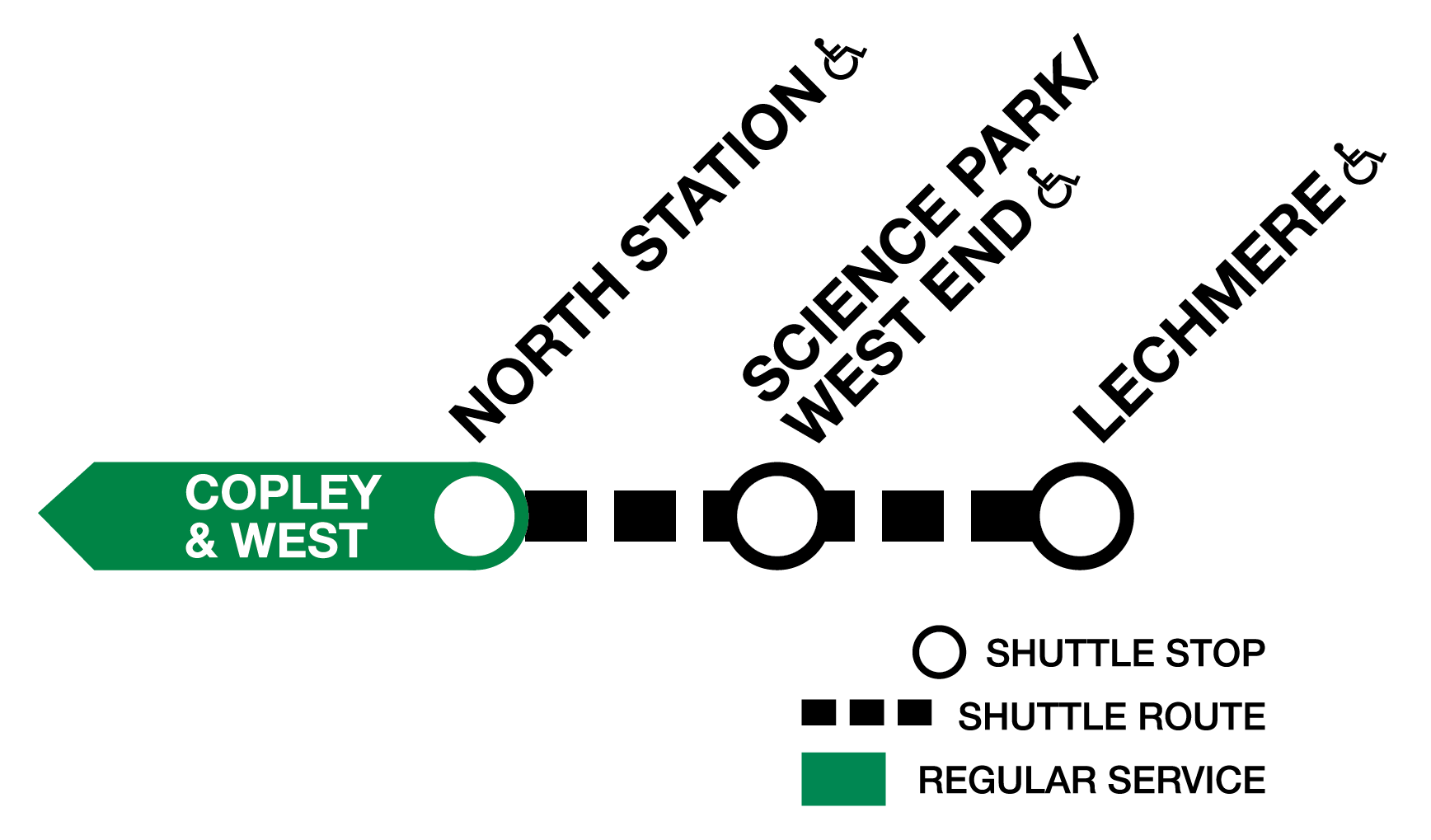 May 24, 2020 – Spring 2021
Shuttles run all day, every day.
This service changes supports work on the Green Line Extension and Lechmere Viaduct.
Shuttle Map
Shuttle Stops
Shuttles will stop in the busway on the Cambridge St side of the station. Riders transferring from local bus routes will need to travel to the other side of the station to board the shuttle buses.
Shuttles will stop on Nashua St in front of the Avalon North Station apartments and the Southwestern entrance to the North Station Commuter Rail terminal.
Riders transferring from the Green Line to the shuttle bus should use the underground passageway to travel from the subway station to the Commuter Rail terminal, then travel to the far end of the Commuter Rail terminal, and exit the building using the doors past the ticket windows.
Shuttle Accessibility

Shuttles are accessible to people with disabilities. Some bus shuttles may be provided by third-party contractors and will look different than MBTA buses. Some may provide accessibility via a lift in the back rather than a ramp in front
---
North Station
October 19 – 25, 2020
For all inbound trains to Copley and west, elevators at North Station will not be available during this week.
Riders on the shuttle from Lechmere who need to use an elevator at North Station can remain on the shuttle and request to be dropped off at Haymarket instead.
---
Trains Run at Reduced Speed
After completing track work, we typically implement speed restrictions while we monitor the tracks to ensure that ballast and other materials have settled properly. Restrictions are lifted after we get confirmation from an engineer, which can sometimes take several days.
Related Work
Building a Better T
As part of our $8 billion, 5-year capital investment plan, we're renovating stations, modernizing fare collection systems, upgrading services for our buses, subways, and ferries, and improving the accessibility of the entire system.
Related Projects