Amtrak Signal Issues - Commuter Rail service information for February 19, 2016
Posted on February 19, 2016
FRIDAY MORNING CHANGES TO COMMUTER RAIL SERVICE IN THE WAKE OF AMTRAK'S SIGNAL SYSTEM FAILURE AT SOUTH STATION
 
Boston - Due to the major Amtrak signal system failure, the commuting problems will persist tomorrow morning.   Like this morning, many MBTA Commuter Rail trains will be unable to access South Station during Friday's morning commute.  Passengers should expect delays throughout the morning commute, and allow extra time for the free transfers to the subway system.    
The departure times for inbound Commuter Rail trains will be the same as any other weekday, but many trains will not travel all the way to South Station.   With the exception of trains on the Franklin and Providence/Stoughton Lines, trains will terminate at outlying stations, where customers can make free connections to the Orange and Red Lines.   The transfer points are as follows: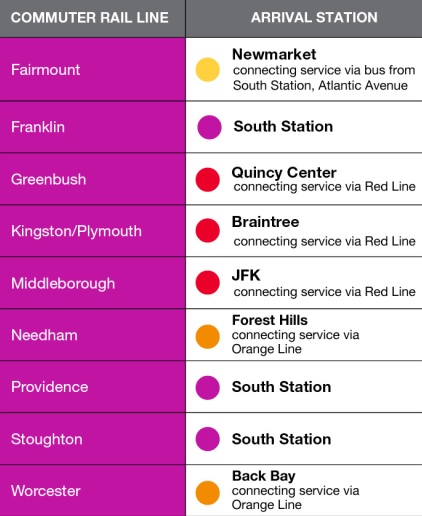 Keolis and the MBTA will continue to provide updates on the Amtrak failure and the impact on service via T-Alerts, on Twitter @MBTA_CR and at 617-222-3200. Passengers are advised to consult MBTA.com for updates for additional information and before beginning their morning commute. The MBTA and Keolis will have staff at several key T stations to help guide passengers, and the call-in help center will have additional staff to assist customers.  

As Amtrak continues the work to correct its major signal problems, the MBTA appreciates the patience of passengers during this service disruption.
More Information