Baker-Polito Administration, Transportation Officials Reveal Red Line Vehicle Mock-up
Posted on August 14, 2018
The public is invited to view the new subway car design at City Hall Plaza:
Tuesday, August 14, 2:30 PM – 7 PM
Wednesday, August 15, 7 AM – 7 PM
Thursday, August 16, 7 AM – 7 PM
Learn more about the new Red and Orange Line vehicles
---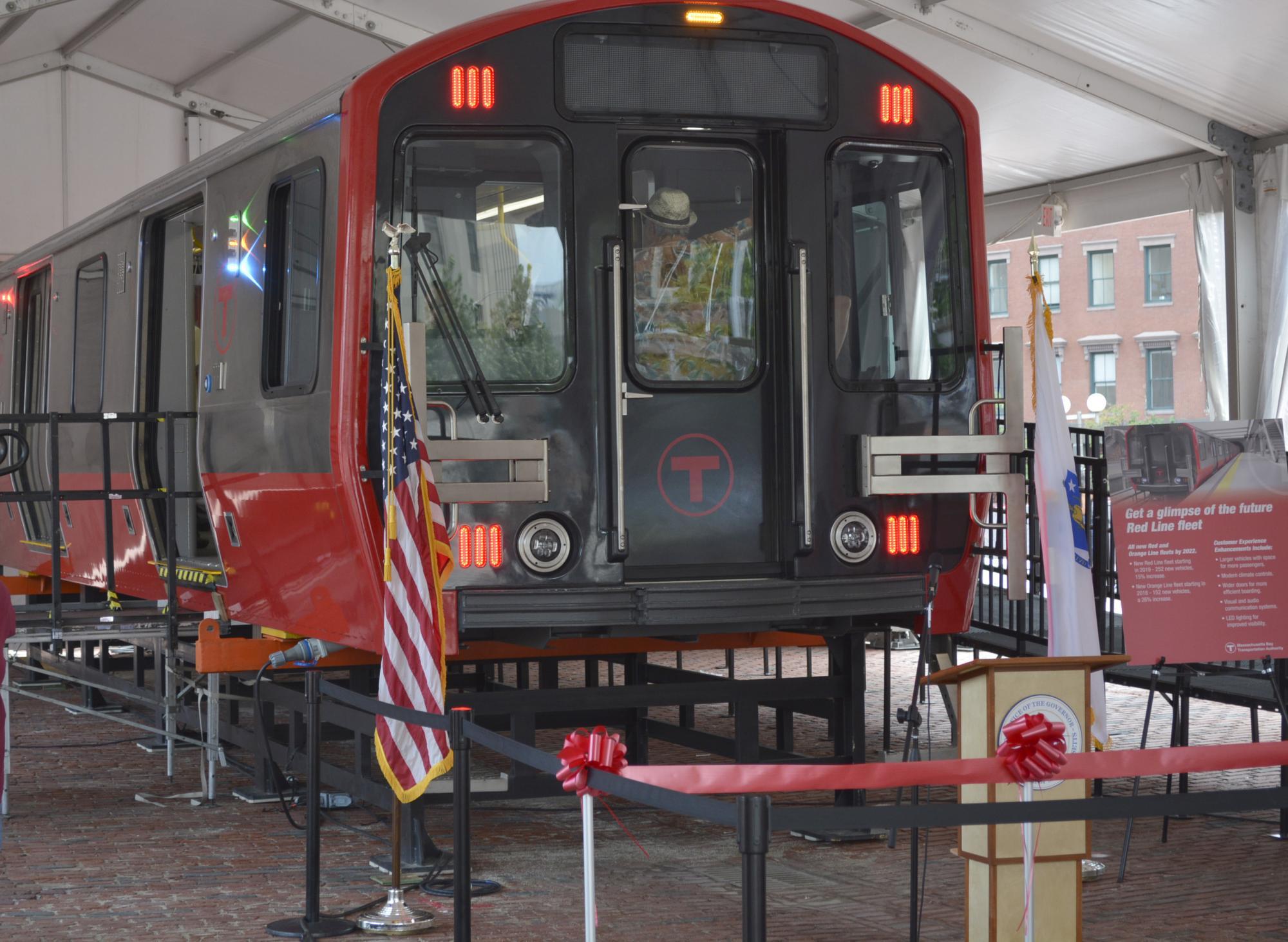 Today Governor Charlie Baker, Massachusetts Transportation Secretary and CEO Stephanie Pollack, MBTA General Manager Luis Ramírez, CRRC leadership, and more viewed a mock-up of the new Red Line car at City Hall Plaza. The public is also invited to view the Red Line mock-up staged at City Hall Plaza beginning today until 7 PM and Wednesday, August 15, and Thursday, August 16, from 7 AM until 7 PM.
"Our administration is investing over $1 billion to completely replace the fleets of the Red and Orange Lines, in addition to upgrading track and signals throughout the system to support the new cars," said Governor Charlie Baker. "Through all of these investments in the core infrastructure of the MBTA, we will be able to deliver a more reliable system for our customers."
"The new Red Line cars will provide increased capacity and upgraded technology, offering MBTA customers a more comfortable ride," said Lt. Governor Karyn Polito. "Unveiling this mock-up today is an important milestone, and we encourage members of the public to come to City Hall Plaza and tour the new cars."
"New fleet vehicles are just one of the many investments being made by the Baker-Polito Administration to improve the customer experience and improve service," said MassDOT Secretary Pollack. "The MBTA is investing nearly $2 billion in the Red Line as part of the Red Line/Orange Line Improvement Program, which includes procuring these new Red Line vehicles. The upcoming new fleet for the Red Line, coupled with new and improved track, signals, and other core infrastructure upgrades translates to a better, more reliable service for MBTA customers."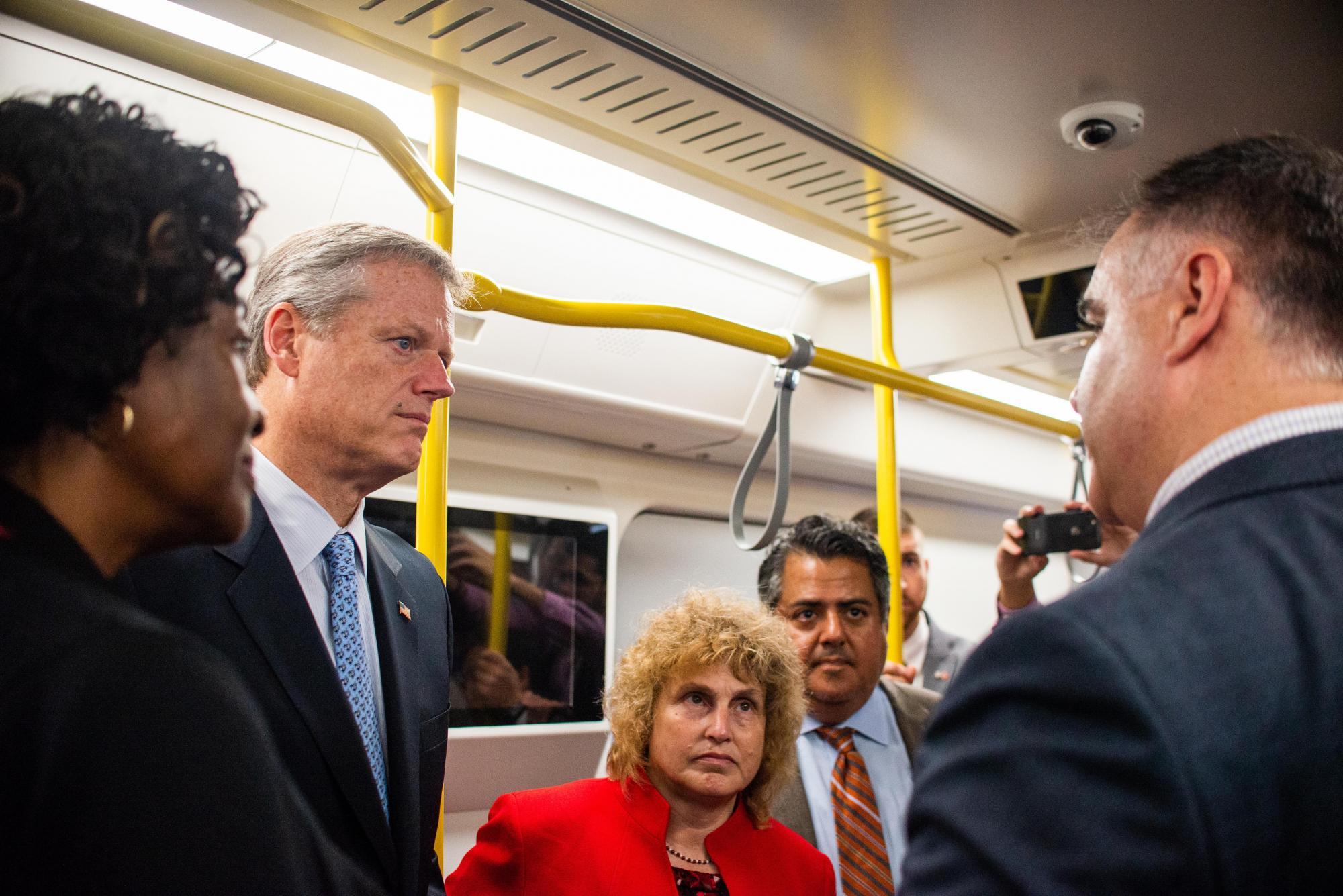 "This mock-up is just a preview of what's to come for Red Line riders. Increased capacity, technology-enhanced signage, and accessibility improvements are just some of the advanced features included on the new cars, giving our Red Line customers a more reliable ride," said MBTA General Manager Ramírez. "We encourage everyone to check out this mock-up car on City Hall Plaza and let us know what they think so we can incorporate the public's feedback into the new Red Line cars' final design."
"BTD is delighted that the MBTA is upgrading their fleet of Red and Orange Line trains. Offering affordable, reliable, and more comfortable transit on the Red and Orange Lines will entice more people to leave their personal cars at home and take public transportation into the City each day," said City of Boston Transportation Commissioner Gina N. Fiandaca. "Fewer cars operating in Boston will result in safer and less congested streets, and represents another step taken toward meeting our Go Boston 2030 goals."
"We embrace the opportunity to partner with the MBTA on that signature project," said CRRC MA President Chuanhe Zhou. "Together we have reached yet another milestone in introducing new subway cars to customers and visitors to Boston. We look forward to continued success and a prosperous partnership."
In 2014, the MBTA awarded CRRC MA the contract to design and manufacture the new Orange and Red Line subway cars with the MBTA's Fiscal and Management Control Board voting in December 2016 to replace the entirety of the Red Line fleet with new cars. New, modern vehicles, including 152 Orange and 252 Red line subway cars, comprised of the same make and model have multiple operational and maintenance benefits, and customers will be provided with more trains that run more frequently and reliably.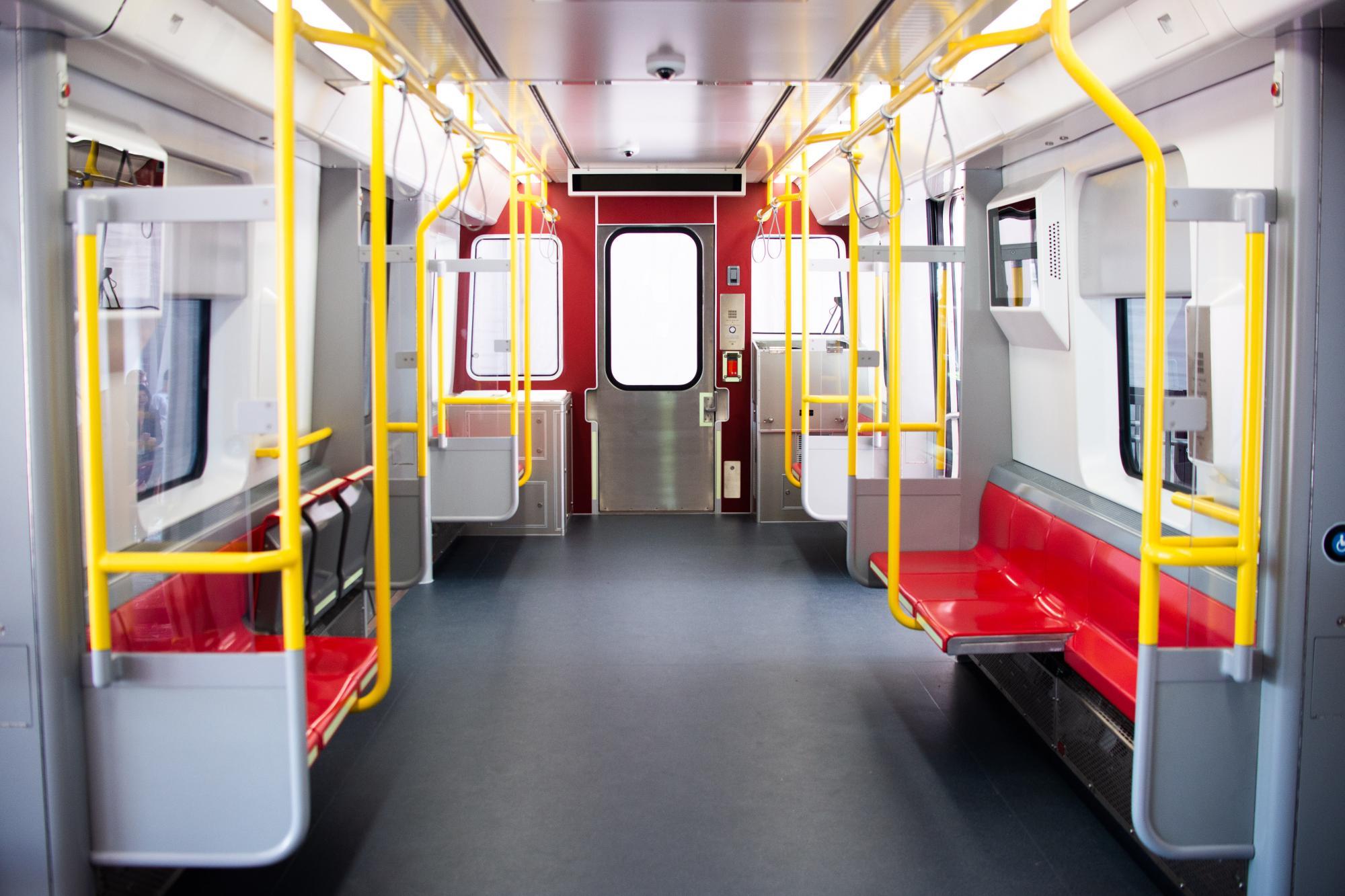 The mock-up is two-thirds the actual size of the new cars and showcases amenities and aesthetics to be included within the new cars. MBTA staff traveled to Changchun, China, in March 2018 to evaluate the Red Line mock-up car, which was also used by the MBTA and CRRC MA engineers during the vehicle development process.
With feedback from the public, the vehicle's modern design boasts increased capacity, accessibility improvements, technology-enhanced signage, and emergency intercom units. The new cars have the latest propulsion and braking systems, allowing the achievement of a 3-minute headway target, reducing customer wait times. A standardized Red Line fleet comprised of entirely new cars also allows the MBTA to implement a life-cycle maintenance program, resulting in better maintained vehicles, fewer disabled trains causing service disruptions, and an extended service life of at least 30 years. Accessibility improvements include wider door openings for easier boarding, minimized gaps between platform and car door, dedicated accessibility areas, and technology advanced audio and visual passenger information.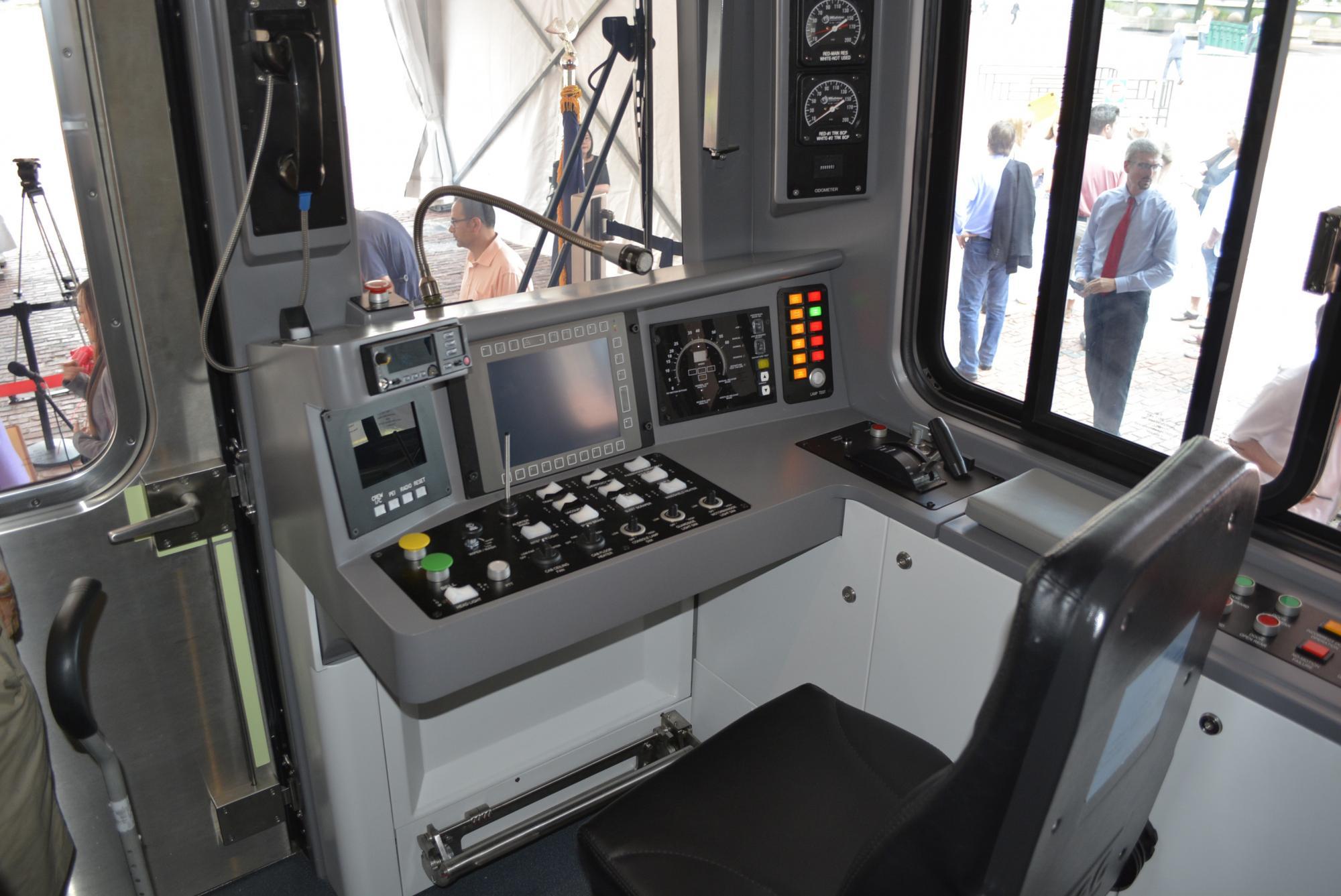 Construction of CRRC MA's first North American rail car manufacturing facility in Springfield, Massachusetts was completed in April 2018 with the facility equipped with a 2,240-foot dynamic test track and a staging/storage area to accommodate the assembly of all 404 railcar vehicles for the MBTA.
Assembly of the new Orange Line cars is underway at CRRC MA's Springfield facility with the first Orange Line production cars scheduled to be completed in December 2018. The assembly of new Red Line vehicles will follow beginning in summer 2019 and will be tested on an area of test track in South Boston. Delivery of both fleets will continue through 2022 with all production vehicles assembled and tested in the CRRC MA facility in Springfield.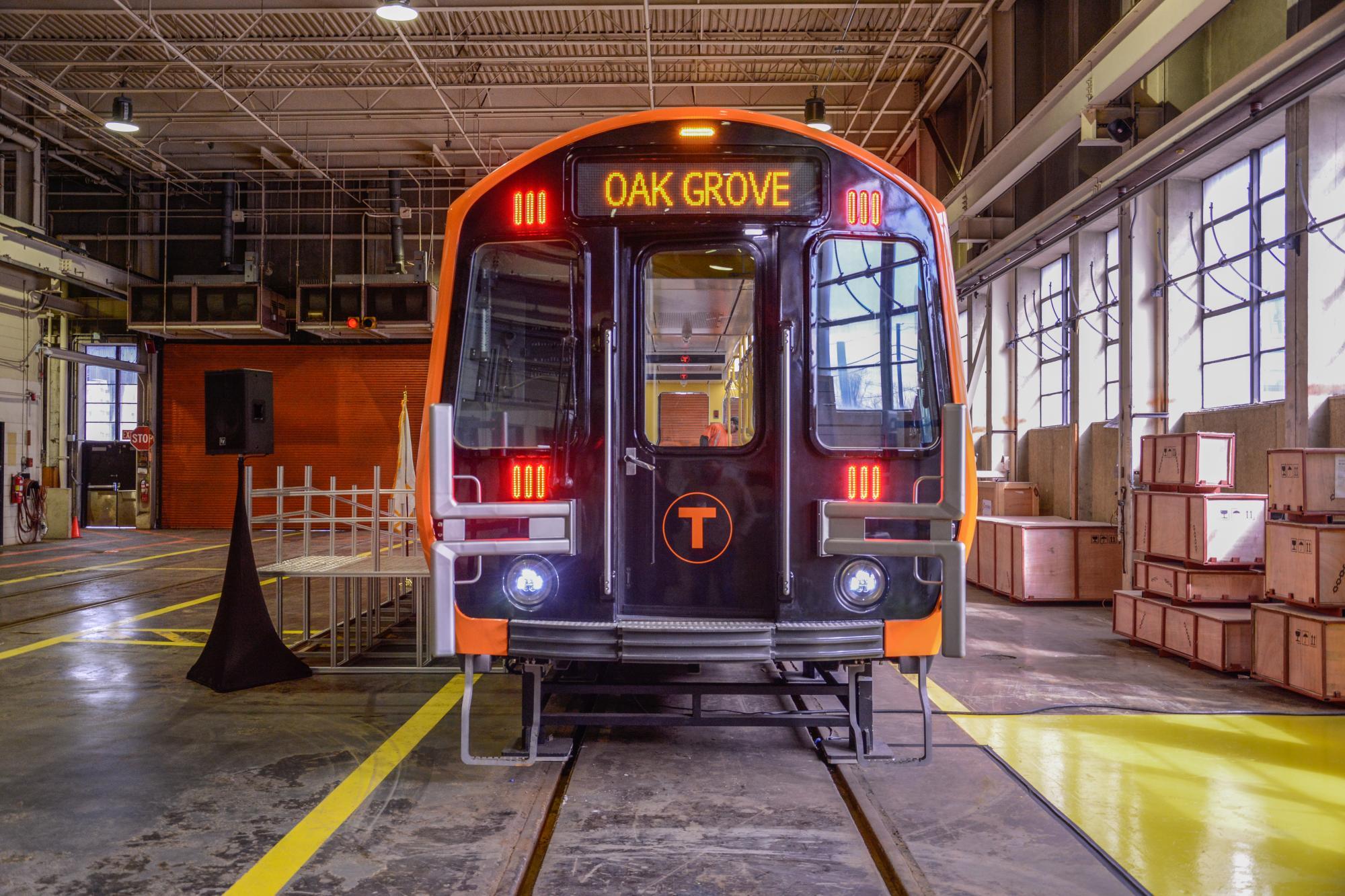 Orange and Red Line signal upgrades also continue to take place with work on both lines. Substantial Red Line upgrades are expected to be completed in July 2021 and substantial Orange Line upgrades are expected to be completed in February 2022. These $350.95-million investments include a complete upgrade to the signaling and train control systems for both the Red and Orange Lines as well as Phase II work performed at Columbia Junction on the Red Line and wayside signal replacement work along the southwest corridor of the Orange Line.
Total value of the New Vehicle Procurement Program is nearly $1,010 million. The total value of the Red Line/Orange Line Improvement Program as a whole, which includes vehicle procurement, infrastructure improvements, signal upgrades, and state of good repair projects, is $1,982.03 million.
More Information
Media Contact Information
For all queries and comments, please contact:
MassDOT Press Office