Update on Red Line Service Improvements
Posted on August 9, 2019
Signals restored between Broadway and JFK/UMass.
Progress results in average time savings of approximately 5 minutes.
Red Line operating enhanced service during mid-day.
Efforts continue to focus on Braintree and Ashmont branches south of JFK/UMass.
---
Today the MBTA announced that Red Line restoration efforts have resulted in a number of service improvements. 
Major signal work has been completed in a key area of signals between Broadway and JFK/UMass Stations, allowing the MBTA to now run the regularly scheduled 28 trains throughout the Red Line during rush hour. The restoration of the signals between Broadway and JFK/UMass was followed by several consecutive days of operational testing to ensure the system was properly functioning and could be monitored and controlled by the MBTA's control center. Restoring this key segment of the signal system has also allowed the MBTA to improve travel times, resulting in a time savings of approximately five minutes for customers.  
"These service improvements are an important milestone as the MBTA progresses towards full restoration of service. It will result in a noticeable improvement in Red Line service for our customers," said MBTA General Manager Steve Poftak. "I want to express my deep gratitude to our customers for their patience as we continue toward a full recovery. I also want to thank our entire workforce and contractors for their continued commitment to working seven days a week to restore the Red Line to regular service."
Regular, Pre-Derailment Levels
Prior to the derailment, these regularly scheduled 28 trains were scheduled in the rush hours with about 14 trains running per hour on the Red Line, or about 1 train every 4 to 5 minutes. During the mid-day, the Red Line also ran between 9 and 10 trains per hour.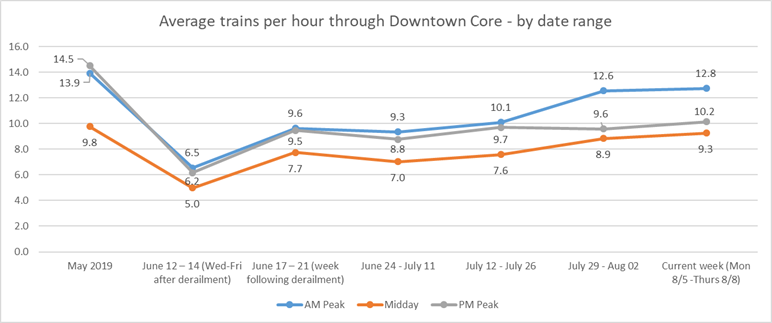 Post-Derailment Levels
In the days that followed, the Red Line was only able to run about 6 trains per hour during rush hour service, or 1 train approximately every 10 minutes. During the mid-day of the days that followed, the Red Line ran about 5 trains per hour.
Due to the significantly damaged automatic signaling system, a manual operation was put in place on the Braintree branch from Broadway to North Quincy and on the Ashmont branch from Broadway to Fields Corner. The process of manually moving each train through each station in these sections of the Red Line required about 57 personnel in the field every day.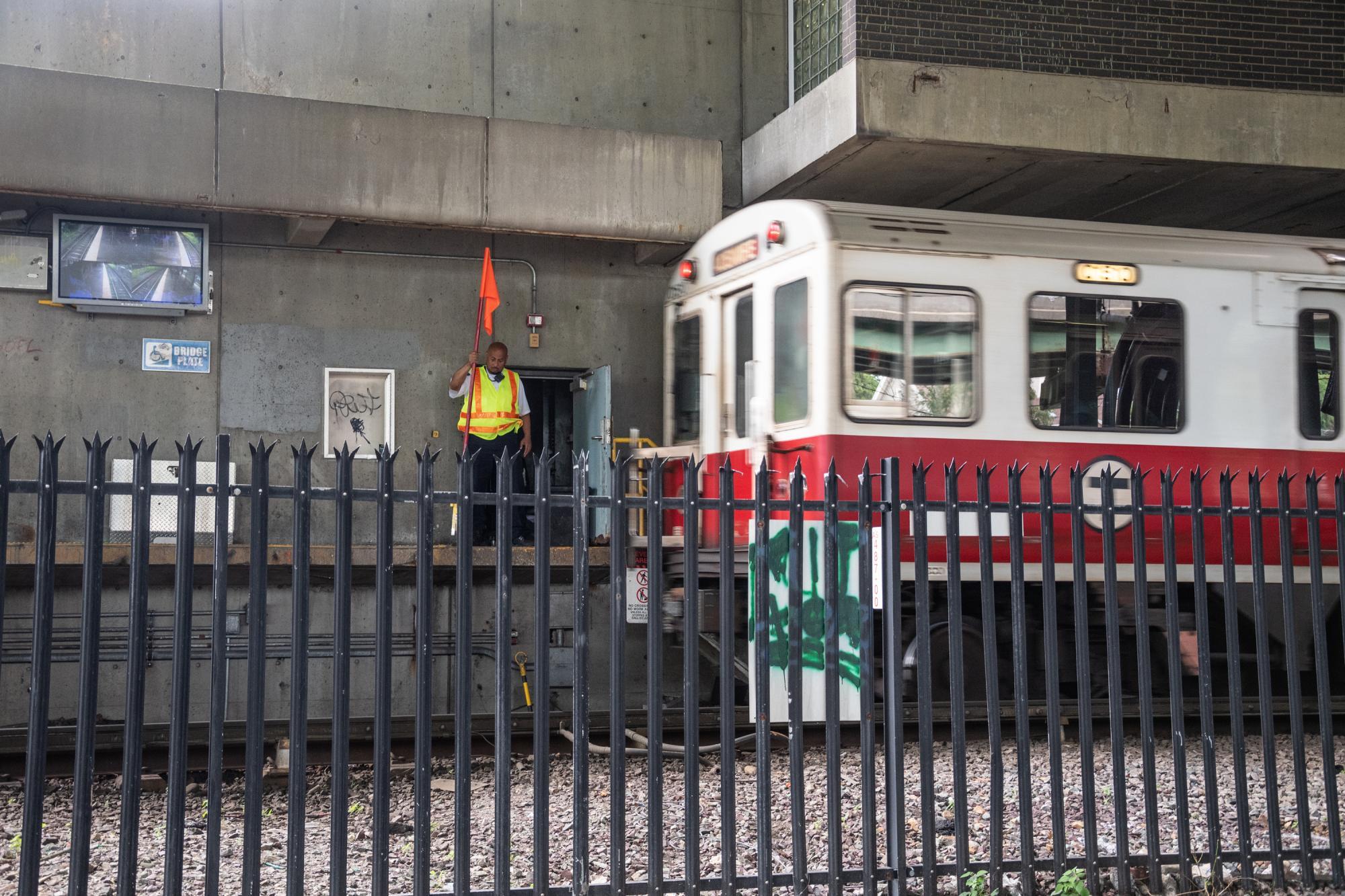 Today's Current Levels
Due to the incremental restoration progress and continued increase in service, the MBTA continues to near pre-derailment rush hour levels: 28 trains are back on the Red Line during rush hour periods with the MBTA this week running an average of about 12 to 13 Red Line trains in the morning rush hour and between 10 and 11 trains in the evening rush hour, or about 1 train about every 5 to 6 minutes during rush hour.
In addition to increasing the number of trains in service and the time savings, restoring signals between Broadway and JFK/UMass is allowing the T to run additional Red Line service outside of rush hour. This week, the T began operating 3 additional trains between the hours of 1 PM and 3 PM in an effort to provide more frequent Red Line service and to minimize any potential crowding during the middle of the day.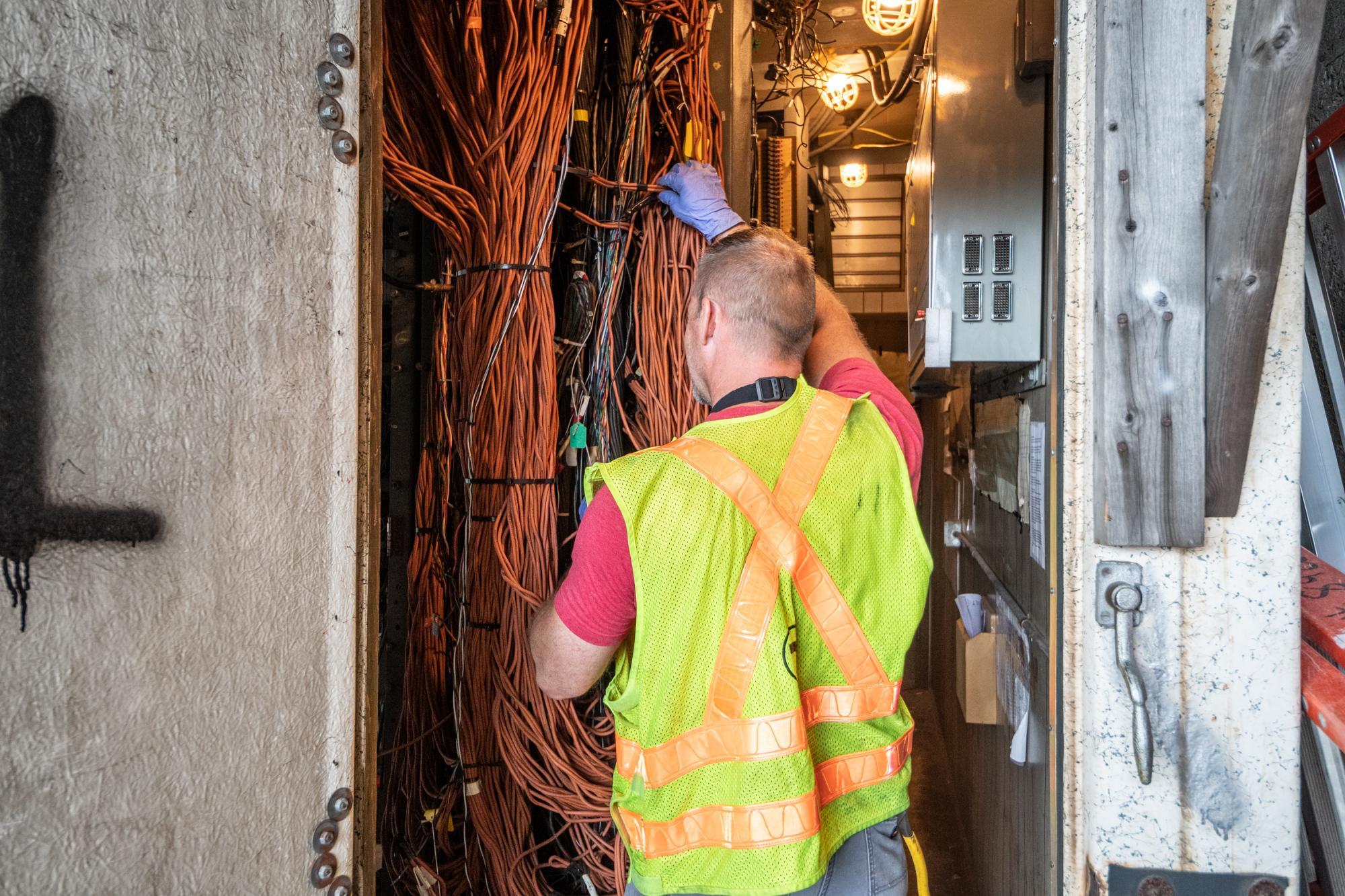 Incremental improvements continue with MBTA forces and contractor personnel working 7 days a week to make repairs to signals, communications, and power infrastructure. One month after the derailment on July 11, 3 signal bungalows had been rebuilt, a fourth signal bungalow was constructed, and repairs were made to numerous signals, switches, nearly 20 miles of signal cable, hundreds of signal control relays, dozens of track circuits, and numerous other pieces of related equipment. 
As of this week, major signal work has been completed between Broadway and JFK/UMass. Work is progressing in repairing train control signals, track signals, and electronic track switching controls with the goal of continuing to bring the Red Line back to regular service. 
With the restoration of the signals between Broadway and JFK/UMass, the area of manually dispatching and moving trains between stations has been shortened and scaled back to 2 areas between JFK/UMass and North Quincy on the Braintree branch and to between JFK/UMass and Fields Corner on the Ashmont branch. This manual operation currently requires about 41 personnel in the field per day.
What To Expect Next
MBTA and contractor personnel continue their efforts on restoring the signal system where the manual operation is currently: between JFK/UMass and Fields Corner on the Ashmont branch and between JFK/UMass and an area of the track near Tenean Beach on the Braintree branch. As previously announced, repair work specific to these final areas is expected to last through October with incremental improvements before then continuing. 
MBTA and Red Line Investments
The $8 billion that the MBTA plans to spend over the next 5 years is the most in any 5-year period ever—and this funding will have tangible results and provide a more reliable ride for our customers.
The MBTA is investing nearly $2 billion in the Red and Orange Line improvement program, which will completely replace the cars, replace the signal systems, and upgrade track and maintenance facilities for both lines.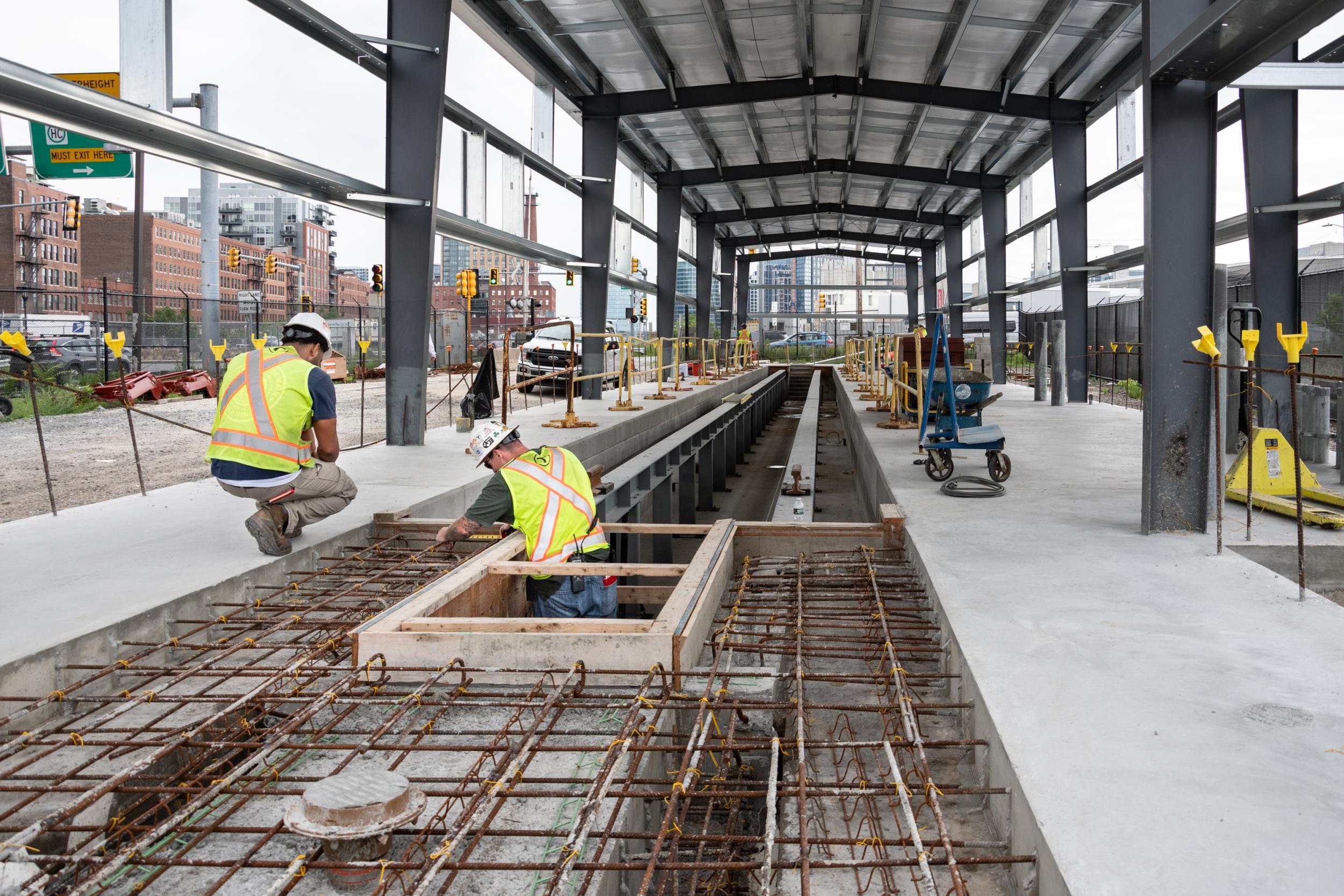 The MBTA is investing $350 million on the signal systems and $470 million for track and maintenance facility upgrades.
The MBTA is working to deliver 252 new Red Line cars and expects the first Red Line pilot car to be delivered later this summer.
The MBTA has also made a number of investments along the Red Line since 2015 including replacing third rail, replacing track, and signal work.
More Information
Media Contact Information
For all queries and comments, please contact:
MassDOT Press Office