Building a Better T: MBTA Announces Results of 4 Winter 2020 Orange Line Diversions
Posted on February 19, 2020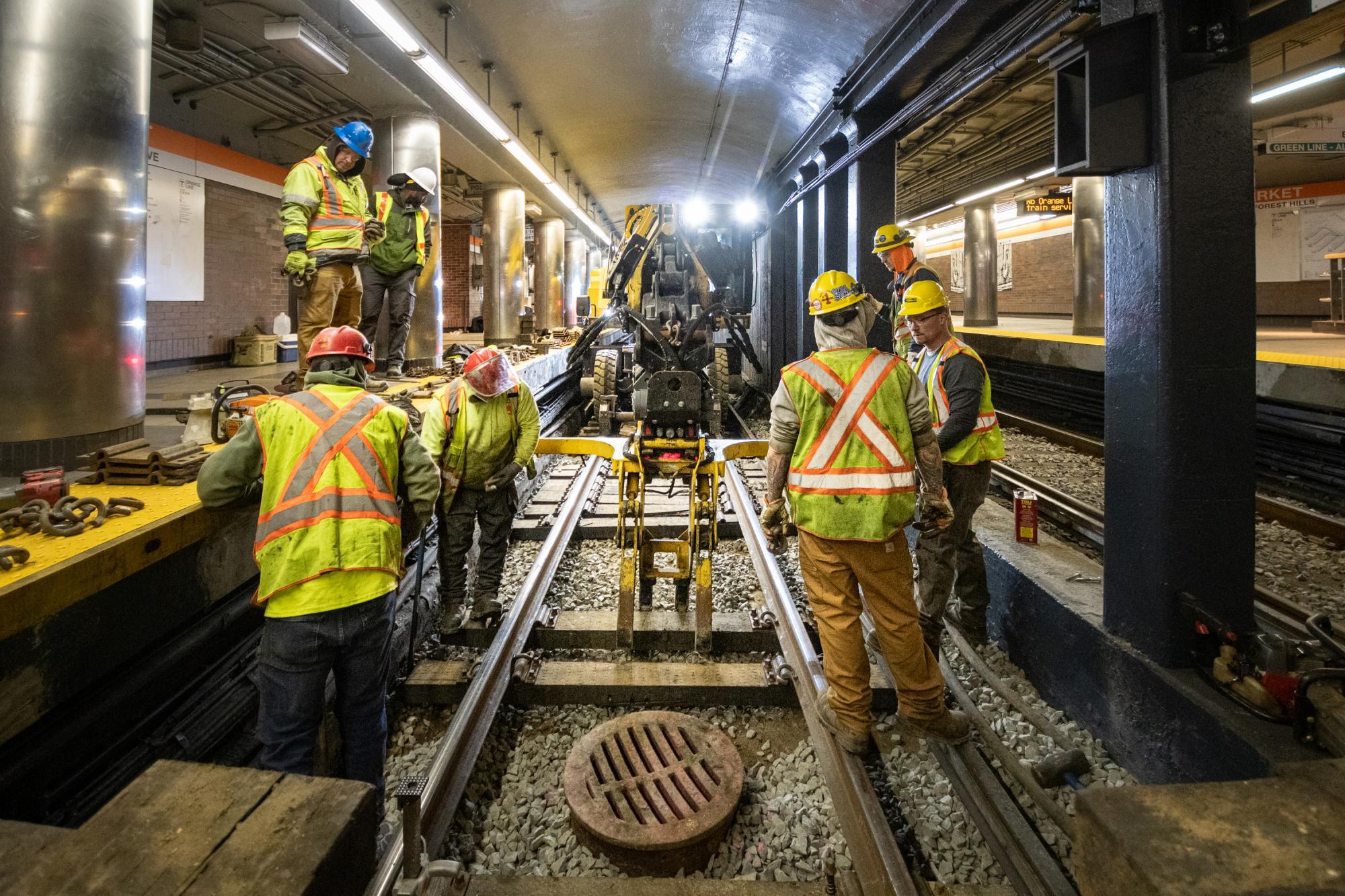 Today, the MBTA announced the results of its efforts to accelerate system investments during the course of 4 weekend diversions on the Orange Line that took place this January and February, which included the replacement of approximately 1,400 feet of track, platform repairs, and other station improvements at several Orange Line stations.
The accelerated work is part of the T's ongoing $8 billion, 5-year infrastructure investment program, which focuses investments on core infrastructure with the goal of expediting improvements to the safety and reliability of the MBTA.  
 
"Through these 4 weekend diversions on the Orange Line, the MBTA was able to make system investments resulting in noticeable improvements in service that would otherwise have taken over 5 months under traditional methods," said MBTA General Manager Steve Poftak. "While we understand these diversions create an inconvenience, they provide the opportunity to proactively plan for replacement service, communicate our plans to customers, and increase the amount of work that can take place during a single diversion." 
During the 4 closures, the MBTA was able to replace approximately 1,400 linear feet of track on the Orange Line at North Station, State, and Haymarket. Specifically, track replacement in both directions at North Station totaled 1,040 feet; 150 feet of track was replaced at State; and 204 feet of track was replaced at Haymarket.  
In some cases, station track is over 30 years old, and while still safe, has reached its serviceable life. Following track work, the MBTA typically implements speed restrictions as a safety precaution, and customers should expect these to last for several days while the T monitors the proper settlement and consolidation of new track and stone ballast. Speed restrictions are lifted once engineers have confirmed proper settlement has occurred. 
Additional Orange Line work during the 4 diversions included:
Replacement of tactile edges in both directions at Chinatown, Haymarket, and North Station;
Platform edge repairs at Chinatown, Downtown Crossing, State, Haymarket, and North Station;
Painting of the track area at Haymarket in the southbound direction;
240 linear feet of tie replacement;
The overhaul of 37 fare gates at Community College, North Station, Tufts Medical Center, and Sullivan Square;
Stair repairs at Downtown Crossing and Chinatown.
These 4 diversions are in addition to previously planned investments in 2020 that seek to improve service, safety, and reliability on a faster timeline. The scope of projects planned for this year will include additional diversions of weekend service on all rapid transit lines and several Commuter Rail lines. In addition to a number of weekend diversions on the Green Line, the MBTA is planning for 2 1-month shutdowns on the Green Line: the C Branch in July and the E Branch in August. 
 
The 2020 Infrastructure Acceleration Plan schedule compresses a series of core investments that would have taken 8 years under traditional methods into just 1, and will result in improved service that is safer, faster, and more reliable.  
More Information
Media Contact Information
For all queries and comments, please contact:
MBTA Press Office