Reminder: No Green Line Service at Government Center Station This Weekend
Posted on February 26, 2020
Customers are asked to instead transfer to the Orange Line for parallel service.
Regular weekend Blue Line service will operate through Government Center.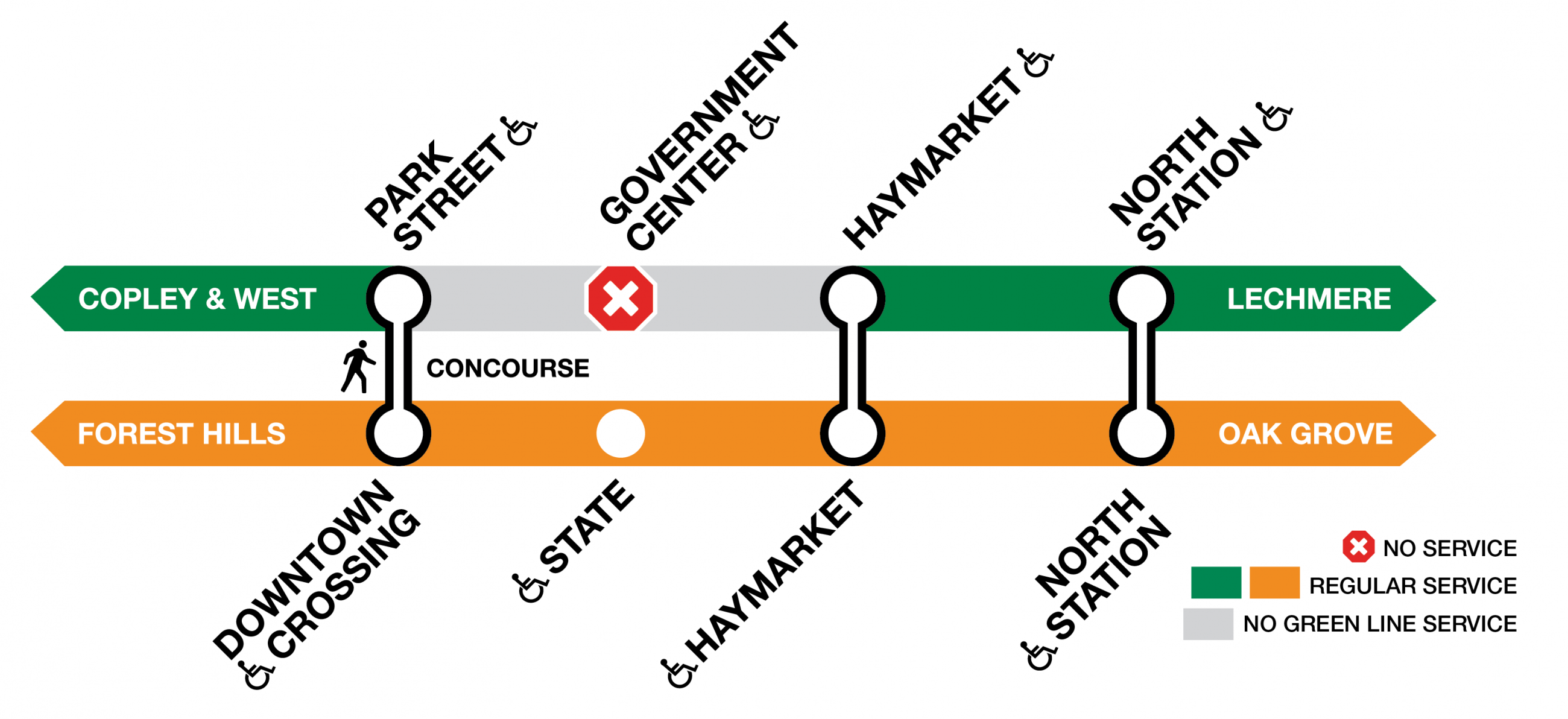 Today the MBTA reminded customers that Green Line train service will terminate at Park Street and Haymarket Stations with no Green Line service at Government Center Station this weekend. This change will take place with the start of service on Saturday, February 29, through the end of service on Sunday, March 1, with regular Green Line train service resuming through Government Center at the start of service on Monday, March 2. Regular Blue Line service will operate as scheduled at Government Center this weekend.
During this weekend change in service, MBTA crews will perform track work at the Green Line level of Government Center, specifically in the area of the "Government Center Loop" where Green Line trains are able to turn around and change directions. The work accomplished this weekend will allow the MBTA to remove a long-standing speed restriction in this area, permitting trains to move through Government Center more quickly. This track work will also support the Green Line Transformation and Green Line Extension programs as Green Line trains are anticipated to turn more frequently at Government Center during the upcoming GLT and GLX construction starting this May. 
For destinations beyond Park Street, customers are asked to instead transfer to the Orange Line at Downtown Crossing Station via the Winter Street Concourse and then transfer back to the Green Line at Haymarket or North Station. For destinations beyond Haymarket, customers are asked to instead transfer to the Orange Line at North Station or Haymarket for Orange Line service to Downtown Crossing where customers can reconnect to the Green Line via the Winter Street Concourse at Park Street.
Accessible vans are available at Haymarket, Government Center, and Park Street for customers in need of accessible accommodations. Customers can see MBTA personnel or use a call box for assistance. 
Following track work, the MBTA typically implements speed restrictions as a safety precaution, and customers should expect these to last for several days while the T monitors the proper settlement and consolidation of new track. Speed restrictions are lifted once engineers have confirmed proper settlement has occurred. 
More Information
Media Contact Information
For all queries and comments, please contact:
MBTA Press Office