MBTA Celebrates Winchester Center Commuter Rail Station Groundbreaking
Posted on June 30, 2022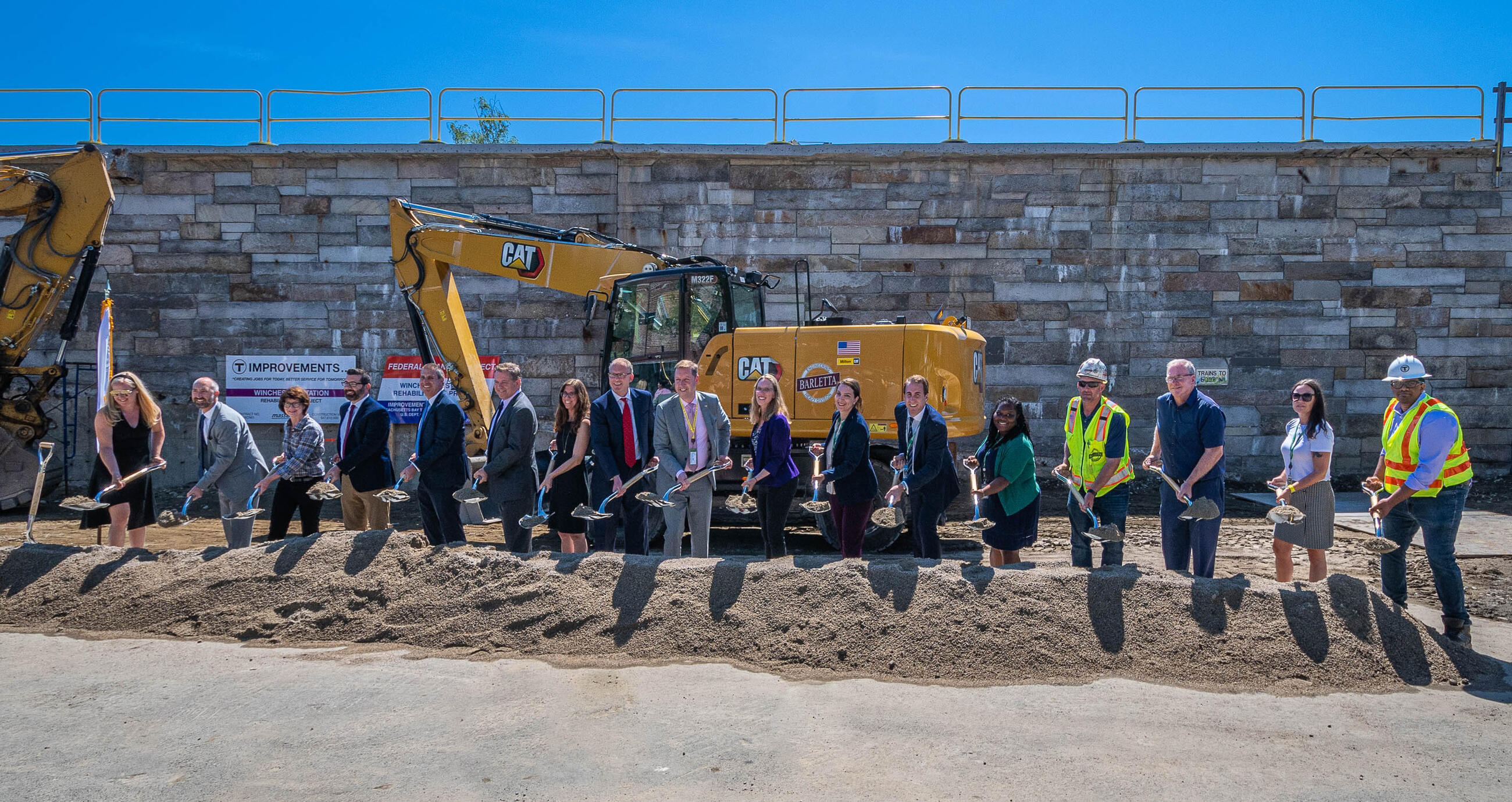 Massachusetts Transportation Secretary and CEO Jamey Tesler and MBTA General Manager Steve Poftak today joined state and local elected leaders as well as community partners to celebrate a groundbreaking at Winchester Center station on the Lowell Commuter Rail Line.
"Winchester Center station is an example of the MBTA collaborating with the communities it serves to make important safety upgrades while also improving the customer experience. These efforts continue to deliver on the Baker-Polito Administration's commitment to providing reliable, accessible service for all riders," said Transportation Secretary and CEO Jamey Tesler. "I thank the MBTA for its work on this project and for continuing to prioritize infrastructure investments like this renovated station, and we thank those who continue to support critical capital investments as we modernize the T."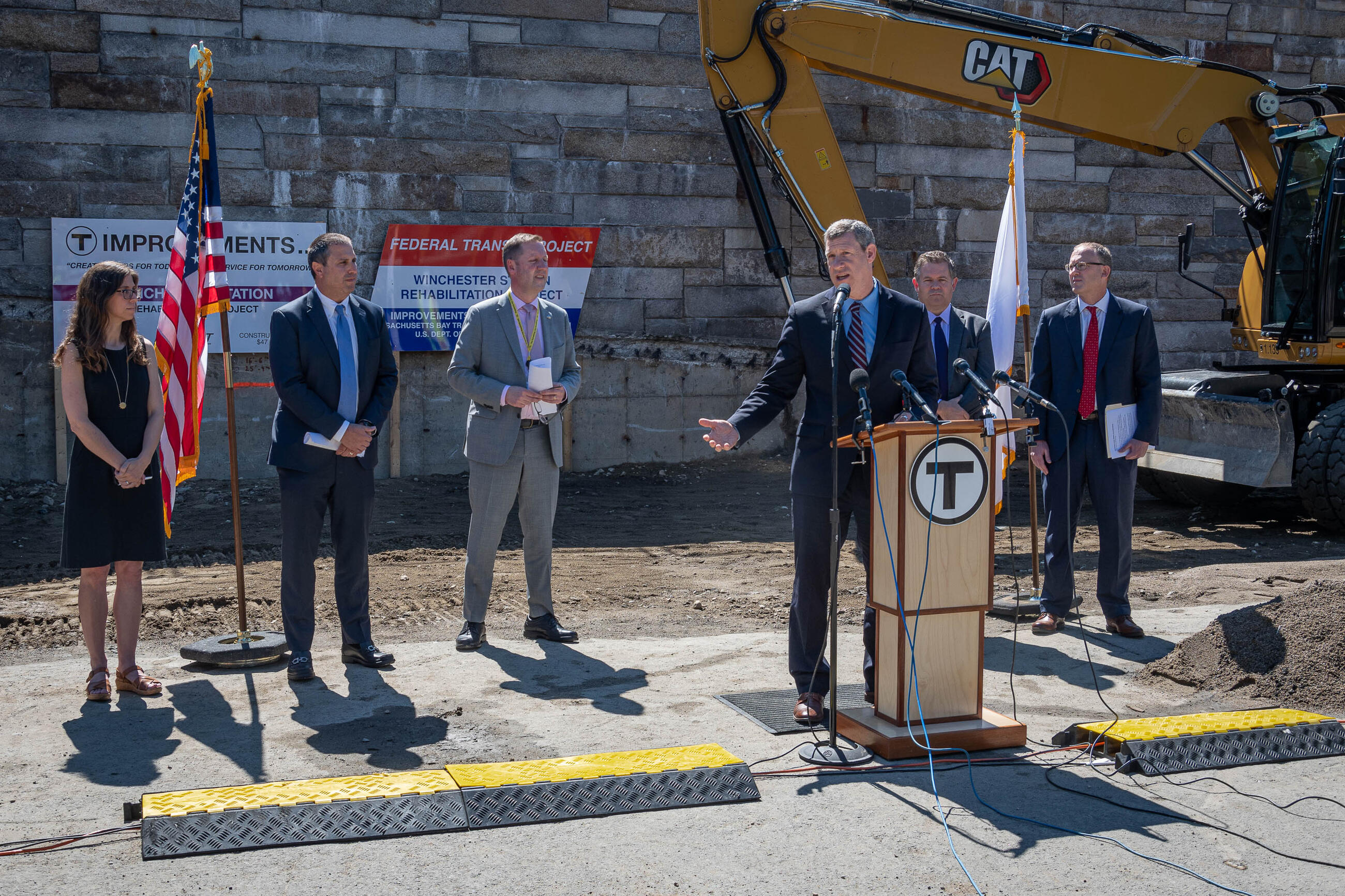 "Allowing for important safety upgrades, increased station capacity, and improved accessibility for people of all abilities, renovating Winchester Center station is an important investment in our Commuter Rail infrastructure with many upgrades to come for riders," said MBTA General Manager Steve Poftak. "We're pleased to celebrate this groundbreaking here today and look forward to celebrating the re-opening of Winchester Center station when complete. Thank you to our partners at MassDOT, local leaders, transportation advocates, and our riders for their support as we work to complete this project."
"I am excited to see the Winchester Center station rebuild get underway and appreciate the work done by everyone at the MBTA and the residents and officials of Winchester who made this project a reality," said Representative Michael Day. "This project is an historic investment and partnership between the state and the town and will serve as a model for other communities throughout Massachusetts. When completed, the station will be a centerpiece to our vibrant downtown and will be a welcoming beacon for residents, commuters, and visitors to Winchester."
"It is a small miracle that the Winchester Center Commuter Rail station is now under construction given the many twists and turns and obstacles that this project has faced over the past decade," said Senator Jason Lewis, who has long championed the renovation of this station. "The new station will be a great asset to the Winchester community and the entire regional public transit system. I want to thank the MBTA; my fellow members of the Winchester delegation, Senator Jehlen, and Representative Day; and the many Winchester local officials, commuters, and residents who have contributed to moving this project forward over the years. I'm very excited for the day when the brand new station will open."
Winchester Center station was closed for repairs in January 2021. The station, which had not had any major updates since the 1950s, was in need of repairs and did not meet current accessibility standards. 
The upgraded Winchester Center station will be completely renovated to include structural safety repairs and improvements to safety, accessibility, and station capacity. With a construction cost of approximately $50 million, the improved Winchester Center station will feature brand new high-level and accessible platforms to allow for easy boarding and to accommodate longer, nine-car trains that increase station capacity. Additional updates include reconstructing access ramps and adding new elevators for better accessibility; upgrading canopies, signs, railings, and lighting for safety and security; adding benches, bike racks, a public address system, and other amenities for comfort and convenience; and updating walkways, sidewalks, and parking lot areas. The updated and improved Winchester Center station is anticipated to open to Lowell Line riders in spring 2024.
More Information on Work This Summer, Fall, and Winter
Work at Winchester Center station this summer includes continued demolition work and the installation of micropiles. The neighboring community should expect increased noise from construction activity including heavy equipment and machinery. Work will primarily take place during the day, Monday through Friday, from approximately 7 AM to 5:30 PM.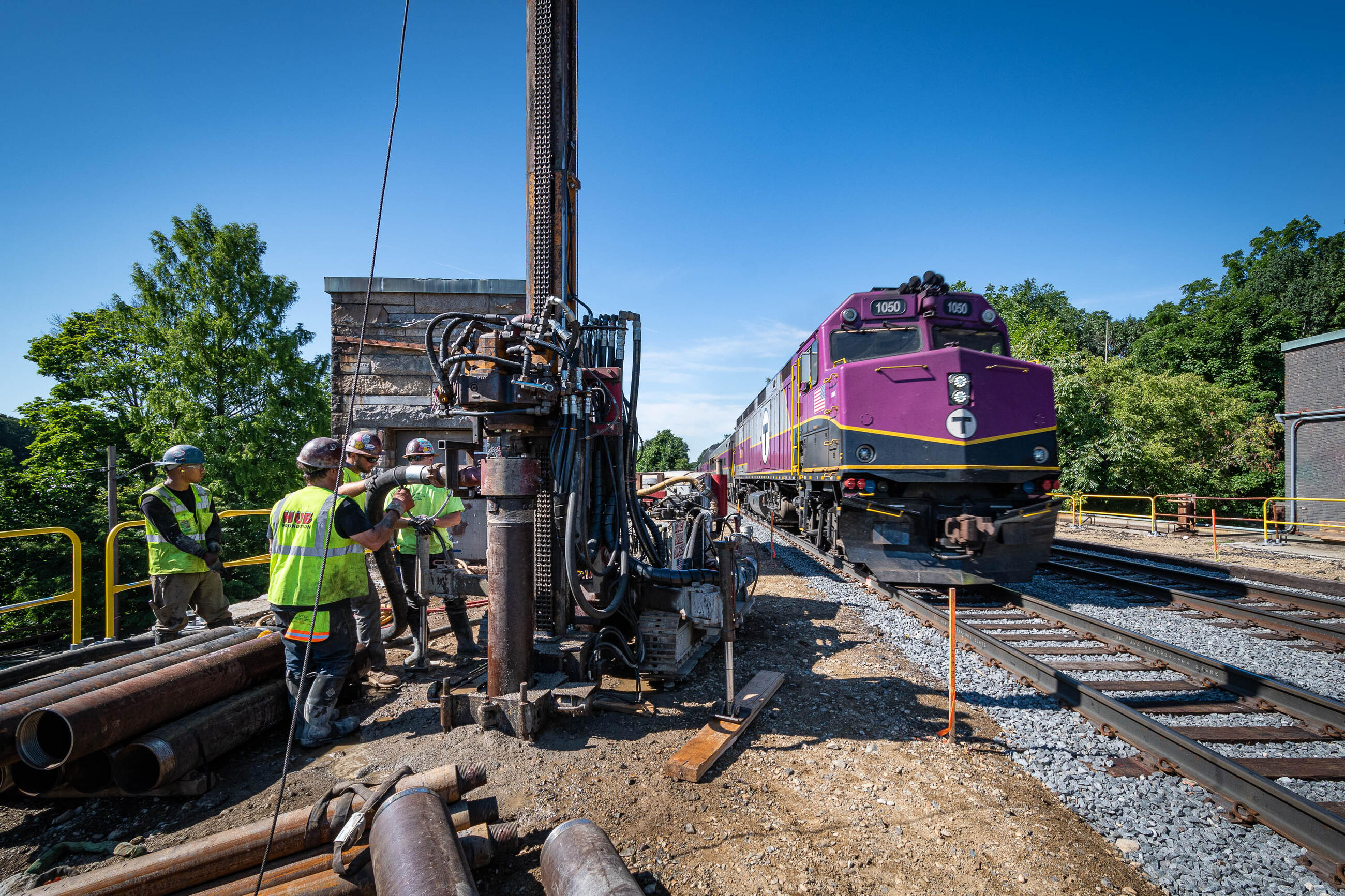 Waterfield Road will also be closed the weekends of July 9–10 and July 16–17 from approximately 6 AM to 6 PM. The Waterfield Parking Lot will remain open on these weekends with police details on site to assist with traffic flow. 
Construction advisories will be distributed ahead of any scheduled night or weekend work, if necessary.
Work to take place in the late summer and into early winter this year includes drilling shafts, installing micropiles, and constructing platforms, ramps, and a headhouse as well as elevator foundation and structure preparation work in the Aberjona and Waterfield areas. Work to take place this fall includes the installation of micropiles in the Quill Rotary area as well as drilling shafts and the beginning of construction of station entrances in the Laraway area.  
More Information on Parking and Traffic Impacts
Parking impacts began April 4 and will continue through the completion of project. Laraway Road will also remain closed for the duration of project. Portions of the Waterfield Parking area and Aberjona Parking area will be unavailable during construction. Parking will be temporarily displaced on Waterfield Road, adjacent to Laraway Road, in order to accommodate a temporary crosswalk. There will also be occasional parking and traffic impacts at Waterfield Road during construction.
More Information on Travel Alternatives from Winchester Center Station
During construction at Winchester Center station, travel alternatives for riders include: 
Bus Alternative: The Route 134 Bus: The Route 134 bus connects riders to the Orange Line at Wellington station. The Route 134 bus stop located at the corner of Main and Vine Streets is approximately 0.2 miles from Winchester Center station, which is about a four-minute walk. 
Commuter Rail Alternative: Wedgemere station: Wedgemere station is also on the Lowell Commuter Rail Line with trains operating inbound to North Station (Boston) and outbound to Lowell station (Lowell Line), making all station stops. Wedgemere station is approximately 0.7 miles (about a three-minute drive) by car from Winchester Center station, or approximately 0.6 miles (about an 11-minute walk) by foot from Winchester Center station by the Tri-Community Greenway. Parking and bike storage are both available at Wedgemere. 
More Information
Media Contact Information
For all queries and comments, please contact:
MBTA Press Office