Green Line D Bus Shuttles, January - March 2019
Updated on January 9, 2019

Bus Shuttle Schedule
Bus shuttles will replace Green Line D service between Kenmore and Reservoir during weekends, January 5 – March 24, except February 3 and March 16 – 17.
This may add up to 15 minutes to your trip on the Green Line. 
No shuttle service at Beaconsfield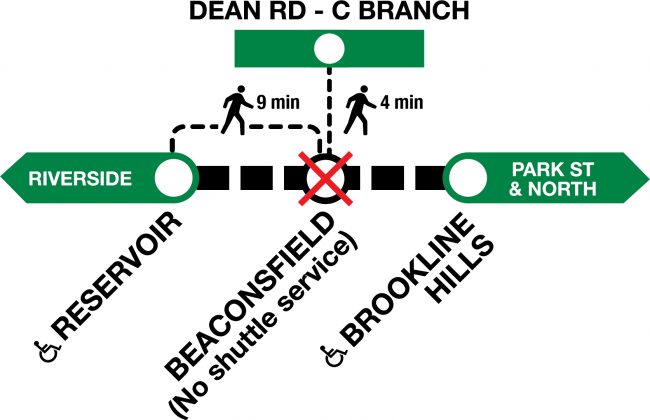 Due to narrow roads near Beaconsfield, shuttles cannot safely stop there.
If you normally access the Green Line at Beaconsfield, there are 2 Green Line stations within walking distance:
Why are shuttles running?
As part of the Fenway Portal Project, we're installing flood mitigation and prevention measures, including large steel doors at the entrance to the subway tunnel.
If you have questions and concerns about the Fenway Portal Project, please email FenwayPortalProject@mbta.com.
How do I get updates?