Solar-Powered E Ink Signs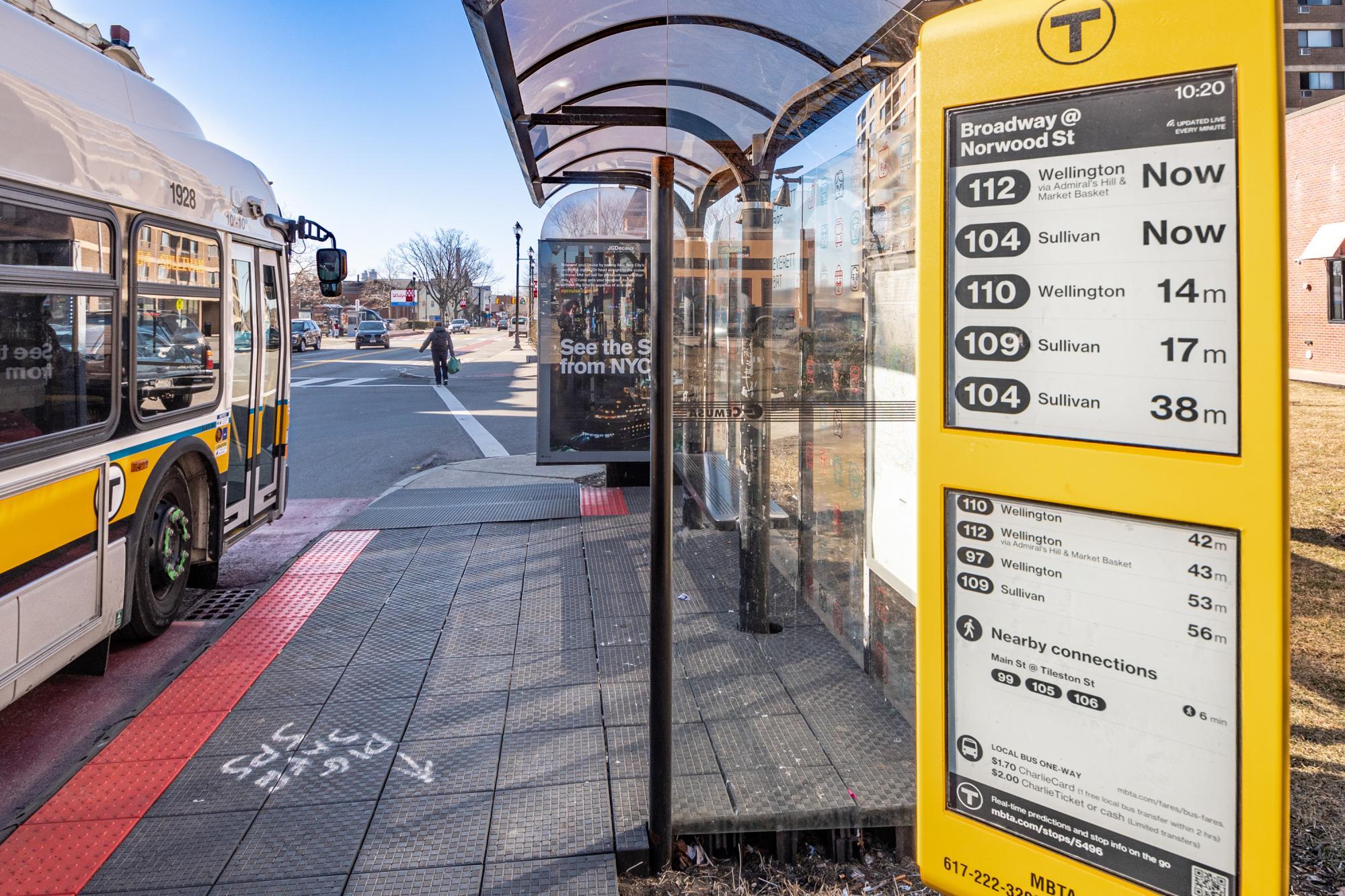 Contract awarded: 2017
Projected completion: June 2021
Budget: $1.5 million
Status: Phase 1 pilot complete; Phase 2 in progress
Real-time information dramatically improves the experience of taking public transit—so we're working hard to make this information available throughout the MBTA system. However, there are several areas where access to electricity and fiber connectivity is limited or nonexistent. Thanks to solar-powered electronic ink (E Ink) signs, we may be able to display real-time updates in these areas in the future.
As part of the Green Line Transformation (GLT), this project meets the goal of customer experience, with real-time train arrival times at more street-level Green Line stops.
Building a Better T
As part of our $8 billion, 5-year capital investment plan, we're renovating stations, modernizing fare collection systems, upgrading services for our buses, subways, and ferries, and improving the accessibility of the entire system.
What We're Working on in 2020
After concluding an initial pilot in 2019, we launched a pair of follow-up pilots that will help us further understand how and where we can use E Ink signs to improve the rider experience. We're rolling out real-time information on 28 signs at Green Line stations and bus stops throughout Greater Boston.
Currently, only 39% of the Green Line stations have signs that display real-time information. This pilot will help us determine whether we can fill that gap using E Ink signs, in addition to testing the logistics (engineering, construction, and sign viability) of deploying them.
 
What we're doing:
In September 2019, we removed all E Ink signs from the previous pilot to upgrade their modems to 4G before redeploying them.
As of February 2020, we've installed 10 signs at 3 stops on the Green Line's B, C, and E branches:
Many of our bus stops lack the infrastructure and connectivity to support standard real-time information displays. This pilot will measure the cost-effectiveness of deploying E Ink signs at bus stops and demonstrate how real-time predictions can improve awareness and help bus riders navigate the system.
 
What we're doing:
We've installed 18 signs in 6 municipalities in Greater Boston. We'll work closely with riders and community members to gather feedback on the usefulness of the signs.
How We Got Here
In 2017, we launched a pilot to test sign durability and performance, gather customer feedback, and determine whether we should add signs to additional bus and subway stops. We were especially curious to know if the signs could withstand the frigid Boston winter. The pilot concluded in 2019.
Installed solar-powered E Ink signs on the Green Line D at Beaconsfield, Brookline Village, Newton Highlands, Chestnut Hill, and Reservoir, which have audio announcements to match the information on the signs
Monitored signs to measure the impact of different environmental conditions
Surveyed riders on the usefulness and desirability of signs
Identified challenges for installing and maintaining signs and evaluated our technical needs 
E Ink signs are a practical solution provided that we scout locations to make sure there's enough sun exposure. We're confident that the signs will be able to withstand extreme weather—cold temperatures didn't seem to affect battery life, and ongoing maintenance is minimal aside from snow removal and cleaning.
The riders who responded to our surveys had positive things to say about the signs, even though they preferred the larger, more familiar countdown clocks. We expected this result because our testing was limited—we could only place signs where accessibility requirements for audio-equivalency were already being met.
Related Projects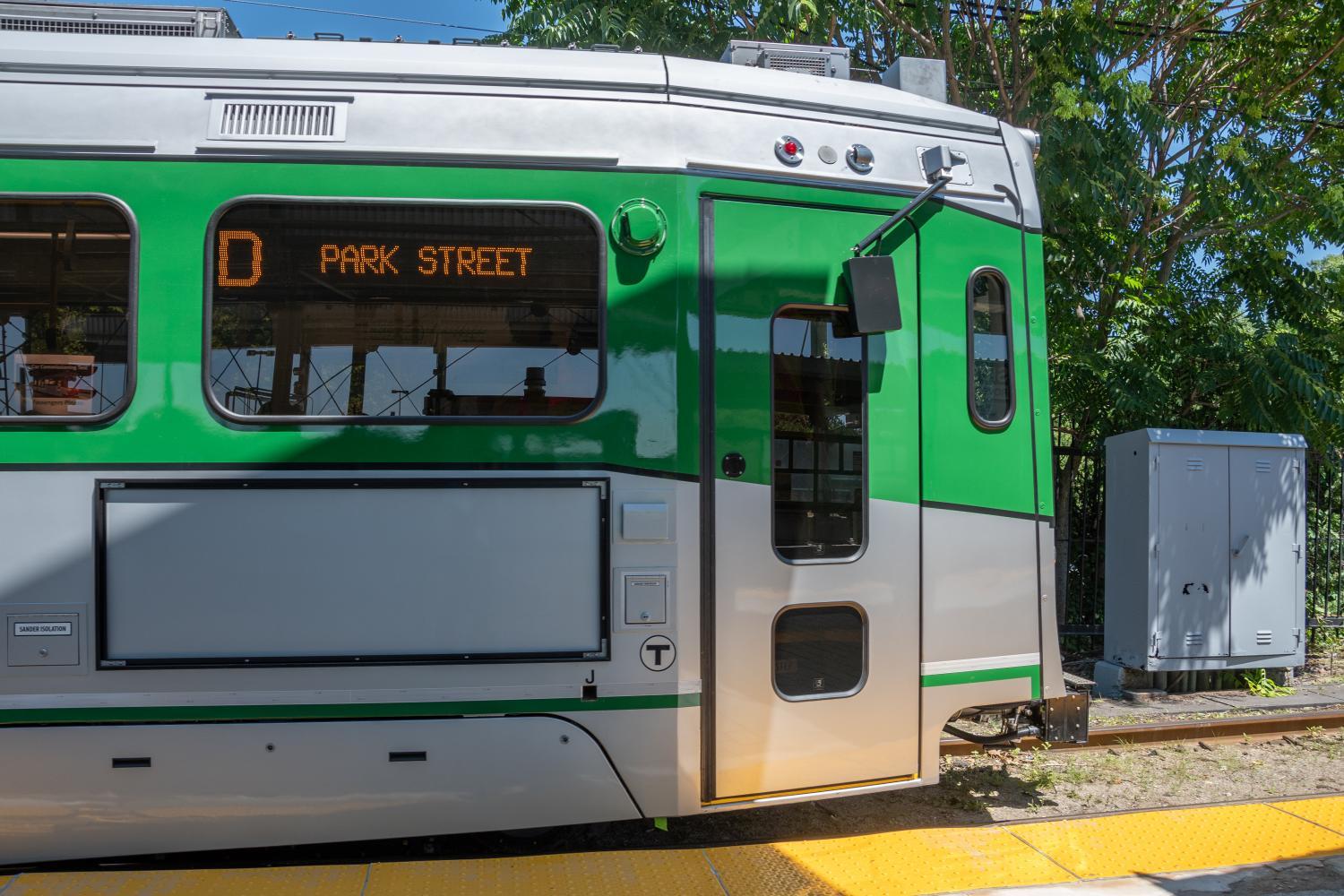 This project is one of many we're working on to ensure twice as many passengers have access to a safer, more comfortable, and more reliable Green Line by 2030.
Photo Gallery
Contact Information
For all queries and comments related to solar-powered E Ink signs, please contact Kevin Mulder at KMulder@mbta.com.
Recent Updates
Share Your Feedback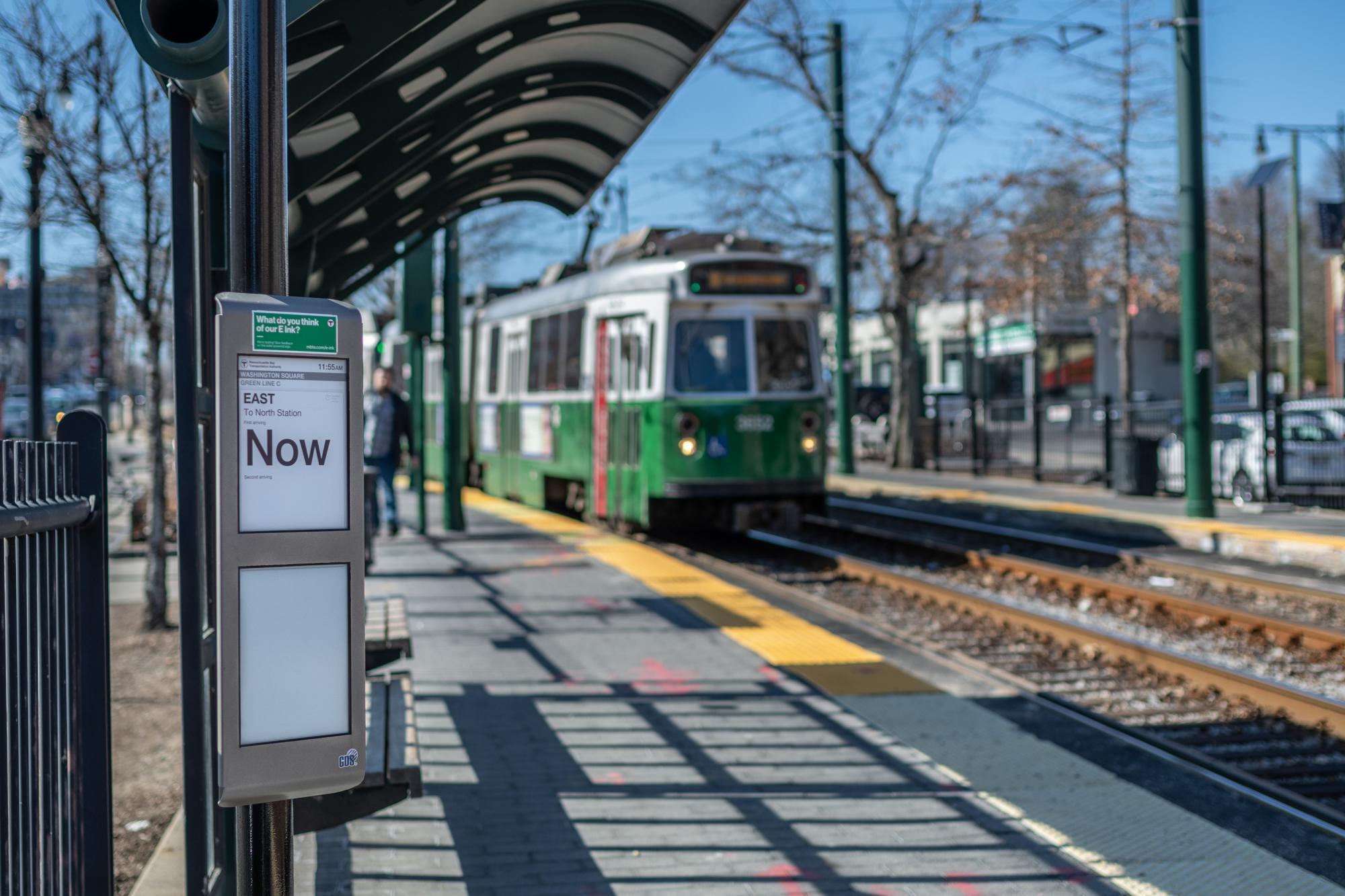 Is there an E Ink sign at your Green Line Station? We want to hear what you think about it.