Construction 1-Week Look Ahead
Updated on March 15, 2018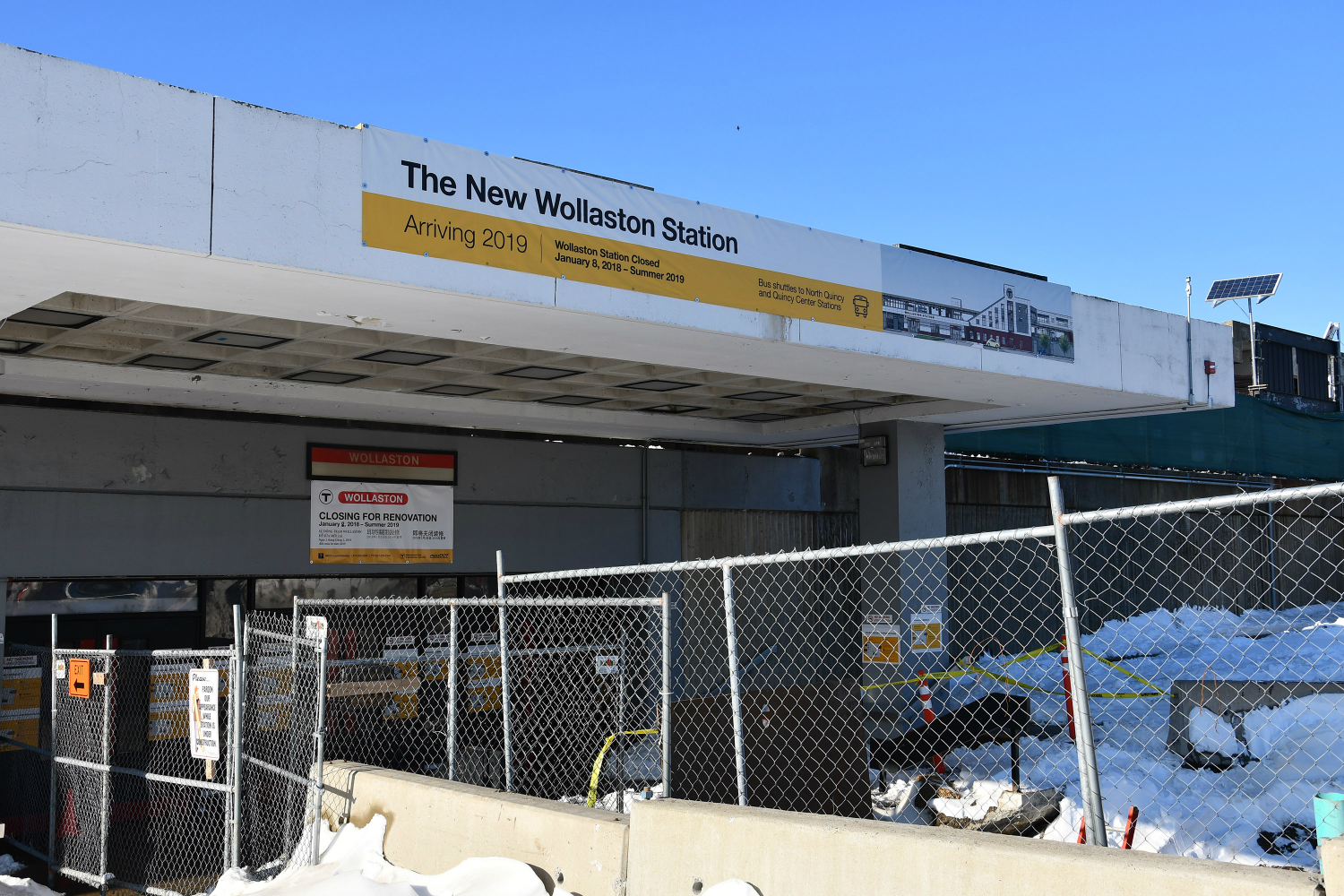 Overview
Wollaston Station on the Red Line closed for renovation on Monday, January 8, 2018.
The parking lot on site remains open.
The bike cage has been removed. Call the MBTA Transit Police at 617-222-1212 to retrieve bicycles left on site.
Find out how the Wollaston Station closure will affect your trip
Construction Work Hours
The MBTA's contractor, LM Heavy Civil Construction, is working at Wollaston and Quincy Center stations in 2 shifts:
Day shift: 7 AM to 3:30 PM
Night shift: 9 PM to 5 AM
Construction Activities
The following activities will take place Monday, March 19 to Friday, March 23, unless otherwise noted.
Night Shift at Wollaston Station
Excavation for platform footings, demolition of the concrete slab adjacent to the railroad fencing, fence repair and delivery of casing supplies to the station platform
Place a liner in an existing sewer (15-24 hours); Newport Ave traffic lanes will be reduced (rescheduled for Wednesday, March 21 through Saturday morning, March 24 because of weather)
Day Shift at Wollaston Station
Watermain pressure testing and valve work
Remove and dispose of items from station lobby
Stockpile and remove soils
On Newport Avenue install sleeves for mini-piles/traffic set-ups as needed
Demolish slab, excavate pile caps and grade beams
Install mini-piles/drilling and grouting near headhouse
Underpinning (strengthening the foundation) at Stair 6
Cut site structures to sub-grade elevation
Install sewer bypass system along Brook Street, across Newport Ave and on Woodbine at Greenwood Ave
Night Shift at Quincy Center
Placing track protection outside limits of trains
Masonry work in elevator control room inside station
Erecting a protective canopy at Burgin Parkway and Hancock Street pedestrian entrances to the station
Day Shift At Quincy Center
Continue to realign temporary busway
Transfer buses to new busway
Continue to set-up construction work zone around garage building
Remove angle parking, restripe for parallel parking, relocate taxi and drop-off areas
Install shielding system around garage building to protect public from demolition debris
Plumbing and standpipe work
Electrical work, including relocate communication antenna, and wiring start booth
Elevator Control Room-walls
Continue concrete repairs
Continue Burgin Parkway work zone activities for protective shielding system and accessible walkway