MBTA to Expand Transit Signal Prioritization in Boston, Brookline, Cambridge
Posted on October 23, 2017
BOSTON – The MBTA's Fiscal and Management Control Board today received an update on the expansion of its Transit Signal Priority (TSP) pilot to include broader corridors of Beacon Street in Brookline, Commonwealth Avenue in Boston, Huntington Avenue in Boston, and Massachusetts Avenue in Cambridge. The TSP pilot aims to provide faster service to bus and trolley passengers by using signal technology to reduce dwell times for vehicles that operate in mixed traffic. TSP is accomplished by extending green-light time or shortening red-light time, allowing for trains and buses to be delivered within their scheduled headways with enough space for all passengers to board.
"This is a tremendous example of the level of coordination required to make measurable improvements to service in these particular cases," said MBTA General Manager Luis Manuel Ramírez. "I want to thank the cities of Boston, Cambridge, and the town of Brookline for their partnership. At the end of the day, this is about our customers, and Transit Signal Priority is a major step in the right direction of enhancing mobility."
"We are excited about the TSP initiative here at the Authority, the benefits it will bring to our customers, and partnering with the communities we serve," said MBTA Deputy General Manager Jeff Gonneville.
"I'm grateful for the persistence of the MBTA team and their municipal partners in fighting through all the technical challenges needed to make transit signal priority work," said Senator Will Brownsberger. "Now that they have it working, the opportunity seems huge, and I hope we are able to roll this technology out widely as quickly as possible."
The MBTA partnered with municipalities in 2015 in order to discuss the "borrowing" of green- and red-light time for the TSP pilot so that MBTA vehicles could be given priority to proceed at a traffic signal. These discussions and collaborations continued into 2017 with the MBTA developing TSP software that was then piloted on individual signals. This software was tested on eight specific signals at six intersections in Cambridge, Boston, and Brookline with data collected in May and June 2017:
Bus Route 1 and CT1:

Brookline Street and Massachusetts Avenue (inbound and outbound) in Cambridge

Green Line B branch:

Saint Mary's Street and Commonwealth Avenue (outbound) in Boston
Silber Way and Commonwealth Avenue (inbound) in Boston

Green Line C branch:

Carlton Street and Beacon Street (inbound) in Brookline

Green Line E branch:

Evans Way and Huntington Avenue (inbound and outbound) in Boston
Longwood Avenue and Huntington Avenue (inbound) in Boston
Data collected during this pilot phase showed these bus routes and Green Line trolleys given traffic signal priority, proceeding through green lights with extended times, and red-light times reduced to allow buses and trolleys to proceed faster through an intersection, which translated into a faster commute for MBTA passengers. Coupled with the positive effects seen for these routes, there was also no demonstrably negative effect on the mixed vehicle traffic in which these bus routes and trolleys operated with no traffic signal-related complaints received during the time of the pilot.
Due to these positive results, the TSP pilot will expand in January 2018 from individual traffic signal intersections to broader corridors, including:
Beacon Street in Brookline (nine additional traffic signals serving the Green Line C branch)
Commonwealth Avenue in Boston (20 additional traffic signals serving the Green Line B branch)
Huntington Avenue in Boston (10 additional traffic signals serving the Green Line E branch)
Massachusetts Avenue in Cambridge (50 additional traffic signals between the Boston and Arlington borders in Cambridge that serve segments of nearly 20 bus routes)
The estimated cost for this corridor TSP pilot is approximately $1.125 million, or $12,640 per signal.
Map of four TSP corridor pilots: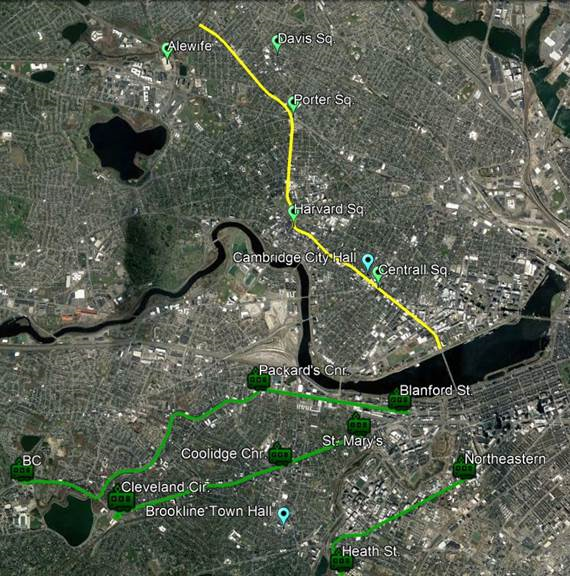 Next phases of the TSP roll out include focusing on high ridership corridors with reports of high delays (all Key Bus Routes operate on parts of these routes), partnering with municipalities eager to participate, and concentrating on dedicated bus lane corridor candidates while "piggybacking" on other traffic signal projects.
More Information
Media Contact Information
For all queries and comments, please contact:
MassDOT Press Office