The RIDE is the MBTA's door-to-door, shared-ride paratransit service. The RIDE is operated by the MBTA in compliance with the Americans with Disabilities Act (ADA).
---
Temporary Changes to The RIDE
As part of the continuing effort to protect the health and safety of customers and MBTA employees, and to preserve continuity of services essential travel, the following service changes have been made in consultation with The Riders' Transportation Access Group, the Boston Center for Independent Living, and the Massachusetts Senior Action Council:
Shared trips have been eliminated. RIDE customers can still bring a personal care attendant or guest on their trip.
The RIDE Eligibility Center (TREC) is closed for in-person appointments until further notice.
Booking windows have been adjusted. Starting March 28, RIDE customers will need to book trips 1 – 3 days in advance.
Customers with subscriptions trips will be contacted by TRAC to confirm those trips are still required.
Customers can temporarily book trips for their PCAs through the RIDE Access Center (TRAC).
The RIDE will work to eliminate transfer trips to reduce customer interaction with multiple drivers.
All RIDE vehicles are cleaned and disinfected every 24 hours.
Routematch Software transition is delayed. An updated timeline will be shared on the website when it is available.
---
Routematch Software Transition
The RIDE is implementing a new software system called Routematch. We expect you to benefit from more predictable and timely rides and new website features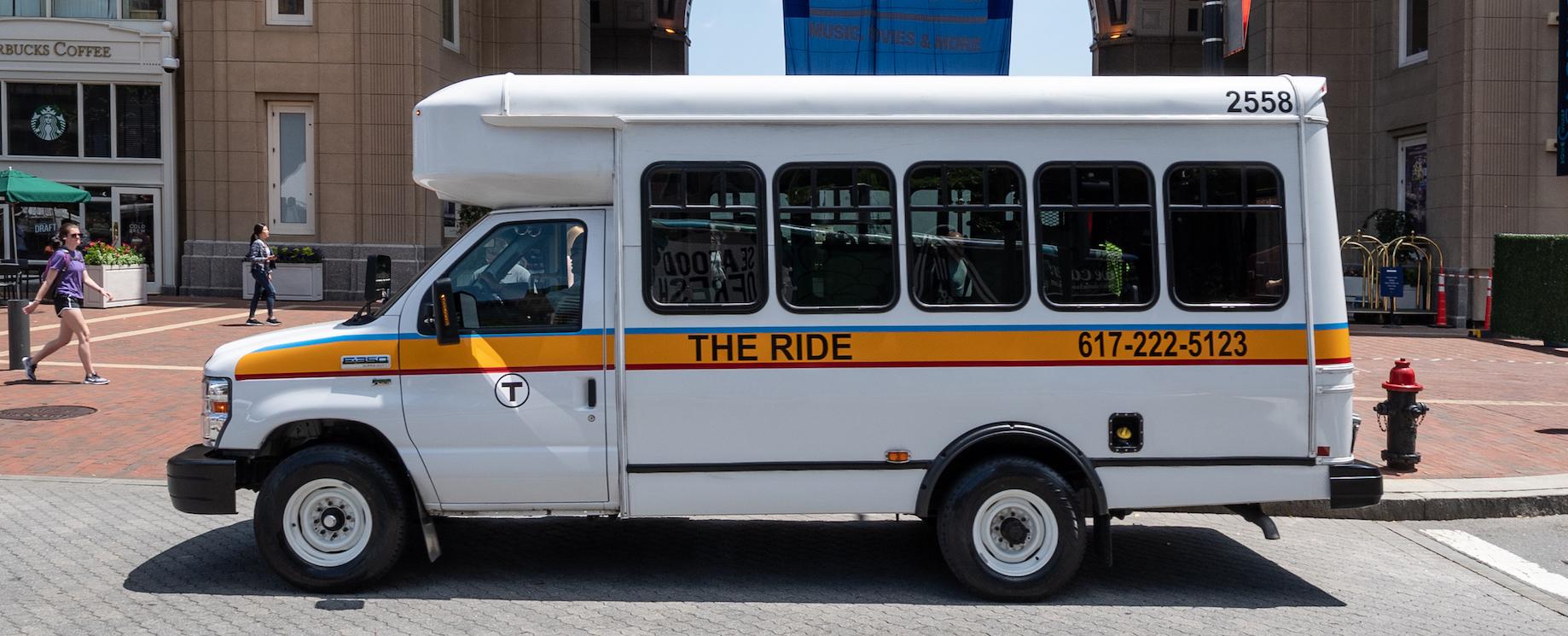 About The RIDE
If you have a disability that prevents you from using the MBTA bus, subway, or trolley all or some of the time, The RIDE may be able to assist with your public transportation needs. Out-of-town visitors with disabilities may also be eligible to use The RIDE.
Under the ADA, paratransit functions as a safety net. It is not intended to be a comprehensive system of transportation, and it's different from medical or human services transportation.
The RIDE is available in 58 cities and towns in the greater Boston area, with similar operating hours to the MBTA—generally from 5 AM to 1 AM daily. To access The RIDE, you have to apply and be approved by The RIDE Eligibility Center (TREC).
Once you're approved, you can schedule trips from 1 to 7 days in advance.
The MBTA is currently running on-demand paratransit pilots with Uber, Lyft, and Curb Mobility (taxi), where RIDE customers can book subsidized rides instantly, right from their smartphones.
RIDE Fares
Type
One-way fare per customer
Type
Local ADA
One-way fare per customer
$3.35
Type
Premium non-ADA
One-way fare per customer
$5.60
Personal Care Attendants (PCAs) are not charged. You're always allowed 1 guest, and additional guests are allowed if space is available. All guests are charged the applicable fare as noted above.
Premium fares apply to trips beyond ¾ of a mile from an MBTA bus or subway stop. Reservationists will confirm the fare when you schedule a trip.
Using The RIDE
Other RIDE Programs