MBTA Service Changes during Tuesday's Weather Event
Posted on March 12, 2018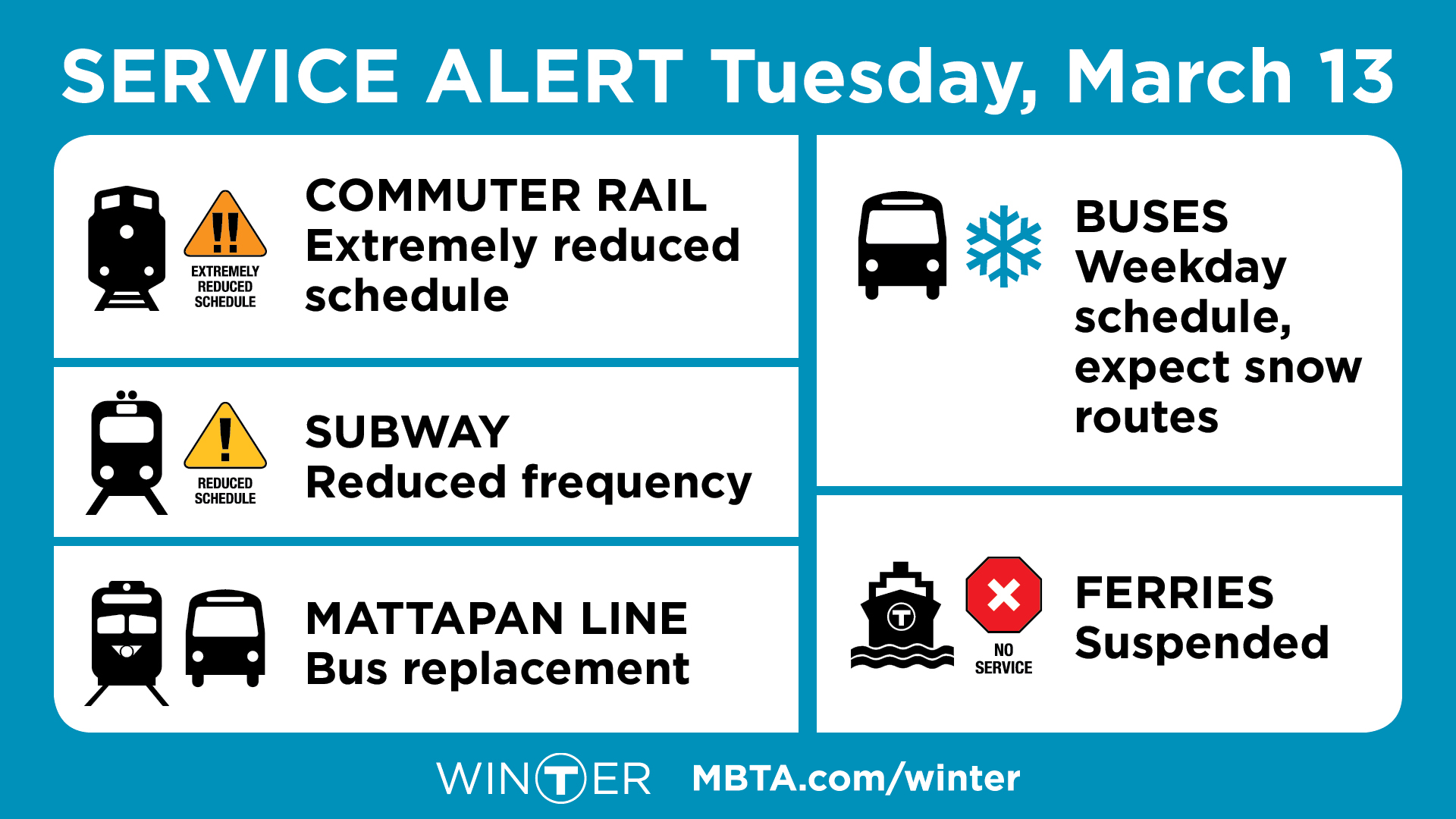 Visit our Winter Weather page for the latest service updates
The MBTA is preparing for the next weather system forecast to hit parts of the MBTA service area Monday night and throughout the day Tuesday with predicted blizzard-like conditions, high snow totals, and very high winds. As this weather is expected to have an effect on service, the MBTA is taking proactive measures to protect critical infrastructure and vehicles while continuing to provide service.
Commuter Rail: The MBTA Commuter Rail will operate an "Extremely Reduced Schedule" on all lines for the duration of service on Tuesday. Commuter Rail schedules will be updated to reflect changes in train times with schedules available in South, North, and Back Bay Stations.
Subway: The Red, Orange, Blue, and Green Lines will operate with reduced frequency that is similar to a Saturday schedule, meaning 7 – 10 minutes between trains (depending on the line). The Wollaston Station bus shuttle that operates all day to and from North Quincy, Wollaston, and Quincy Center due to Wollaston's closure will continue to operate.
Mattapan Trolley: The Mattapan Trolley Line will be replaced with dedicated bus shuttle service for the entire day tomorrow. The MBTA takes this pro-active step to protect the 70-year-old trolley cars from weather-related damage.
The RIDE: While the MBTA is not planning any changes to the RIDE operations, customers are encouraged to be mindful that snowy conditions may impact driving conditions. In addition, snow accumulation may affect drivers' ability to gain safe access to locations not plowed or shoveled.
Ferry: Based on weather conditions, all ferry service will be suspended for the entire day Tuesday.
Bus and Silver Line: Regular weekday bus service is scheduled on Tuesday, but some buses will most likely operate on their designated Snow Routes.
These decisions have been made in an effort to run an adequate level of service while positioning the MBTA to expedite storm recovery efforts. A reduced schedule allows the MBTA to protect vehicles and equipment in advance of Wednesday.
Because of the timing of the storm, the MBTA is advising customers to plan ahead and allow for additional travel time during their morning and evening commutes on Tuesday. Customers are strongly encouraged to use caution on platforms and bus stops, to stay safe in cold air temperatures, and to check local weather forecasts for updated storm information.
As delays and service changes may occur, customers continue to be urged to connect with the MBTA:
Media Contact Information
For all queries and comments, please contact:
MassDOT Press Office