MBTA Planning on Normal Schedule on Wednesday, March 14
Posted on March 13, 2018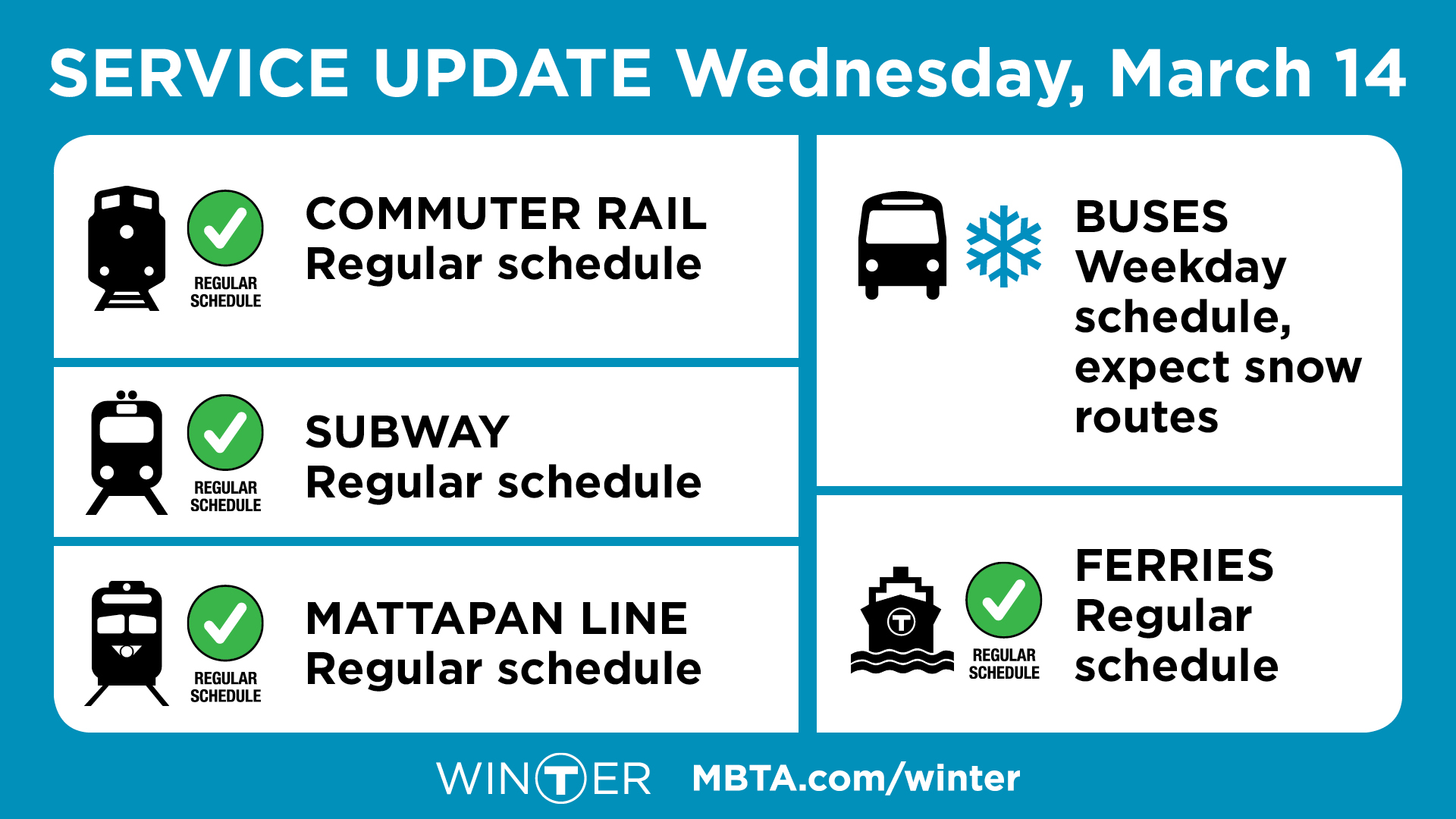 Customers should plan for extra travel time; check our Winter Weather page before leaving
The MBTA is preparing to return to full service on all modes on Wednesday, March 14, 2018. While the MBTA prepares for the start of service tomorrow morning, storm cleanup efforts will continue overnight into Wednesday across the system, including the core MBTA system, the Commuter Rail network, buses, ferries, the RIDE, and the Mattapan Trolley Line.
Because cleanup efforts may affect service on Wednesday, customers are urged to check all schedules in the morning and allow for extra travel time tomorrow morning. MBTA customers should stay connected with the T:
While storm cleanup efforts remain underway into tomorrow, the T is urging customers to be cautious around platforms, bus stops, sidewalks, and parking lots that may not have been treated yet.
While the MBTA is not planning any changes to RIDE operations, customers are encouraged to be mindful that snowy conditions may impact driving conditions. In addition, snow accumulation may affect drivers' ability to gain safe access to locations not plowed or shoveled. Vehicles equipped with wheelchair accessible platforms may also be affected by residual snow in certain locations.
"While we are preparing to run full service tomorrow, we recommend that our customers check train schedules tomorrow morning and allow for extra travel time tomorrow," said MBTA General Manager Luis Manuel Ramírez. "I appreciate all the hard work by the MBTA, Keolis, and our contractors to expedite cleanup efforts after experiencing blizzard conditions. I also want to thank our customers for their patience throughout both the storm and cleanup efforts."
In advance of Wednesday morning, the MBTA will be taking the following measures:
At 5 PM today, crews began cleanup efforts on the MBTA's ferry docks and pedestrian walkways to ensure the ferries will be accessible for tomorrow.
Beginning at 10 PM, the Red Line will be running a single-track shuttle train between JFK/UMass and Braintree. The bus shuttle serving Wollaston Station on the Red Line will remain in effect until the end of today.
Also beginning at 10 PM, a single-track shuttle train will be running on the Orange Line between Wellington and Oak Grove.
The single-track shuttle train will allow for MBTA maintenance forces to begin clearing snow and ice from the exposed segments of rail on the southerly side of the Red Line and the north side of the Orange Line.
Leading up to the storm, the MBTA prepositioned snow-fighting equipment along each of the lines, including jet snow blowers, hi-rail track loaders, and ballast regulators with auger attachments and jet blower attachments.
Following the end of revenue service, compact track loaders will be deployed to the Green Line to clear snow and ice from the B, C, and D branches.
MBTA crews have also deployed equipment to the Mattapan Trolley Line to clear snow and ice from the tracks, platforms, and pedestrian paths.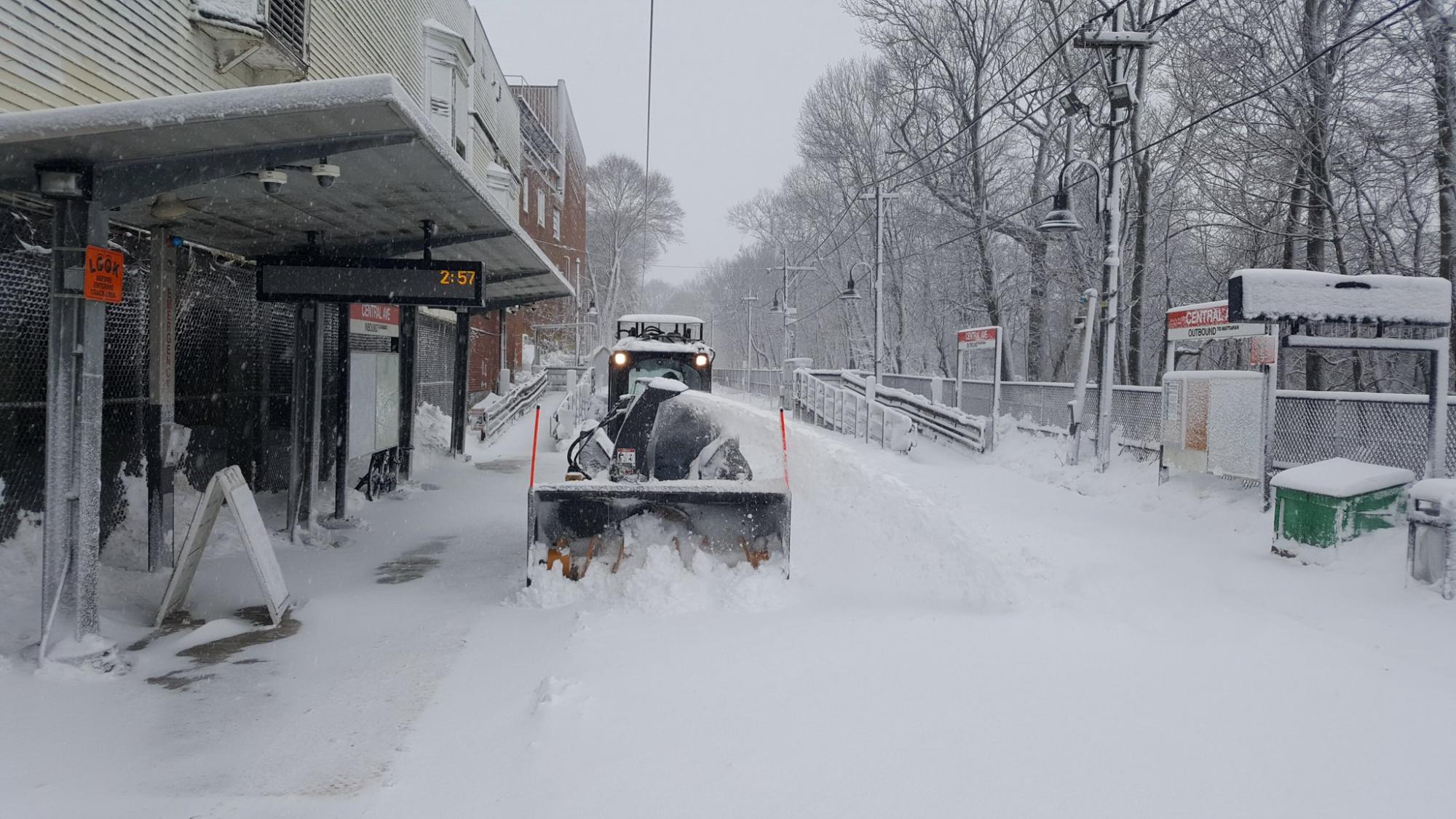 Media Contact Information
For all queries and comments, please contact:
MassDOT Press Office