MBTA Advisory for Monday, July 20: Updated Boarding Protocols for Buses, Mattapan Line, and Customers at Some Green Line Stations as well as Standard Fare Collection Procedures at Front Doors
Posted on July 14, 2020
The MBTA is announcing that, effective on Monday, July 20, there will be updated boarding protocols for customers using buses, the Mattapan Line, and the Green Line at street-level stations. Standard fare collection processes will continue at the front doors of buses and trolleys. Protective barriers have been installed to support physical distancing between operators and passengers, allowing front-door boarding to resume and providing more space for customers than the previous temporary barriers.
"We're glad to be able to return to the normal boarding process, and as we continue through the reopening process, it is important that customers and employees remain vigilant in our efforts to stop the spread of COVID-19," said MBTA General Manager Steve Poftak. "By taking steps like wearing face coverings and social distancing, we're able to continue to make progress and keep customers safe and healthy."
On July 20, front-door boarding resumes for all buses, for the Mattapan Line, and for Green Line trolleys at street-level stops. It is required that all MBTA customers wear a face covering and riders should avoid sitting or standing in areas (designated with decals) closest to the bus or trolley operators. Customers should board vehicles via the front doors only and exit via the rear doors.   
The MBTA temporarily instituted rear-door boarding in March in an effort to encourage social distancing measures and protect the health of MBTA operators and riders. Temporary barriers were also installed on vehicles at that time. The MBTA has completed the installation of permanent protective barriers that allows more space for customers while continuing to support social distancing. If there is a substantial statewide increase in active COVID-19 cases, the MBTA may revisit the updated boarding procedures and reinstitute rear-door boarding on buses and trolleys at street-level stops with customers notified in advance of the change.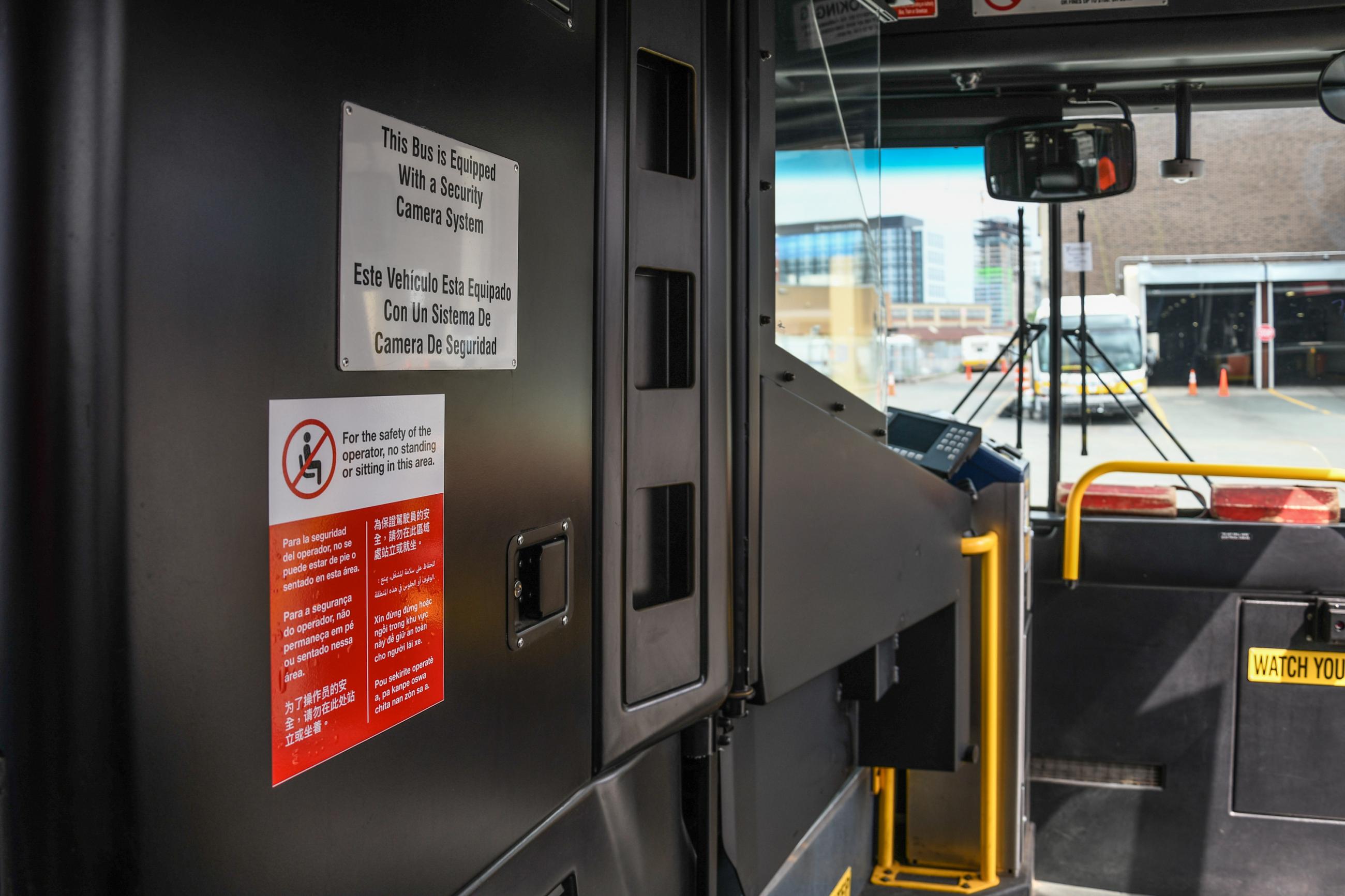 To avoid overcrowding on buses, operators also have the discretion to bypass a stop if the operator determines that the bus has reached its safe capacity. If a customer with a disability is able to be identified while waiting at a stop to be bypassed, the bus operator alerts the Control Center, will notify that individual that the stop is being passed due to crowding, and will alert the customer to the approximate time of the next available bus that can accommodate them.
Customers should continue to make efforts to distance and are reminded that face coverings are required while onboard vehicles and within the MBTA system. The MBTA urges area employers to continue to allow telecommuting and to consider staggered work schedules to promote social distancing on public transit. The MBTA also encourages cities and towns to assist in this effort be expanding available space at historically busy bus stops and working with the MBTA to implement dedicated-bus lanes.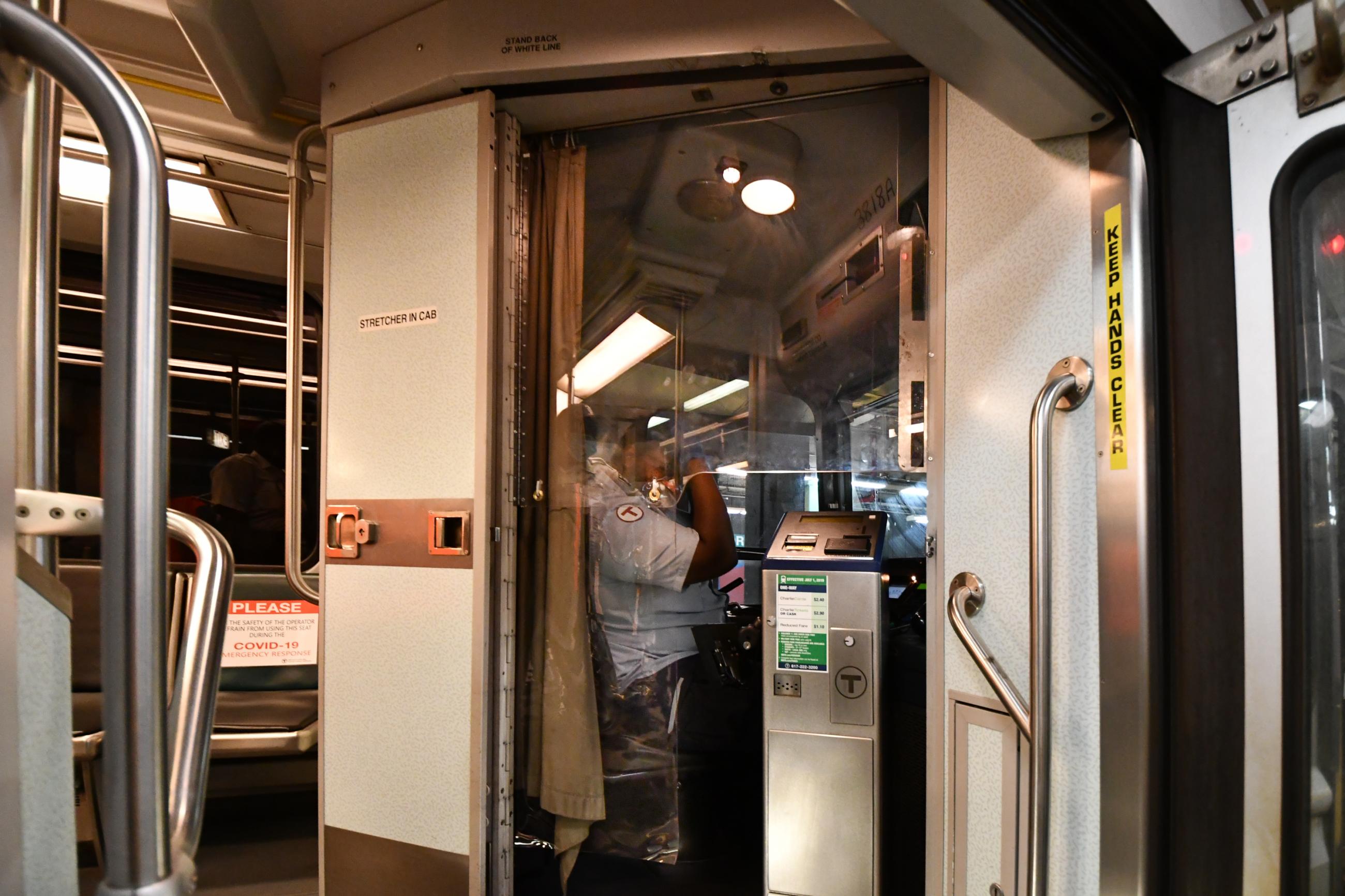 While passenger volume continues to be just a fraction of pre-pandemic levels, the MBTA will continue to closely monitor ridership and, when possible, will make adjustments. Bus service in particular has been tailored to specifically allow for operational flexibility, giving dispatchers the ability to make adjustments in response to changing ridership demands and to alleviate crowding. The MBTA is operating a full complement of buses, including 30% reserved to be deployed where there is increased demand for service. Crowding will be closely monitored with these flexible buses deployed as needed. Full information regarding service levels can be found at mbta.com/coronavirus. 
Enhanced Decontamination, Cleaning, Disinfecting, Social Distancing, and More
In addition to encouraging good hygiene practices and social distancing, the MBTA is continuing its enhanced cleaning and disinfecting protocols. The public is encouraged to visit mbta.com/RideSafer for more information. Protocols include:
Stations and facilities: disinfecting touch points in high-traffic facilities twice a day; disinfecting touch points on surfaces such as handrails, fare gates, and fare vending machines in subway stations once every 4 hours; and hiring additional vendors for disinfecting using chemical fogging, electrostatic sprayers, and manual disinfecting wipes/solutions.
Bus and rail vehicles: decontaminating all vehicles nightly with disinfecting wipes; performing mid-day decontamination at layover locations daily by wiping down operator cabs and high-touch locations; wiping down cabs, fare boxes, and entrances for first/second shift bus pullbacks; performing electrostatic fogging for 100% decontamination every 2 weeks for all bus vehicles; isolating and electrostatic decontamination of any vehicle reported as operated by an employee who tested positive for COVID-19. 
The MBTA has also deployed messaging through social media and within stations, bus terminals, and vehicles that encourages social distancing. Crowding threshold standards have also temporarily been lowered for each bus and subway fleet to accommodate social distancing measures. Customers can also find real-time crowding information for a number of bus routes with more information at mbta.com/crowding. 
Face coverings are required while onboard all MBTA vehicles, on shuttle buses, and at stations and stops. The Executive Order that went into effect on May 6 does include an exemption for individuals with certain medical conditions, but does not require a person who is so exempt to produce documentation of their condition. The MBTA has issued internal guidance to its operators consistent with the Executive Order, though the MBTA expects all customers will comply.
The MBTA continues to follow guidance from the Massachusetts Department of Public Health with the MBTA encouraging its riders and the public to: 
Practice social distancing at all times when leaving the home for essential trips.
Stay home if sick and avoid close contact with others.
Wash hands often with soap and water for at least 20 seconds.
Use alcohol-based hand sanitizing gel with at least 60% alcohol if soap and water are not available.
Avoid touching eyes, nose, and mouth.
Clean areas that are frequently touched with sanitizing spray or wipes.
Cover coughs and sneezes, and use a tissue or the inner elbow, not hands.
More Information
Media Contact Information
For all queries and comments, please contact:
MBTA Press Office