Green Line B Branch 12-Day Improvements Work Completed on Schedule; Green Line C Branch Closure to Begin July 11
Posted on July 5, 2022
As part of the MBTA's Capital Programs, the Capital Transformation team has completed the 12-day closure on the Green Line B Branch, accomplishing infrastructure work that will improve safety and reliability on the line. During the closure, crews replaced 3,200 feet of track, four units of special track work, one vehicular intersection, one pedestrian crossing, and installed wayside equipment for the Green Line Train Protection System (GLTPS). A video discussing the improvements is available online.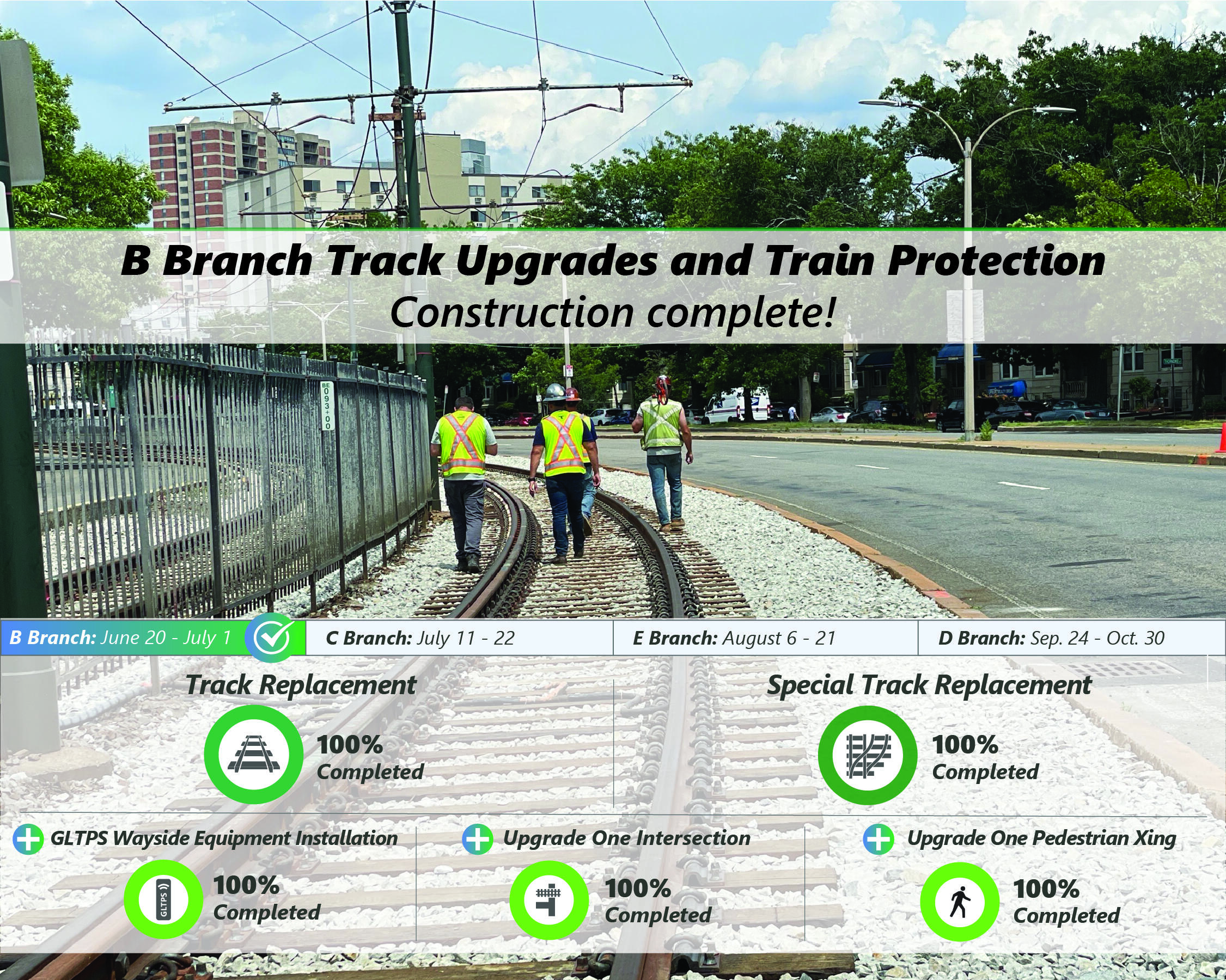 "The successful on-time completion of this Green Line work has increased overall service reliability for our B Branch riders," said MBTA General Manager Steve Poftak. "As construction continues on the Green Line this summer, it is the MBTA's top priority to keep riders safe and informed while remaining focused on bringing back regularly scheduled service to passengers as soon as possible. Diversions in service can be frustrating, and I want to thank our Green Line riders for their patience as we continue to complete this critical work."
With the B Branch work complete, the Green Line Transformation team will shift focus to the 12-day closure scheduled for the C Branch from Monday, July 11 to Friday, July 22. Prep work has begun and will take place between Hawes Street and Kent Street stations. This work will not interfere with regularly scheduled service. During the closure, crews will replace 1,500 feet of track from Kenmore to St. Mary's stations and install wayside equipment for GLTPS.

"Completing our B Branch full access closure has allowed us to deliver critical safety and reliability improvements to Green Line riders," said MBTA Chief of Capital Transformation Angel Peña. "Improvements will continue to be accelerated on the C Branch, delivering much needed progress to the area, and we will continue to keep riders informed of our progress throughout the closure."
Accessible shuttle buses will replace Green Line C Branch service from Kenmore to Cleveland Circle during the 12-day closure. Shuttle buses will bypass Brandon Hall and Kent Street stations to expedite travel times for riders. Riders can use Fairbanks Street or Summit Avenue stations instead of Brandon Hall and either St. Paul Street or Hawes Street stations instead of Kent Street.

Capital Transformation follows a holistic approach to transforming the Green, Orange, and Red Lines. The program is aligned by six Levels of Transformation: Improving Safety & Bringing Infrastructure into a State of Good Repair, Enhancing Accessibility, Replacing Legacy Fleets, Increasing Passenger Capacity, Modernizing Rider Experience, and Expanding Service.
More Information
Media Contact Information
For all queries and comments, please contact:
MBTA Press Office