Green Line E Branch 16-Day Closure Successfully Completed, E Branch Service to Resume Early
Posted on August 21, 2022
D Branch Closure to Begin September 24.
---
The MBTA today announced that Green Line E Branch service will resume today earlier than previously scheduled following the successful completion of track and Green Line Train Protection System (GLTPS) work during a 16-day closure along the line. As part of the MBTA's Capital Programs, the Capital Transformation team has delivered improved safety and service reliability to Green Line riders with crews having replaced over 2,750 feet of track, two pieces of special track work, and installed wayside equipment across the branch.
"Full access closures such as those completed on the Green Line allow the MBTA to deliver much needed progress to the system as quickly as possible," said MBTA General Manager Steve Poftak. "I know construction can be disruptive, but I want to thank all of our riders for their understanding as we continue to move forward as an Authority to deliver the service they deserve."
With the B, C, and E branches complete, the Green Line Transformation project will turn to the D Branch for the last scheduled Green Line closure of the year. Beginning towards the end of September, the D Branch will have a total of three nine-day full access closures:
Saturday, September 24 – Sunday, October 2
Saturday, October 8 – Sunday, October 16
Saturday, October 22 – Sunday, October 30
Work to be completed includes the replacement of over 5,000 feet of track, upgrading over five station crossings, and the installation of wayside equipment for GLTPS. A majority of the full-depth track replacement work will take place between Chestnut Hill and Newton Center stations. Prep work for these scheduled improvements will begin Monday, September 19, and will not interfere with regularly scheduled service.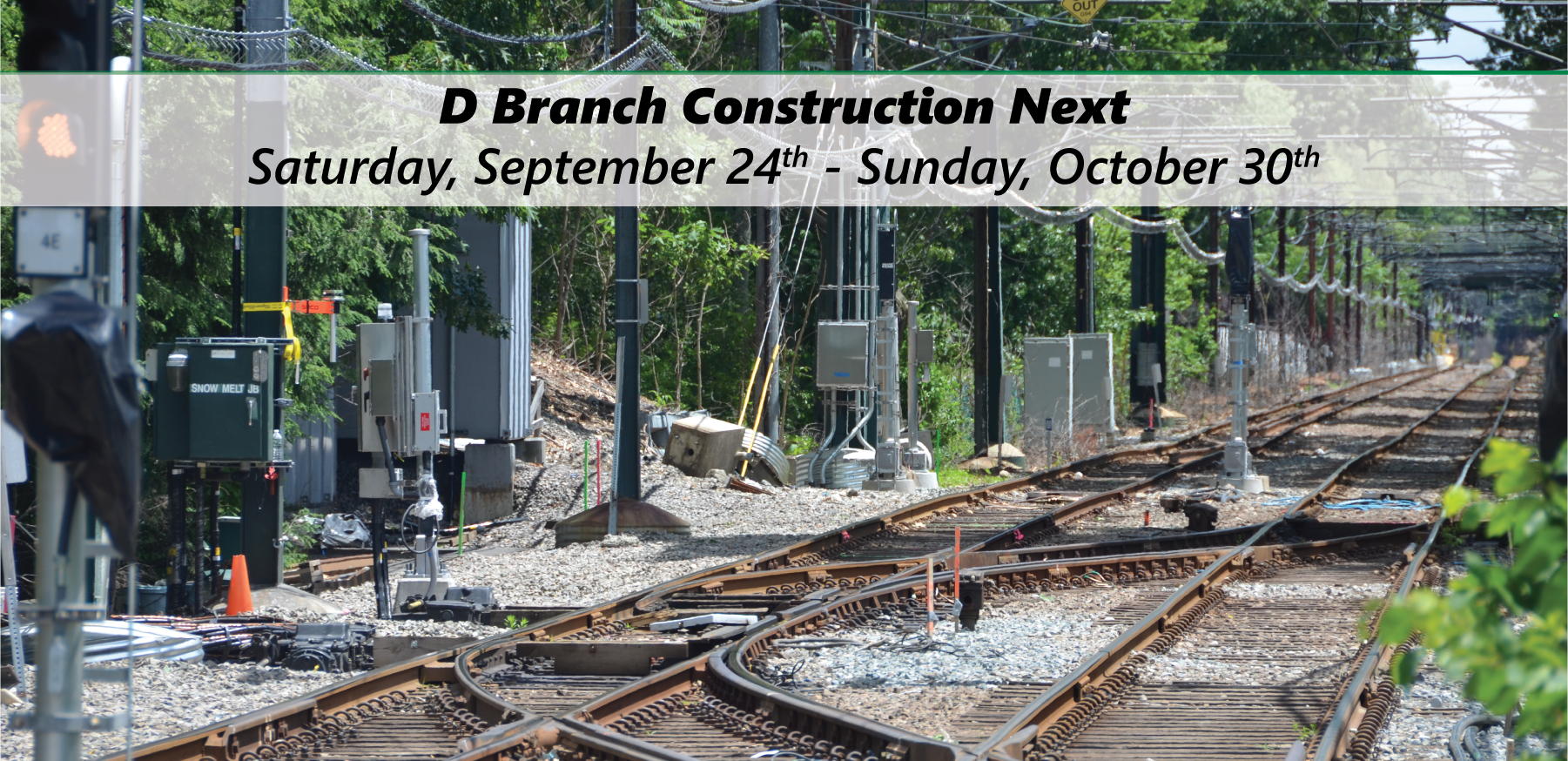 "The Capital Transformation team continues to drive the importance of safety, reliability, and progress across the Green Line," said MBTA Chief of Capital Transformation Angel Peña. "As we shift focus to our final scheduled surge on the Green Line, it is our top priority to keep all riders informed as we make these critical improvements to the D Branch. As always, we are constantly looking for ways to better the system in the most efficient manner possible. We appreciate all Green Line riders' patience and flexibility as we continue to improve service for all."
Alternative service will be available for all D Branch riders throughout the three closures. Free, accessible shuttle buses will stop at stations between Riverside and Kenmore stations. Shuttles are unable to stop at Beaconsfield station due to narrow roads in the area. Riders can use Reservoir station or Dean Road on the C Branch in order to access the Green Line.
Additional Green Line Improvements
As a reminder, shuttle buses will replace Green Line service for four weeks between Government Center and Union Square stations beginning Monday, August 22, through Sunday, September 18. During this temporary diversion in service, Green Line riders traveling inbound and outbound between Government Center and Union Square will board free and accessible shuttle buses, which will make stops at Lechmere station and the Lechmere station bus loop. More information is available at mbta.com/GLXshuttle.
Capital Transformation follows a holistic approach to transforming the Green, Orange, and Red Lines. The program is aligned by six Levels of Transformation: Improving Safety & Bringing Infrastructure into a State of Good Repair, Enhancing Accessibility, Replacing Legacy Fleets, Increasing Passenger Capacity, Modernizing Rider Experience, and Expanding Service.
More Information
Media Contact Information
For all queries and comments, please contact:
MBTA Press Office