Baker-Polito Administration Celebrates Substantial Completion of $159 Million Contract for South Coast Rail Main Line Construction
Posted on December 8, 2022
Celebration held at ribbon-cutting event at the brand-new Freetown Commuter Rail Station.
Phase 1 of South Coast Rail will begin passenger service in late 2023.
---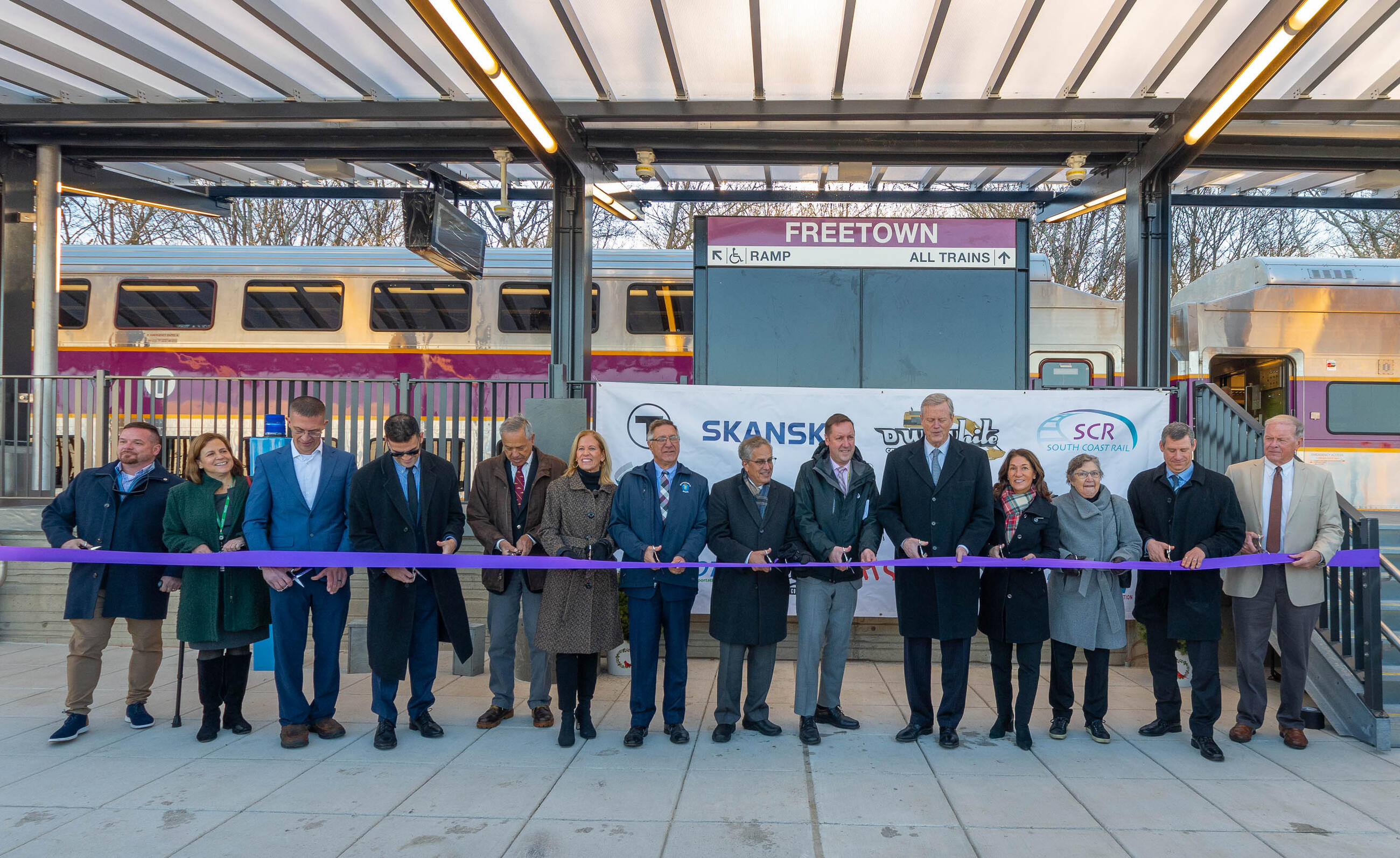 Governor Charlie Baker, Massachusetts Transportation Secretary and CEO Jamey Tesler, and MBTA General Manager Steve Poftak were joined this week by state and local elected leaders and community partners to celebrate the substantial completion of the $159 million contract for South Coast Rail Main Line construction. The celebration took place at a ribbon-cutting event at the brand-new Freetown Commuter Rail Station.
The $159 million contract awarded in May 2020 was the first major construction package awarded for South Coast Rail Phase 1 and included construction of two brand-new stations in Freetown and Fall River, construction of the all-new Weaver's Cove layover facility, upgrades and modernization work on over 12 miles of track that were previously used for freight as well as work on nine bridges, 11 culverts, and 10 grade crossings. A second $403.5 million major construction contract for South Coast Rail Phase 1 was awarded in August 2020 to build South Coast Rail's New Bedford Line, upgrade the Middleborough Secondary, and construct brand-new stations in East Taunton, Middleborough, two in New Bedford, a layover facility, and the Phase 1 signal and communication systems. Once this work is substantially complete, the South Coast Rail project will begin the commissioning process with Phase 1 anticipated to begin passenger service by late 2023.
"Following many years of hard work, today is a tremendous milestone for South Coast Rail Phase 1 as the first contract for the project nears completion," said Governor Charlie Baker. "Our Administration is proud and excited to have seen the work around this corridor take shape and to celebrate these Phase 1 advancements, which will benefit the region with expanded Commuter Rail service to Taunton, Fall River, New Bedford, and the surrounding communities beginning late next year."
"We're thrilled to have been at the newly completed Freetown station to celebrate Phase 1 of South Coast Rail and the upcoming Commuter Rail service to come to the southeastern communities of Massachusetts," said Lieutenant Governor Karyn Polito. "We are grateful to the project team at the MBTA and MassDOT as well as to the many community partners who have propelled this project forward."
"After years of collaboration and hundreds of millions of dollars in investment, we're pleased to have been at the brand-new Freetown Station to celebrate substantial completion of the first contract for South Coast Rail Phase 1, which will provide service between Southeastern Massachusetts communities and Boston," said Transportation Secretary and CEO Jamey Tesler. "With the Baker-Polito Administration's strong commitment to establishing passenger train service between the South Coast and Boston, this is an exceptional milestone for MassDOT and the MBTA, and a proud moment for the Commonwealth. South Coast Rail Phase 1 is just one of many examples of how the Baker-Polito Administration has transformed the capital planning process to provide an integrated, long-term strategy focused on improvements in all transportation modes and regions of the Commonwealth."
"As work crews make progress on South Coast Rail Phase 1, we're excited to celebrate the completion of Freetown station, which is another major step for the project and bringing a one-seat Commuter Rail ride from Taunton, Fall River, and New Bedford to Boston in late 2023," said MBTA General Manager Steve Poftak. "This is also an exciting day for all Commuter Rail passengers as we begin to welcome the first of the MBTA's new bi-level coaches into the fleet, expanding capacity for riders. Thank you to the Baker-Polito Administration for their strong support throughout the South Coast Rail project, MassDOT for their solid foundation and continued collaboration, countless local and community leaders for their advocacy, and the entire South Coast Rail project team and workforce for their work on this incredible service expansion project."
"While there have been six governors that have promised us that we'd have commuter rail to Fall River and New Bedford, it is the Baker-Polito Administration that has actually delivered and fulfilled the promise to establish commuter rail service between the South Coast and Boston," said State Senator Michael J. Rodrigues (D-Westport), Chair of the Senate Committee on Ways and Means. "Because of the hard work, commitment, and collaboration of the Baker-Polito Administration, MBTA, MassDOT, and our community partners, we are finally getting a 21st century public transportation to and from our capital city and these two great South Coast cities, providing an economic boost to our region and tapping into the unique assets our communities have to offer."
"Years of advocacy and hard work by state and local officials have helped us reach this milestone, which will only add to the excitement and anticipation of South Coast residents who have waited decades for the restoration of service to Boston," said Representative William Straus. "I thank the Governor for making this one of his administration's top priorities."
"Thirty years in the making and we are thrilled to finally see the reality of South Coast Rail connecting us to Boston and Boston to us," said Representative Carole Fiola of Fall River. "We credit the determination of so many in our communities, but especially Governor Baker and Lieutenant Governor Polito for pulling the trigger to fully fund this critical connection."
"Very thankful for the leadership of the Governor and Lieutenant Governor," said Representative Paul Schmid. "We hope they will be with us when the first train runs to Boston in 2023!"
The event also featured state, MassDOT, and MBTA officials riding four of the MBTA's brand-new, bi-level Commuter Rail coaches, 16 of which are being procured in support of South Coast Rail as part of the $278.5 million contract awarded in December 2019 for 80 Hyundai-Rotem bi-level coaches. These coaches feature upgrades and improvements like LED lighting and the integration of Positive Train Control, will replace single-level coaches, address an immediate need for additional vehicles, and provide a more efficient way to add capacity. The first four of the brand-new bi-level pilot coaches were received by the MBTA in June 2022, a second set of four delivered in July 2022, a third set of four delivered in September 2022, and a fourth set of four delivered in November 2022, with the remaining coaches delivering on a regular basis through the summer of 2024. All of these new bi-level coaches undergo a robust safety evaluation, inspection, and qualification testing process by MBTA Vehicle Engineering and Commuter Rail staff at the MBTA's Commuter Rail Maintenance facility in Rochester. The first coaches are anticipated to enter passenger Commuter Rail service before the end of the year with more coaches added on a rolling basis following the completion of qualification testing.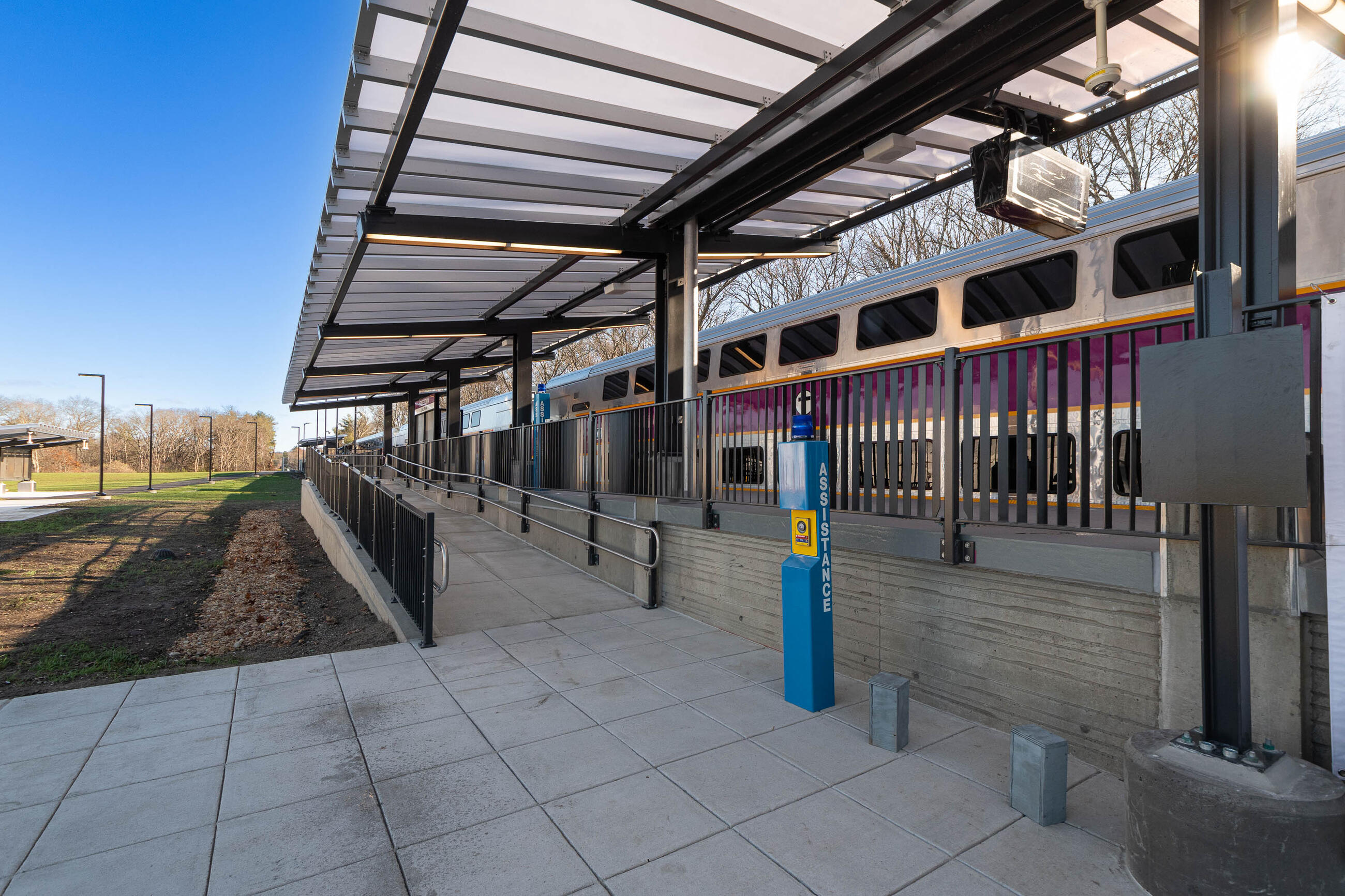 Updates and More about South Coast Rail Phase 1
When complete, Phase 1 of the South Coast Rail project will provide a one-seat trip from southeastern Massachusetts to Boston in less than 90 minutes. Phase 1 brings Commuter Rail service to the Taunton, Fall River, and New Bedford communities through the extension of a secondary rail line west to Taunton from the existing Middleborough/Lakeville Commuter Rail station, and the creation of the Fall River Secondary Line and New Bedford Main Line.
Phase 1 of South Coast Rail broke ground in July 2019. Construction is divided into two contracts – the $159 million contract awarded to Skanska DW White JV for the Fall River Secondary Line, which was awarded first, and the second $403.5 million major construction contract awarded to SCR Constructors in August 2020 for the New Bedford Main Line, the Middleborough Secondary Line, and the signal system for the entire Phase 1 corridor, which will connect Taunton, New Bedford, and Fall River to Boston.
Nearly complete, the Fall River Secondary Line includes the completed Freetown and Fall River Depot stations as well as the Weaver's Cove Layover Facility where trains are stored, lightly cleaned, and fueled when they are not in service. Skanska DW White JV, the Fall River Secondary Line contractor, included 36 different subcontractors and up to 260 construction workers, engineers, flaggers, and construction managers in the field daily. Final work being performed in preparation for passenger service along the Fall River Secondary includes the installation of signal boxes along the right of way and other signal work as well as a rigorous testing and commissioning process of all the new equipment by contractor crews, the MBTA, and Keolis.
On the New Bedford Main Line, over 24 miles of track and right-of-way areas are being reconstructed along with six rail bridges, 18 grade crossings, and 14 interlockings. Four stations and a layover facility are also being constructed and progressing well as part of the second larger contract award. The platform at Middleborough station is under construction as parking lot paving and lighting work takes place. East Taunton station is nearing completion and will include a center-island platform with an elevator and ramp system for accessibility. Two New Bedford stations are under construction along the New Bedford Main Line with Church Street station undergoing underground utility and platform work, and the ADA-compliant pedestrian bridge from New Bedford's city center to New Bedford station in its final design stages. Utilities and foundations for a new crew building and power structures at the Wamsutta Layover Facility are being installed along with utilities and drainage for the yard track area. Wamsutta will also serve as the layover site for the MassCoastal freight railroad. Additional updates are also available at mbta.com/SouthCoastRail.
With sustainability as a guiding priority and aligning with Massachusetts Department of Environmental Protection and United States Environmental Protection Agency requirements, one of the largest environmental benefits of Phase 1 service is the reduction of approximately 66,400 vehicle miles travelled by automobile as new riders join the Commuter Rail System, improving air quality along the corridor through lower vehicle emissions. South Coast Rail also boasts a soil management program that allows for the significant re-use of soils project-wide, representing substantial savings in terms of disposing and replenishing soil supplies.
MassDOT's early-action work in support of South Coast Rail also included over $19 million on 46 culverts, which were completed in the summer of 2020, and over $23 million on four bridges, which were completed in the fall of 2020.
With completion of the Fall River Secondary Line growing closer and the New Bedford Main Line to follow, next steps for South Coast Rail Phase 1 include preparations for training crews, examining equipment, and testing infrastructure, which are anticipated t
More Information
Media Contact Information
For all queries and comments, please contact:
MBTA Press Office