CUSTOMER SERVICE ENHANCEMENTS MAKE THE MBTA EVEN EASIER TO USE
BOSTON – In conjunction with Earth Day, the MBTA rolled out customer service enhancements that make public transit, a key to a sustainable and environmentally-friendly future, even easier to use: real-time arrival information for the Red, Orange & Blue Lines is now available at mbta.com, the Bus Countdown Clock system has been activated at Dudley station and the installation of new, re-designed system maps has begun.

"As part of our ongoing effort to make the MBTA more customer-friendly and convenient to use, these three new improvements will make trip planning and way finding easier than ever," said MBTA General Manager Dr. Beverly Scott. "Information is key in making our customers' trips as smooth as possible; knowing where you're going or when your bus or train is coming can make all the difference."

Following the introduction of the first bus countdown sign at Forest Hills this winter, the MBTA has activated the second at Dudley station, the busiest bus terminal in New England. The signs, using real-time bus tracking data, will provide information about when each route serving that station is next expected to depart, using both audio and visual messaging. Nine other stations are set to receive the signs by this summer: Harvard Square; Haymarket, Ashmont; Kenmore; Maverick, Wonderland, Jackson Square, and Central Square. Due to its size, Dudley has two bus countdown signs; most other stations will have one central location for information.

In addition to increasing arrival time information inside stations, the MBTA has launched real-time arrival information for the Red, Orange & Blue Lines on mbta.com. The MBTA Open-Data Initiative has resulted in dozens of great apps for customers to use, and it is an exciting next step to be putting this information on the MBTA website to complement existing schedule and alert information. Customers on the website can pull up real-time information for individual stations in addition to being able to access it on their phones. Currently real-time information is available for all bus routes and the Red, Blue, and Orange Lines. Real-time arrival information can be found at: http://www.mbta.com/rider_tools/realtime_subway/

Lastly, the MBTA is initiating a program to replace all of our system maps to reflect recent and upcoming changes to the MBTA system. The map, chosen by public voting last year, has been installed in approximately forty Green Line cars since the beginning of last week. Designed by Mikheil Kvrivishvili, an interactive and graphic designer from Moscow, Russia, it includes updates such as showing:

• all surface Green Line stations shown
• all SL2 stops shown
• the temporary shutdown of Government Center Station
• the planned opening of Assembly Station later this year

The map replacement program commenced last week on the Green Line trolleys. Approximately 20% of the fleet now has updated system maps, while the remainder of the bus and train fleet will be updated by the end of June 2014. The initial focus will be on the MBTA's 25 busiest "core" stations that serve over 75% of MBTA customers. The 280 maps in these core stations will be updated by the end of June 2014. The remainder of the 1,200 maps will be replaced over the next year. There are currently over 1,200 maps located in stations and another 9,500 located on buses and trains. Maps are also available on the MBTA website and on various literature available to the public.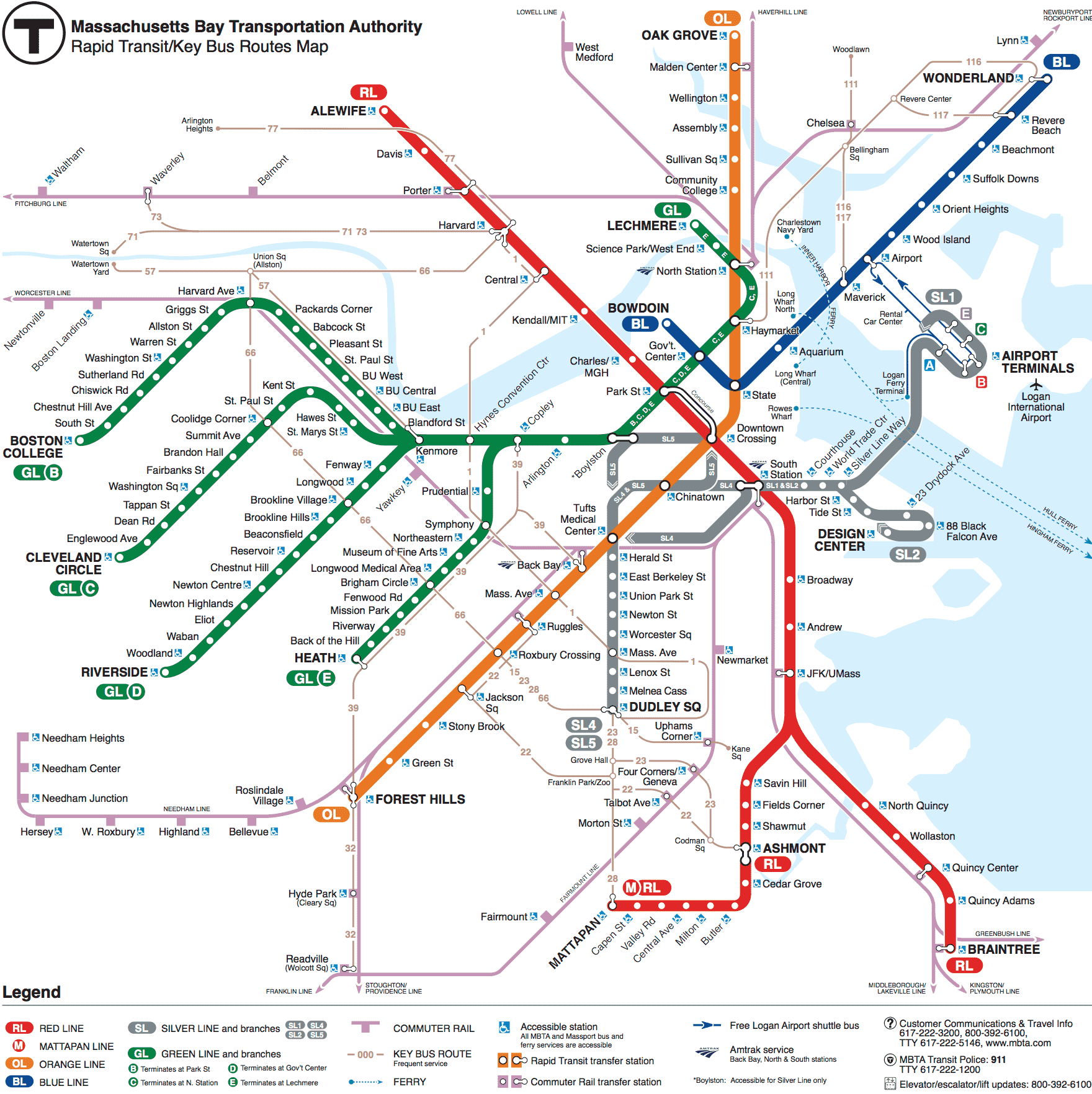 MBTA Media Contact:
Kelly.Smith@state.ma.us