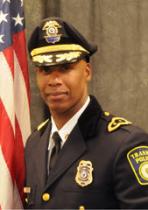 Kenneth Green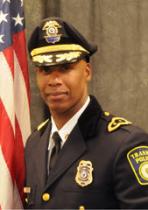 Chief of Police
MBTA Transit Police Chief Kenneth Green has nearly 40 years of experience in law enforcement. He started his law enforcement career as a patrolman for the town of Winchester, MA., in 1983. In 1991, he transferred to the MBTA Transit Police Department as a patrolman. He soon rose through the ranks as a Sergeant, Lieutenant, Deputy Chief, Interim Chief and was named permanent Chief in 2015.
Chief Green oversees a police department that encompasses a territory of 175 cities and towns – everywhere the T runs. He plans and directs daily operations of the department while ensuring the safety of MBTA riders and staff. Chief Green also builds partnerships with community groups as well with federal, state and local law enforcement agencies.
Chief Green and his Command Staff formulated a new patrol plan that was more conducive to transit rather than municipal policing. The new patrol plan has directly contributed to historically low crime rates on the MBTA since crime rates have been recorded for the MBTA. He's also developed a juvenile section unit in order to forge positive connections building relationships with kids to break down barriers and walls that are sometimes set between officers and our youth. The juvenile arrest rate has declined exponentially under Chief Green's leadership.
Chief Green obtained his bachelor's degree from Boston University where he played college football, and obtained his master's degree in Criminal Justice from Anna Maria College.
Chief Green received his Law Enforcement Executive Development Training at Roger Williams University's Command Training Series in Rhode Island, and attended Boston University's Senior Management Institute for Police and the National Counterterrorism Summit held in Israel.
Chief Green was also selected to attend the most prestigious Law Enforcement Executive Development Training in the world, the FBI National Academy in Quantico, Virginia. While at the Academy, he was challenged academically and physically. He successfully graduated with 227 fellow Law Enforcement Executives from around the country, and from 27 other countries.