Red Line Maintenance Work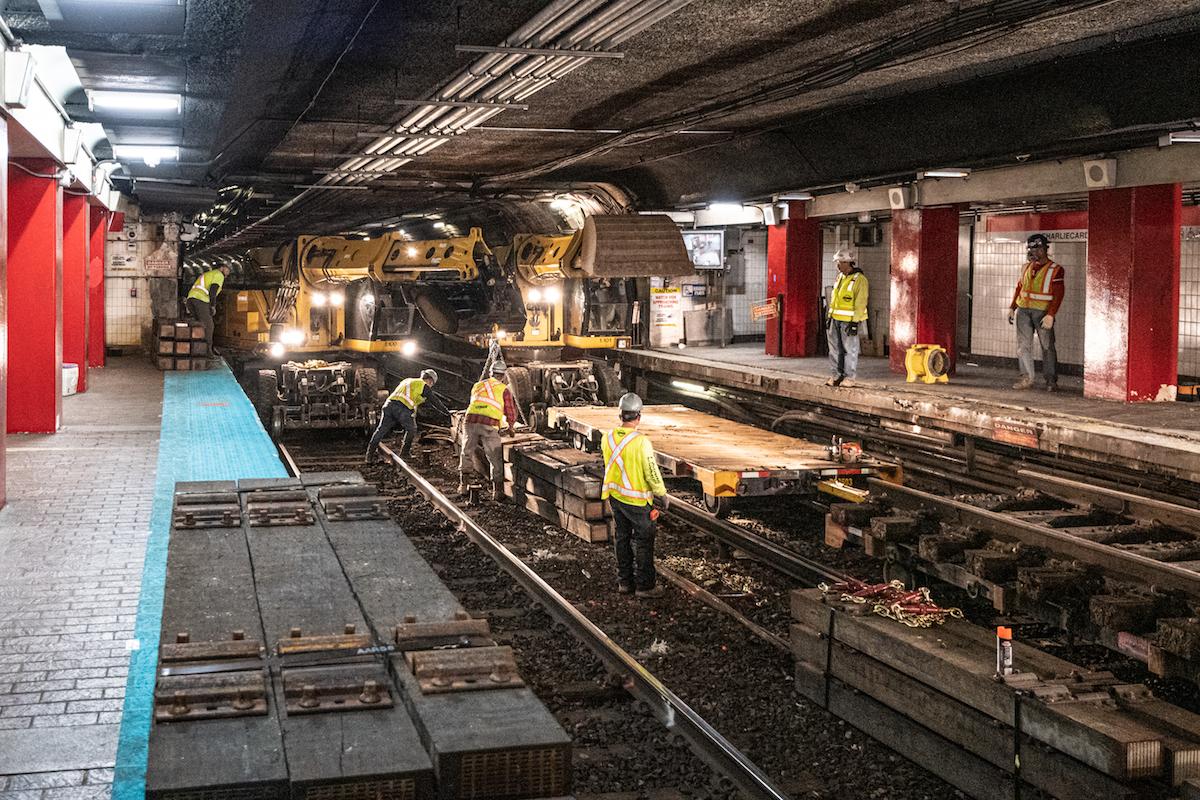 The Red Line has more than 44 miles of track: It runs 11.5 miles from Alewife to Ashmont and 17.5 miles from Alewife to Braintree (and back!). The tracks are just a piece of the complex system that supports trains weighing hundreds of thousands of pounds—and 227,000 rider trips each weekday.
We're working to keep the tracks in good repair and support new Red Line vehicles coming into service.
Diversions
Building a Better T 2020
This project is one of many we are accelerating in 2020 that will deliver results to riders sooner.
Accelerated Work
From June 18 – July 1, there will be a full service shutdown on the Red Line to allow for accelerated work on Red Line Maintenance and South Shore Garages projects. As part of this work, crews will:
Replace 3,500 railroad ties between Quincy Center and Braintree
Replace track to improve safety and lift a long-standing speed restriction
Zone 1A Fares
On weekdays during this work, riders can travel between Braintree and South Station on the Commuter Rail for just $2.40, the same price as a Zone 1A or subway fare. Simply show your CharlieCard or CharlieTicket to the conductor.
Rail Tie Replacement
Tie replacement involves using heavy machinery to align the ties before crew members secure them in place, as seen here during Orange Line work in July 2019.
---
Rail ties run perpendicular to the tracks with the rails sitting on top. Aging ties are often the cause of speed restrictions along sections of track. Our crews are installing new ties that will last up to 30 years and will reduce the possibility of speed restrictions.
Floating Slab Maintenance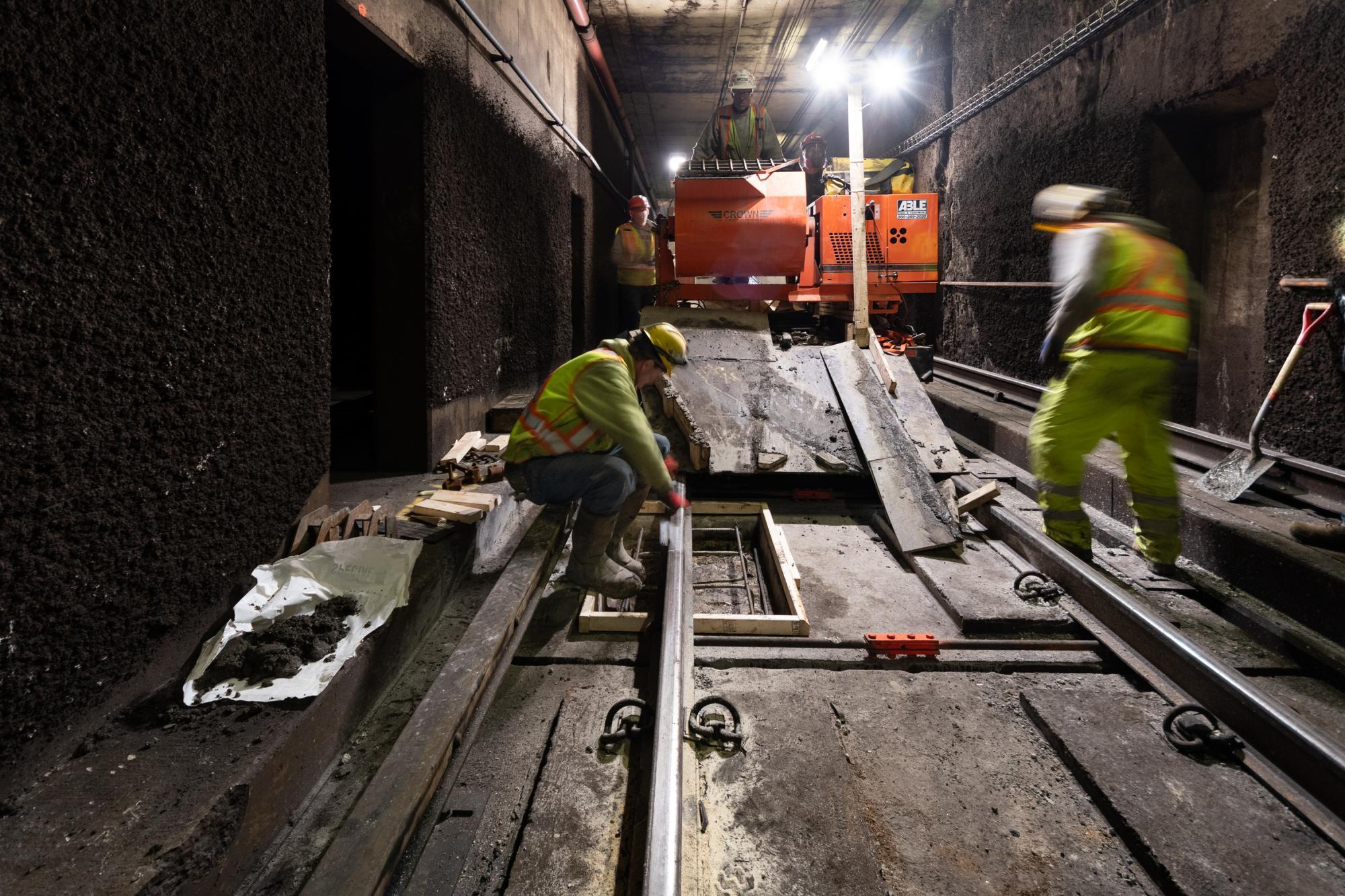 Work on the floating slab system between Harvard and Alewife stations is scheduled to be completed in winter 2020.
Floating slabs are concrete slabs that "float" between the tracks and rubber disks that absorb sound and vibration from trains. To continue to provide comfort and reliability on the Red Line, the slabs must be regularly maintained or replaced.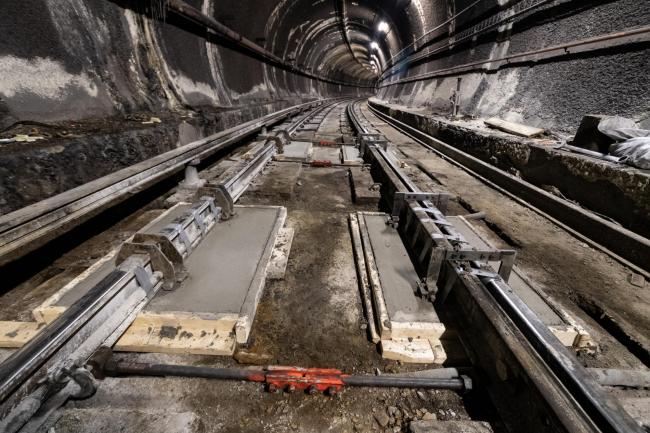 Work on floating slabs includes demolishing the old slabs, placing new rebar, and pouring new concrete. The concrete needs time to set so it can reach the required strength for train traffic to resume. Since this takes more time than is available overnight between regular service hours, we need to shut down service on weekends.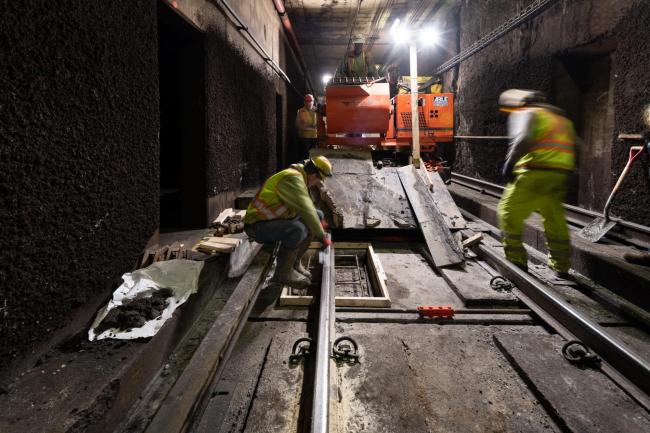 We also do this work in sections, because the tight working space in the tunnel limits the amount of work we can get done and the equipment we can use to do it. The nearest access point for equipment is the tunnel entrance near Kendall Square—if we did all this work at once, we would need to shut down a larger portion of the Red Line for an extended period of time.
Track Replacement and Station Improvements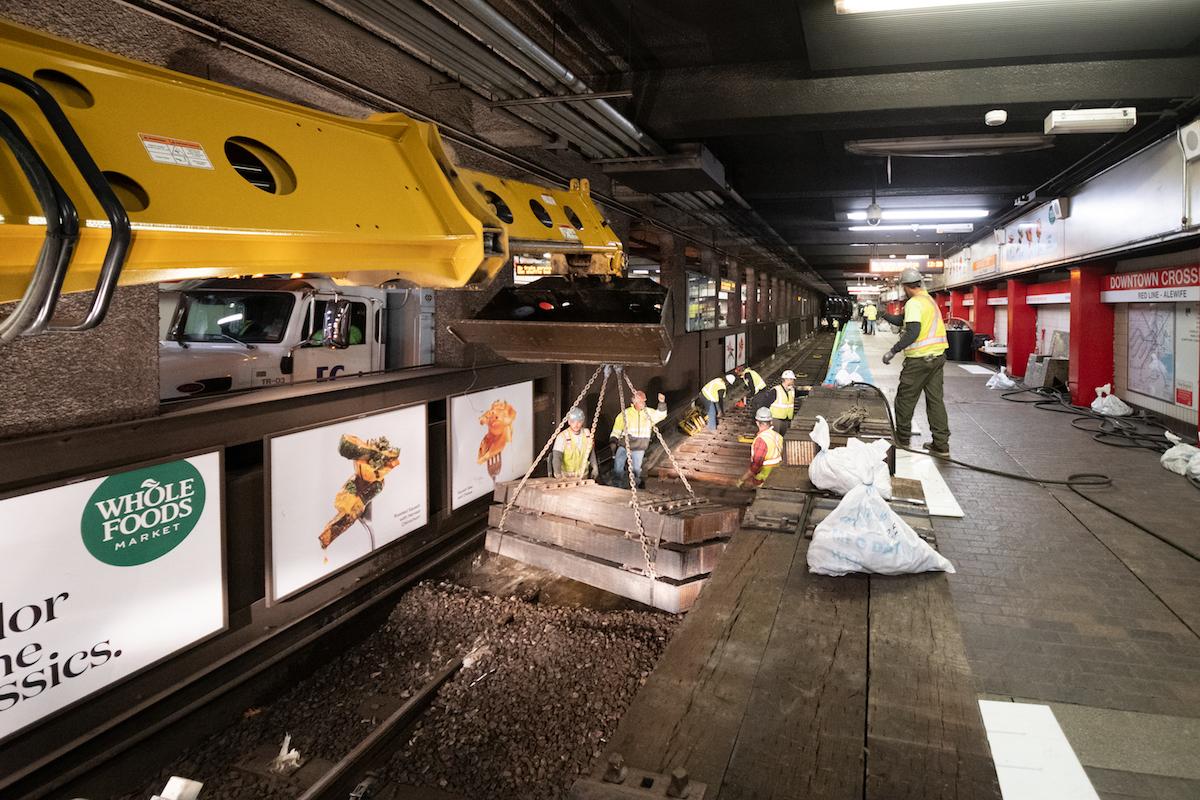 From November 15 – December 15, 2019, shuttles replaced train service between Kendall/MIT and Broadway on 4 weekends to support Red Line work through the T's Capital Acceleration Plan.
These closures allowed us to complete station improvements and track replacements at Park Street 4 months earlier than planned, and at Downtown Crossing 11 months earlier than planned. We closed a broader section of the track so crews could bring vehicles and equipment into the central subway tunnel.
We thank you for your patience during these closures.
Service Alerts
Recent Updates
Diversions
Building a Better T 2020
This project is one of many we are accelerating in 2020 that will deliver results to riders sooner.
Recent Updates