Alerts
Filter by type
Get T-Alerts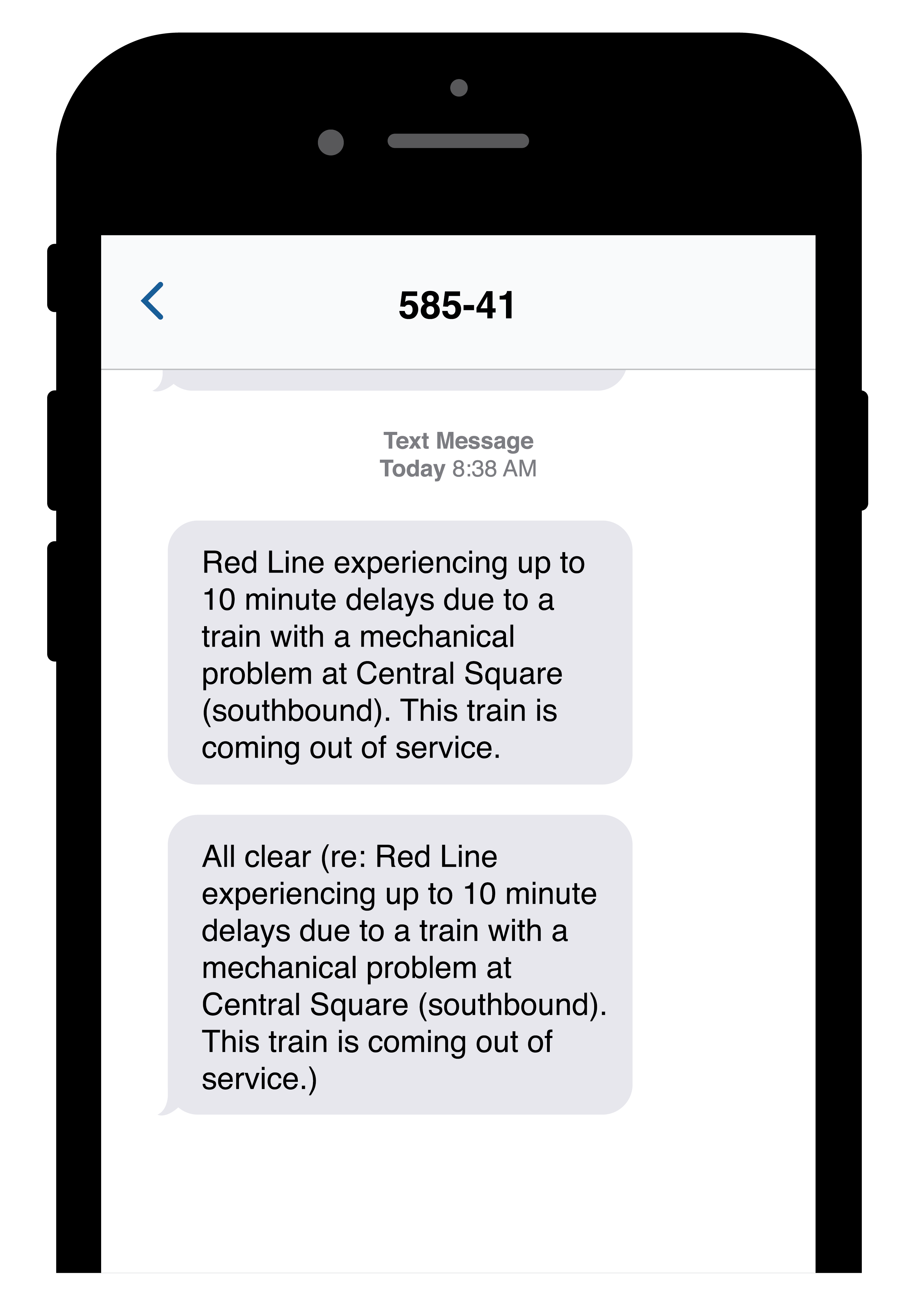 Systemwide
MBTA service levels have been increased in the interest of the health and safety of our riders and employees. All riders must use face coverings when on the MBTA. More:
MBTA.com/coronavirus
Weekend service levels, June 21:
Subway - Regular weekend service
Bus - Regular weekend service.
Commuter Rail - Reduced service. Line-specific schedules will be posted.
Ferry - No service, visit
MBTA.com/trip-planner
The RIDE - Service available
Weekday service levels, June 22:Subway:
Regular weekday service
Bus: Modified weekday service on high-demand routes. Routes 19 and 245 resume service. Modified Saturday service on most routes. No service on Routes 325, 326, 351, 352, and 501. Use trip planner to find an alternate route. Check your bus route for more details:
MBTA.com/schedules/bus
Commuter Rail:
Modified Weekday service
Ferry service:
Reduced weekday service for Hingham/Hull, regular weekday service for Charlestown.
This comes under guidance from public health officials to ensure the health and safety of all and the continuity of operations. We're actively monitoring rider volume and feedback, and making service adjustments accordingly to meet the needs of our community.
Updated: 6/21/2020 8:12 AM
The following Worcester Line trains are cancelled through July 10th to allow for continued PTC implementation work: Trains 501, 7504, 7508, 7521, and 7525. More info at

MBTA.com/WORwork

On July 11 & 12 buses replace Worcester weekend train service between Back Bay & Ashland to connect with train service while PTC is installed. No service at Auburndale, W. Newton, Newtonville, Boston Landing, Lansdowne or S Station.

MBTA.com/WORwork

Buses will operate to and from Ashland station at the scheduled train time.

The usual weekend bus diversion between Back Bay and Framingham will resume on July 18 and continue through July.

Please visit

MBTA.com/WORwork

for more details about bus shuttle schedules. Visit

MBTA.com/PTC

for more information on how this project will improve commuter rail safety and travel.

Shuttles are accessible but bicycles will not be allowed on board.

There will be no bus shuttle service to and from South Station. If you are travelling outbound, please use the Red Line or Silver Line to connect with the Orange Line to Back Bay. At Back Bay, board a Worcester/Framingham shuttle. If you are travelling inbound from Back Bay please board the Orange Line, the Franklin Line, the Needham Line (Saturday only) or the Providence Line for continued service inbound to South Station.

Bus shuttles will not serve Auburndale, West Newton, Newtonville, Boston Landing, Lansdowne stations, please consider the following alternatives:-Auburndale:

Riverside Station on the Green Line

-West Newton:

Bus Route 553 (Saturday only)

-Newtonville:

Bus Route 59 (Saturday& Sunday), 553 (Saturday only)

-Boston Landing:

Bus route 57, 64, 66

-Lansdowne:

Kenmore or Fenway Station on the Green Line or Bus Routes 8, 57, 60 (Saturday & Sunday), 65 (Saturday only)

Thank you for your patience while we improve the signal system on your Commuter Rail line.

More info at

MBTA.com/WORwork

Updated: 7/7/2020 2:03 PM

Worcester Train 7507 will originate at Ashland at 8:10 am every day through July 10th. More info at

MBTA.com/WORwork

Weekends until further notice, please board all Worcester Line trains on the inbound platform (Track 2) at Framingham.

Affected stops:

Framingham

Updated: 4/4/2020 5:32 PM

The normal weekday track change between 3:15 pm and 7:45 pm on the Worcester Line at Framingham, West Natick, Natick Center, Wellesley Square, Wellesley Hills, Wellesley Farms & Lansdowne is not in effect until further notice.
Weekends, through July, buses will replace the entire Greenbush Line all day to allow for maintenance work. The buses will operate on the normal train reduced service schedule. More info at

MBTA.com/GRBwork

More information at

MBTA.com/GRBwork

Buses may experience delays up to 10 minutes.

The shuttle buses will be free and ADA accessible, but bikes will not be allowed on board.

Please note that the buses will make an additional stop at Braintree, but Braintree and JFK/UMass stations are drop off only on inbound trips. Shuttles will stop at Braintree at the normally advertised Quincy Center times.

The buses will not stop at Quincy Center, so passengers are invited to use alternative such as the Middleborough/Lakeville, Kingston/Plymouth, and Red Lines for service to that station.

Updated: 7/6/2020 7:06 AM
On weekends, July 11 through August, shuttle buses replace Lowell Line service between Anderson/Woburn and North Station to allow for work on the Green Line Extension Project. More information:

MBTA.com/LWLwork

Additional weekends may be added to the shuttle busing as work progresses on the Green Line Extension project.

Updated: 7/6/2020 11:19 AM
Get T-Alerts