More from How to Pay Your Fare
Read our step-by-step guides to paying your fare on each MBTA mode, and find info about transfers, where to buy tickets, and more.
The CharlieTicket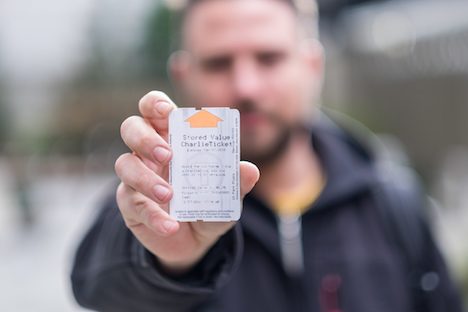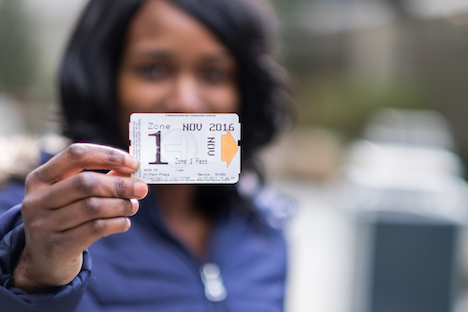 CharlieTickets are reusable paper tickets that can be loaded with either cash value or 1-day, 7-day, or monthly passes. CharlieTickets are accepted on all MBTA transportation modes. 
They're most commonly used for:
Single-ride fares on bus and subway
Single-ride and round trip tickets on Commuter Rail and ferry
1-day and 7-day passes 
Monthly passes for subway, bus, Commuter Rail, and ferry
Things to Know
Treat CharlieTickets like cash. They are not protected against loss, theft, or damage.
Single-ride bus and subway fares are higher when you pay with a CharlieTicket: $2.75 for subway and $2 for bus.
If you buy a 1-day or 7-day pass on a CharlieTicket, it is valid from the date and time of purchase.
The MBTA does not refund any fare products.
Where to Get a CharlieTicket
Fare Vending Machines
All fare vending machines can dispense or reload CharlieTickets for: 
Bus 
Subway 
Commuter Rail (up to Zone 8)*
Ferry 
*Interzone tickets and passes not available.
Onboard Fare Boxes
On buses and street-level trolleys, you can load cash value onto a CharlieTicket at the onboard fare box.
Retail Sales Locations
You can purchase cash value CharlieTickets and passes for bus, subway, ferry, or Commuter Rail (up to Zone 8) at select retail stores in the Greater Boston and Providence areas. 
Ticket Windows
You can purchase single-ride, round trip, and monthly Commuter Rail passes at ticket windows in: 
North Station 
South Station 
Back Bay Station
Why Choose a CharlieTicket?
Paying your fare with a CharlieTicket is a good choice if you:
Are a tourist or visitor. The 1-day and 7-day passes sold on CharlieTickets grant unlimited travel* on the MBTA bus, subway, Commuter Rail Zone 1A, and Charlestown Ferry. Those sold on CharlieCards are only valid on bus and subway. *Note that CharlieTicket passes are valid from the date and time of purchase.
Need a monthly Commuter Rail or ferry pass. Monthly Commuter Rail and ferry passes on CharlieTickets grant you unlimited travel on other MBTA modes, including Local Bus and subway. You can also conveniently purchase most passes at fare vending machines.
Rarely use public transportation. If you don't use the MBTA to commute or are taking a rare trip on the Commuter Rail or ferry as a bus/subway rider, you may want to purchase an exact fare on a CharlieTicket.
If you are a regular bus or subway rider, you may want to consider using a CharlieCard to pay your fare. CharlieCards offer lower single-ride fare prices, more transfers, and easy tap-through access at fare gates and fare boxes.
How to Pay Your Fare
Read our step-by-step guides to paying your fare, whichever payment method you choose: