Washington Street Bridge/Underpass in Somerville to Remain Closed through The Winter
Posted on October 9, 2019
Remaining closed through 2019 – 2020 winter season results in work completed 5 months early
---
The MBTA today announced a schedule change for the Washington Street Bridge/Underpass that will extend the closure through the winter but will accelerate the permanent reopening of the underpass by 5 months.
 
Original closure plans for the Washington Street Bridge/Underpass near McGrath Highway in East Somerville involved temporarily reopening the underpass for the winter season to be followed by a second closure of the vehicular roadway from April 2020 through the summer of 2020. The bridge will instead remain closed this winter and is expected to permanently reopen to traffic in spring of 2020.
"While we acknowledge extending the closure is inconvenient, the schedule change allows us to accomplish more work within a shorter timeframe," said MBTA General Manager Steve Poftak. "As we continue our efforts to build a better, safer, more reliable MBTA, making these types of adjustments allows us to deliver improvements even faster than originally planned."  
 
For the duration of this closure, all traffic will be detoured around the work zone via Pearl Street and McGrath Highway. Detour maps and directions are available on mass.gov/GLX in the Bridge Closures section. 
  
To stay informed about construction, sign up to receive a weekly email outlining upcoming construction citywide at somervillema.gov/construction. Residents are also encouraged to enroll in the City's alert system at somervillema.gov/alerts to ensure they're notified prior to major detours or disruptive construction activity in their neighborhood. 
 
Anyone seeking assistance for an urgent GLX construction-related matter should call the 24/7 hotline at 1-855-GLX-INFO (459-4636) or email info@glxinfo.com.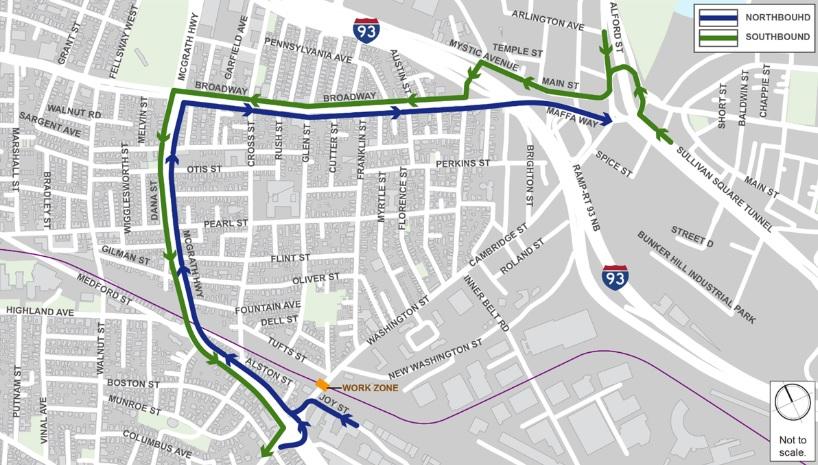 More Information
Media Contact Information
For all queries and comments, please contact:
MassDOT Press Office