Weekday Service Pilot Between Boston and Foxboro Begins October 21
Posted on October 17, 2019
One-year pilot program includes 10 round-trip trains and new reverse-commute fare, 500 parking spaces available at Foxboro Station
Learn more at mbta.com/foxboro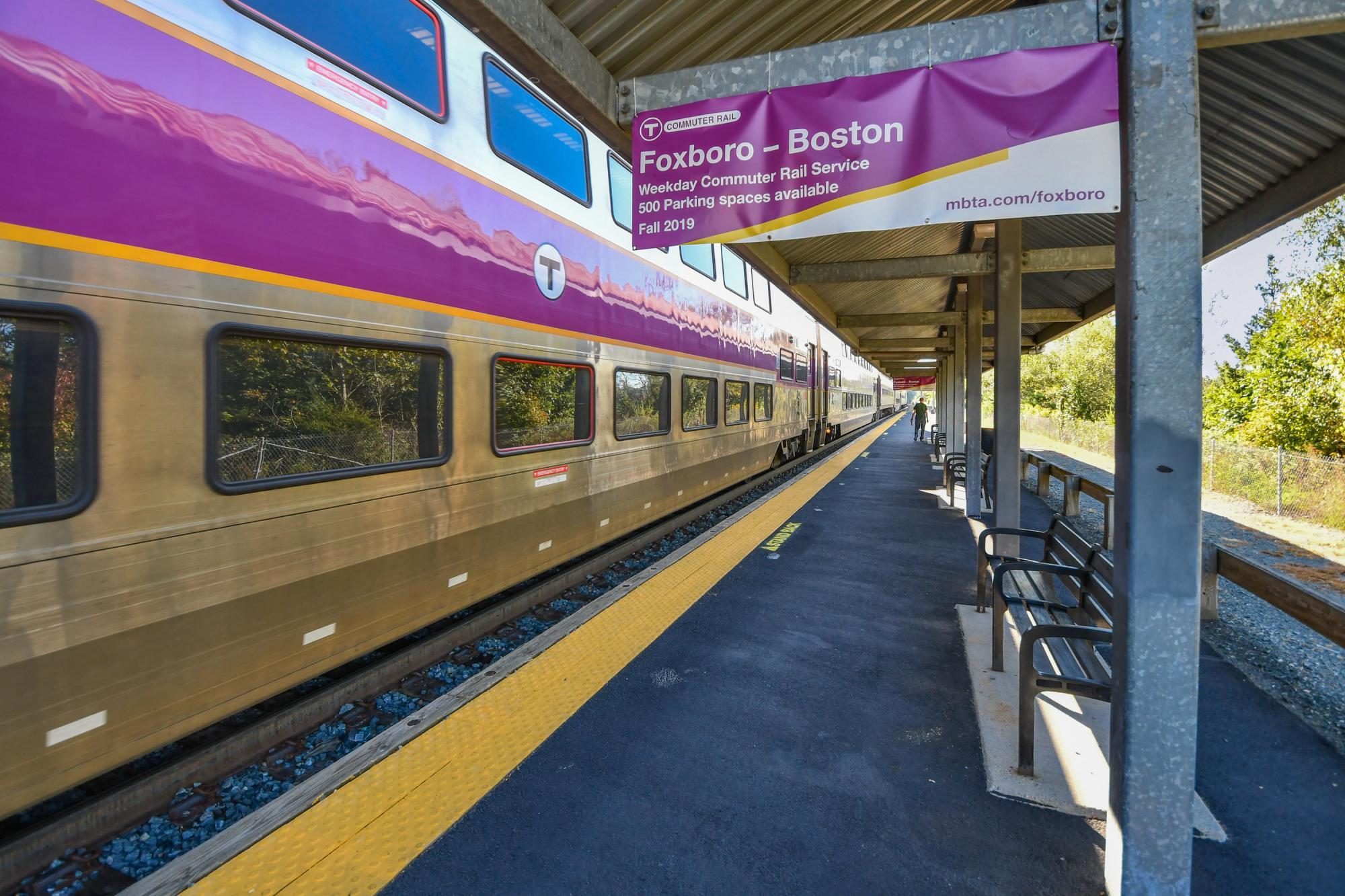 On Monday, October 21, the weekday Commuter Rail service pilot between Boston and Foxboro Station and a reverse commute fare will begin. This one-year service pilot offers 10 round-trip weekday trains between Foxboro and Boston via the Fairmount and Franklin Lines. The service and special reverse commute fare begin the same day fall/winter Commuter Rail schedule changes take effect. 
"The addition of regular weekday service to Foxboro Station provides important access to transit for both regular commuters and reverse commuters," said MBTA General Manager Steve Poftak. "The MBTA is committed to improving public transit in all the communities we serve, and we look forward to measuring the success of this pilot program as we offer transit solutions that remove more cars from our roadways."
"The Kraft Group has long welcomed Commuter Rail service here at Foxboro Station to alleviate the congestion faced at nearby stations while offering the opportunity for tremendous growth in the region with a potential influx of reverse commuters from the Boston area," said Vice President & General Manager of Patriot Place Brian Earley. "This pilot program is a step towards that potential development and we're happy to partner with the MBTA and the Town of Foxborough upon the station's opening this Monday."
"We're pleased to operate Commuter Rail service in new communities, providing residents with new transit options for work and leisure," said Keolis General Manager and CEO David Scorey. "We hope the comfort and reliability of Commuter Rail is an attractive option to commuters and reverse commuters with a new discounted fare. We look forward to marketing the service and continuing to grow ridership on Commuter Rail."
Train Service
On weekdays, there will be a total of 20 trips between South Station and Foxboro. This includes 10 inbound trips and 10 outbound trips. A full list of trains to and from Foxboro Station can be found at mbta.com/Foxboro. Foxboro Station is in Zone 4 with a regular Zone 4 one-way fare of $8.75, a regular Zone 4 round-trip fare of $17.50, and a regular Zone 4 monthly pass of $281 on CharlieTicket or $271 on the mTicket app.
While trains between Foxboro and South Station travel on the Franklin and Fairmount Lines, not all trains will stop at Hyde Park, Ruggles, or Back Bay Stations. Passengers should check each line's schedule at mbta.com/CR for details.
Reverse Commute Fare
For reverse commuters to Foxboro, a reverse commute fare will be offered for the same price as an interzone 4 fare: $4.25 one way, $8.50 for a round trip, $139 for a monthly pass with a CharlieTicket or $129 for a monthly pass with the mTicket app. The reverse commute fare is designed for those who travel from Zone 1A stations on the Franklin and Fairmount Lines to Foxboro in the morning and return to Boston in the evening. 
One-way reverse commute tickets may be purchased onboard trains, at ticket windows, and on the mTicket app. Monthly reverse commute passes are available on mTicket and at South Station and Back Bay Station ticket windows. Passes purchased at ticket windows include free transfers to local bus service.
Reverse commute fares will be accepted on trains to Foxboro leaving South Station at 6:03 AM, 7:05 AM, and 8:50 AM. Reverse commute fares will be accepted on trains to South Station leaving Foxboro at 4:32 PM, 5:25 PM, 6:34 PM, and 7:39 PM.
Like service to Foxboro, the reverse commute fare will be piloted for one year. During this time, the MBTA will be monitoring and evaluating performance, ridership, parking, the subsidy per passenger, and other opportunities for reverse commuters. 
Parking
The Commuter Rail lot at Foxboro Station will have 500 spaces at a daily rate of $4. The additional parking is expected to alleviate space constraints at Mansfield Norfolk, Walpole and Sharon Stations. This will allow for even more passengers to ride Commuter Rail and alleviate congestion on roadways.  
At Foxboro Station, Keolis and MBTA crews have replaced signage, updated maps, and installed new lighting, seating, and wayfinding. For passenger safety and comfort, the station has been enhanced in advance of the pilot program.
The fall/winter commuter rail schedules can be viewed by browsing individual lines at mbta.com/CR and via the Keolis Commuter Rail app. 
Customer service teams and Passenger Assistants will be at major stations to answer questions leading up to October 21, and to help ensure passengers are familiar with these changes. Passengers can also turn in old schedules to be recycled at these stations.
More Information
Media Contact Information
For all queries and comments, please contact:
MassDOT Press Office