Building a Better T: Green Line B Branch Station Consolidation Project Completes Three of Seven Weeks of Accelerated Work
Posted on May 11, 2021
Project pauses May 10-16 for Boston University Commencement and resumes on May 17.
---
The MBTA's Green Line Transformation program (GLT) has completed the first three weeks of the planned seven weeks of nearly continuous work to accelerate the B Branch Station Consolidation Project. At the same time, track and intersection upgrades have also been completed within the service diversion area. The project will pause with regular Green Line B Branch service operating from May 10 through May 16 to support Boston University's 2021 Commencement week. Because the work site is located at the heart of the University, the MBTA has worked closely with its partners at Boston University to ensure that this important week will go smoothly for graduates and their families. The final four weeks of the full access closure will occur from May 17 through June 13.
"The acceleration of the B Branch Station Consolidation project will continue later in May so that we can complete the project months earlier than originally planned. However, we understand the significance of Commencement Week to the graduates and Boston University community, and will support our partners at BU by operating regular train service for this important week," said MBTA General Manager Steve Poftak. "Ultimately, consolidating the four B Branch stations into two brand new, accessible stations will better serve the BU community and all B Branch riders. We are also leveraging access to the diversion area in order to complete additional track and intersection upgrades along this segment of the B Branch to deliver additional improvements in safety and reliability."
"The B Branch work taking place this spring provides improvements in the short term to deliver a safer, smoother ride along Comm. Ave. by late 2021. It also prepares for the future, as the larger platforms in the new stations will accommodate the new, longer Supercars being procured for the Green Line," said MBTA Chief of Green Line Transformation Angel Peña. "GLT will continue to provide weekly project updates and keep residents, businesses, and riders informed as we work to deliver improved service along Comm. Ave. months ahead of the original schedule. We appreciate that construction causes disruption, and are working as quickly and safely as we can to make these improvements on the B Branch."
More Information about the Project
The B Branch Station Consolidation project is consolidating four B Branch stations into two brand new stations on Commonwealth Avenue adjacent to Boston University between Babcock and Amory Streets. St. Paul Street and BU West Stations will be consolidated into one station called Amory Street Station, and Babcock Street and Pleasant Street Stations will be consolidated into one station called Babcock Street Station. The new stations will feature 150-foot-long canopies at each new platform, accessible walkways, new communications and safety/security systems, lighting, signage, new benches, and additional station elements.

Current details regarding ongoing work are available via a GLT video update (in English and in Spanish) and on the MBTA website. As of May 9, GLT marked acceleration progress of 40% on the new platforms and the related track replacement and intersection upgrades. Completing the work concurrently eliminates the need for a future diversion to make these infrastructure investments. This 30-second video captures three weeks of work on the B Branch Station Consolidation project.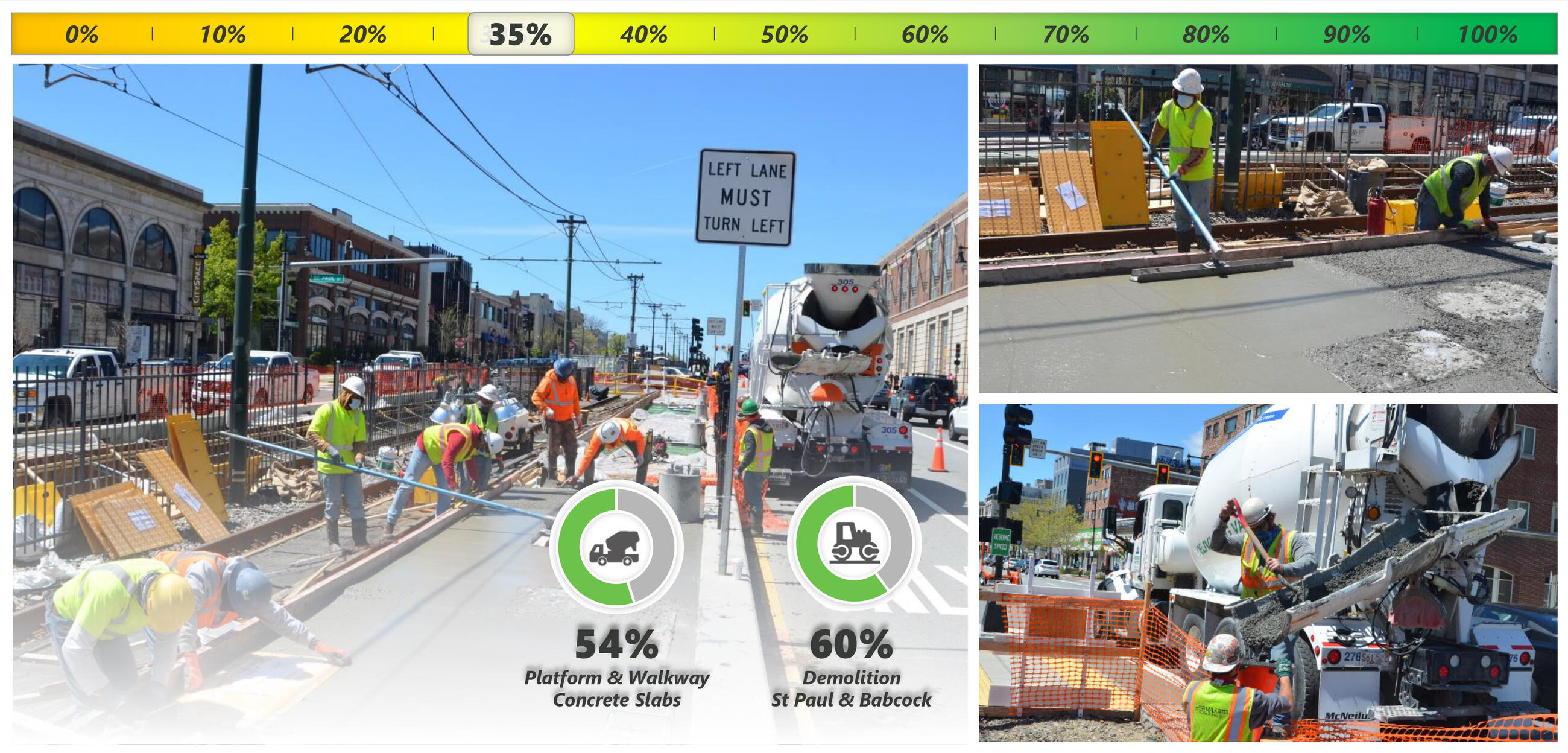 Traffic management is also part of the GLT plan for this busy area. During the first three weeks of construction, GLT took proactive measures such as working with the City of Boston to adjust traffic signal timing to improve traffic flow and adding signage to assist drivers at key locations. Additional efforts to minimize inconvenience will continue as GLT adds police details near BU to ensure that pedestrians know where to cross when intersections at Cummington Mall and St. Mary's Street are closed sequentially between Monday, May 17, and Wednesday, May 26. Dates and work locations are subject to change due to weather or other considerations. GLT will provide advance notice of changes whenever possible.
The accelerated approach will reduce the overall station consolidation project schedule by several months. With full access, crews do not have to allow time each night or weekend to shut down the line and then prepare for a return to service. This approach allows work crews to complete complex work in a matter of days that would otherwise take many weeks of evening and weekend diversions. GLT will continue to look for opportunities to maximize the work completed during the final four weeks of the accelerated schedule and will provide updates both on the MBTA website and to email subscribers.
More Information
Media Contact Information
For all queries and comments, please contact:
MBTA Press Office