Green Line B Branch Station Consolidation
We're consolidating four B Branch stops into two fully accessible, brand-new stations—Babcock St Station and Amory St Station.
Contract awarded: Spring 2020
Projected completion: Late 2021
Budget: $29,328,818
Status: 63% construction complete
Diversions
Building a Better T
As part of our $8 billion, 5-year capital investment plan, we're renovating stations, modernizing fare collection systems, upgrading services for our buses, subways, and ferries, and improving the accessibility of the entire system.
As part of the Green Line Transformation (GLT), this project meets the following goals:
Addressing demand: Faster trips down Commonwealth Ave
Accessibility: Raised platforms compatible with low-floor vehicles
Customer experience: All-new benches, shelters, and safety features at each station
Related Projects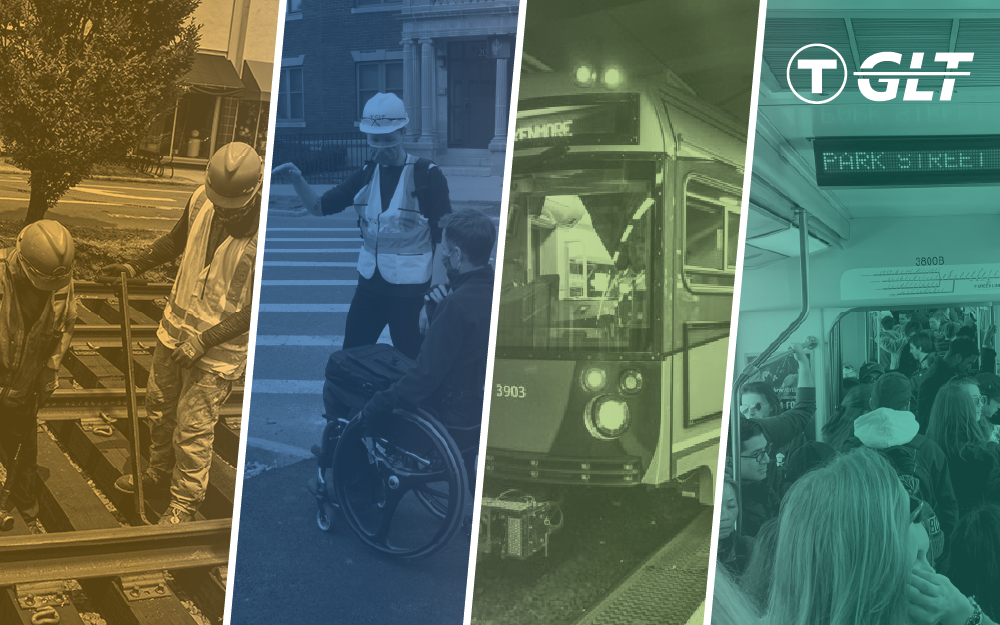 This project is one of many we're working on to ensure twice as many passengers have access to a safer, more comfortable, and more reliable Green Line by 2030.
Project Features
The consolidation of St. Paul St and BU West stations into Amory St Station
The consolidation of Babcock St and Pleasant St stations into Babcock St Station
Longer, 225-foot platforms to accommodate the future fleet
Accessible boarding at both stations
Two accessible exits at both stations
Security and reliability upgrades to trains and stations
Benefits
Faster, more reliable transportation along Commonwealth Avenue
Two new accessible stations on the Green Line
Improved traffic and pedestrian safety in the Boston University neighborhood
What You Can Expect During This Work
To do this work, we need to shut down service between Washington St and Kenmore on most weeknights and weekends throughout the duration of the project.
Pleasant St. Station was permanently decommissioned on February 26, 2021. Riders can instead board at St. Paul St or Babcock St on weekdays when trains are operating.
Shuttles replace B Branch service between Washington St and Kenmore on weeknights and weekends through late 2021.
View all Green Line B service changes
From April 17 – May 9 and May 17 – June 13, we shut down B Branch service for seven weeks for accelerated work.
Occasional overnight and weekend lane closures will be required to allow crews to perform work safely. There may also be occasional overnight detours for vehicles, however, we will ensure that local access is maintained and advance warning signs are posted.
Pedestrian paths of travel will be clearly marked throughout the work zone.
Crews will work overnight from 10 PM – 5 AM on weekdays and 24 hours a day on weekends.
Occasionally, crews will perform daytime work on weekdays at the new station platforms. This work will not impact train service.
From April 17 – May 9 and May 17 – June 13, crews worked 24 hours a day, seven days a week, to accelerate the project schedule.
View the B Branch project update
Anticipated schedule and work activities
Dates
Work
Dates
February 2021
Work
Pre-construction preparation
Dates
February 2021
Work
Decommissioning of Pleasant St Station
Dates
March – April 2021
Work
Utility/ductbank work
Dates
May – June 2021
Work
Construction of platforms for the two new stations
Dates
July – August 2021
Work
Construction of new canopies
Dates
August – October 2021
Work
Demolition of old platforms at St. Paul St, BU West, and Babcock St
Dates
August – late 2021
Work
Installation of electrical system and site finishes
This work schedule is dependent on weather and COVID-19 guidelines and is subject to change without notice. GLT will update this page as quickly as possible with the latest construction schedule.
Service Alerts
Photo Gallery
Past Events
Contact Information
For all questions and comments related to the Green Line B Branch Station Consolidation, please contact GLT@mbta.com.
To report a noise complaint or issue, call the 24/7 noise hotline at 508-646-4691.
For More Information
Get project news, updates, and information delivered to your inbox.
Recent Updates