MBTA Celebrates Completion of Two New Green Line Stations
Posted on November 16, 2021
The project results in improved accessibility and accelerated travel on the B branch months ahead of schedule.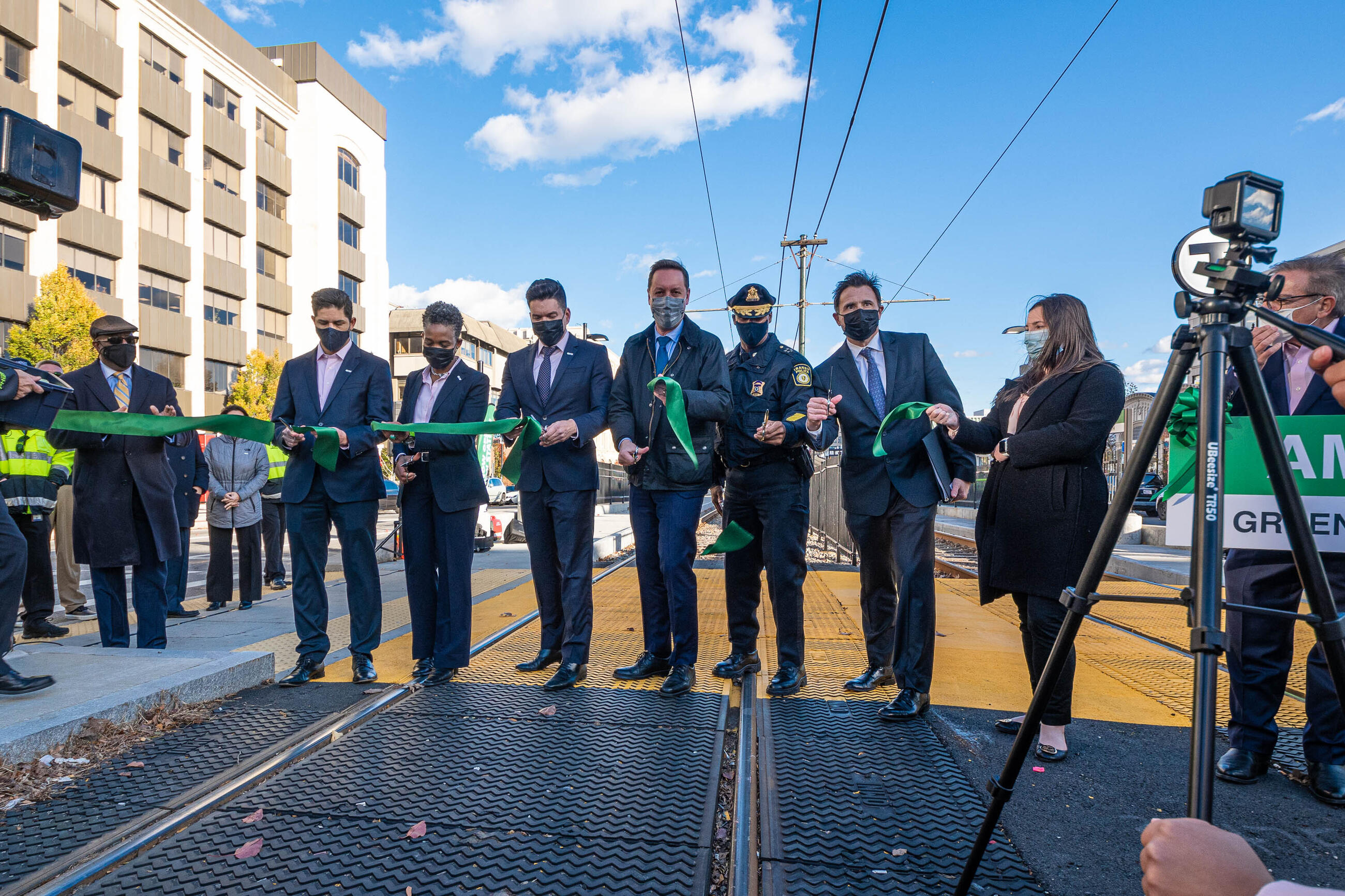 ---
MBTA General Manager Steve Poftak today was joined by Boston University officials and others to celebrate the completion of the $29 million B Branch Station Consolidation project. Green Line riders can now experience boarding via new accessible platforms compatible with low-floor vehicles and improved station elements as part of the Green Line Transformation (GLT) program.   
The ribbon-cutting event showcased the completion and opening of the project ahead of schedule. By accomplishing seven weeks of 24/7 accelerated work on the B Branch, the GLT team was able to complete both stations months in advance as well as upgrade two intersections and renew 5,000 feet of track on the B Branch.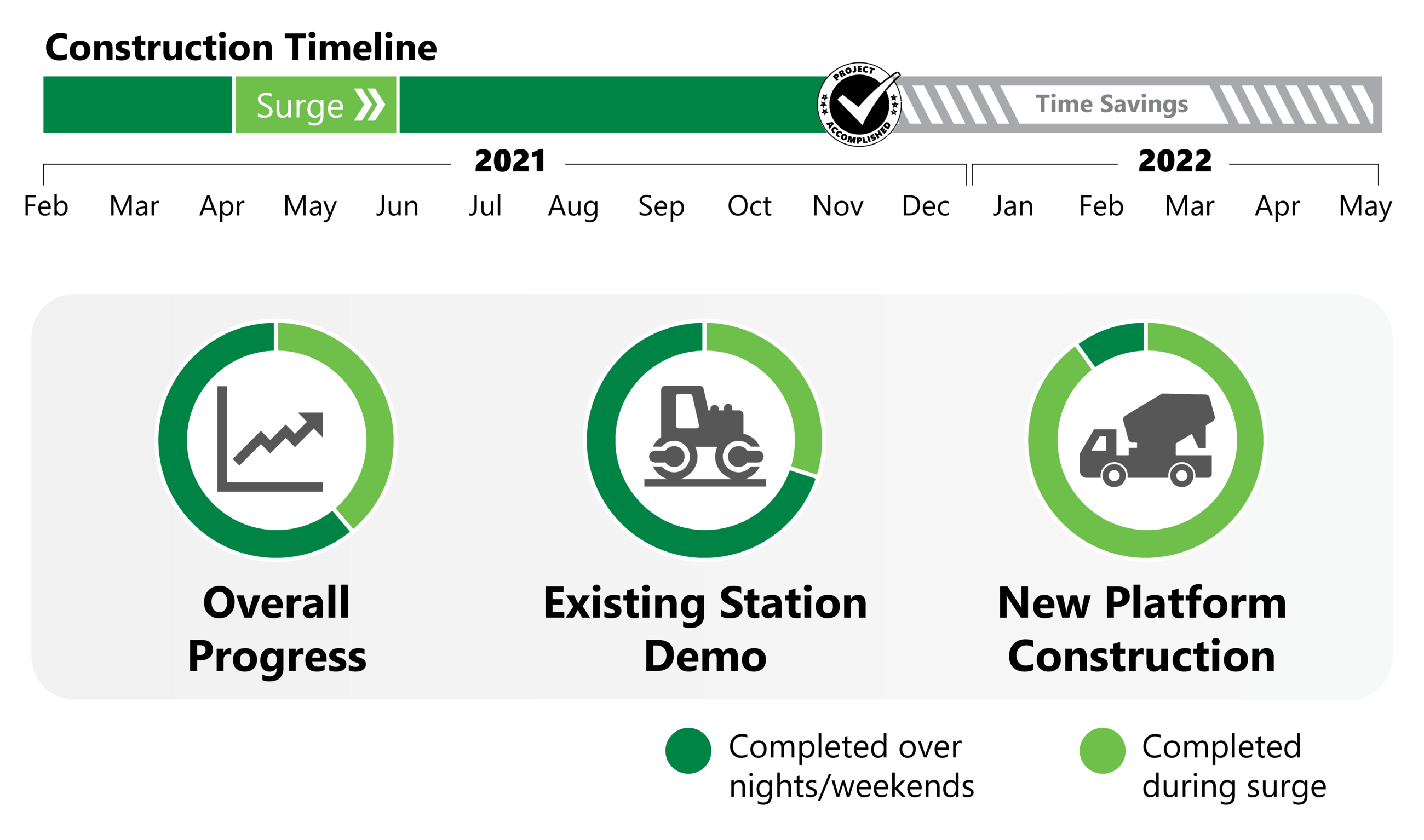 The newly opened stations combined the old St. Paul Street and BU West Stations into one station – Amory Street Station – and the old Babcock Street and Pleasant Street Stations into one station – also called Babcock Street Station. With the completion of this project, four inaccessible stops have been consolidated into two accessible stations that are safer for riders of all abilities. This project also furthers the enhancement and efficiency of the Commonwealth Avenue corridor with less stops.

"Since it was initiated, GLT has worked with our municipal partners to implement many improvements on the B Branch and across the entire Green Line. Built in less than a year, the B Branch Consolidation project improves safety and accessibility as well as shortening the ride in this busy area," said MBTA General Manager Steve Poftak. "The completion of this project, alongside track and intersection upgrades, not only improves the efficiency of Commonwealth Ave., but also enriches the experience of riders from Boston College to downtown."
"I want to personally thank our riders and the communities we serve along the B Branch for their patience as we made these critical accessibility improvements bringing two new accessible stations to the Green Line," said MBTA Chief of Capital Transformation Angel Peña. "As we continue to make significant investments to our infrastructure, we are not only thinking about improvements to meet the needs of today, but also those of the future. This kind of holistic planning yields a more efficient use of funding and minimizes the amount of disruption to service for all riders."
Throughout construction, the GLT Team implemented standard mitigation strategies to minimize noise disruptions to the Boston University neighborhood. A 24/7 noise hotline was also available to report noise issues. As well as providing alternative service during nights and weekends from February 2021 to November 2021, GLT paused construction for major campus events and all Boston University Commencements.
"Boston University congratulates Governor Baker, Secretary Tesler, and General Manager Poftak on the completion of this project," said President of Boston University Dr. Robert A. Brown. "The Green Line Transformation team has been a valued partner during the past nine months of construction. The opening of the new stations at Amory Street and Babcock Street will, I am confident, improve the ridership experience for BU and the community."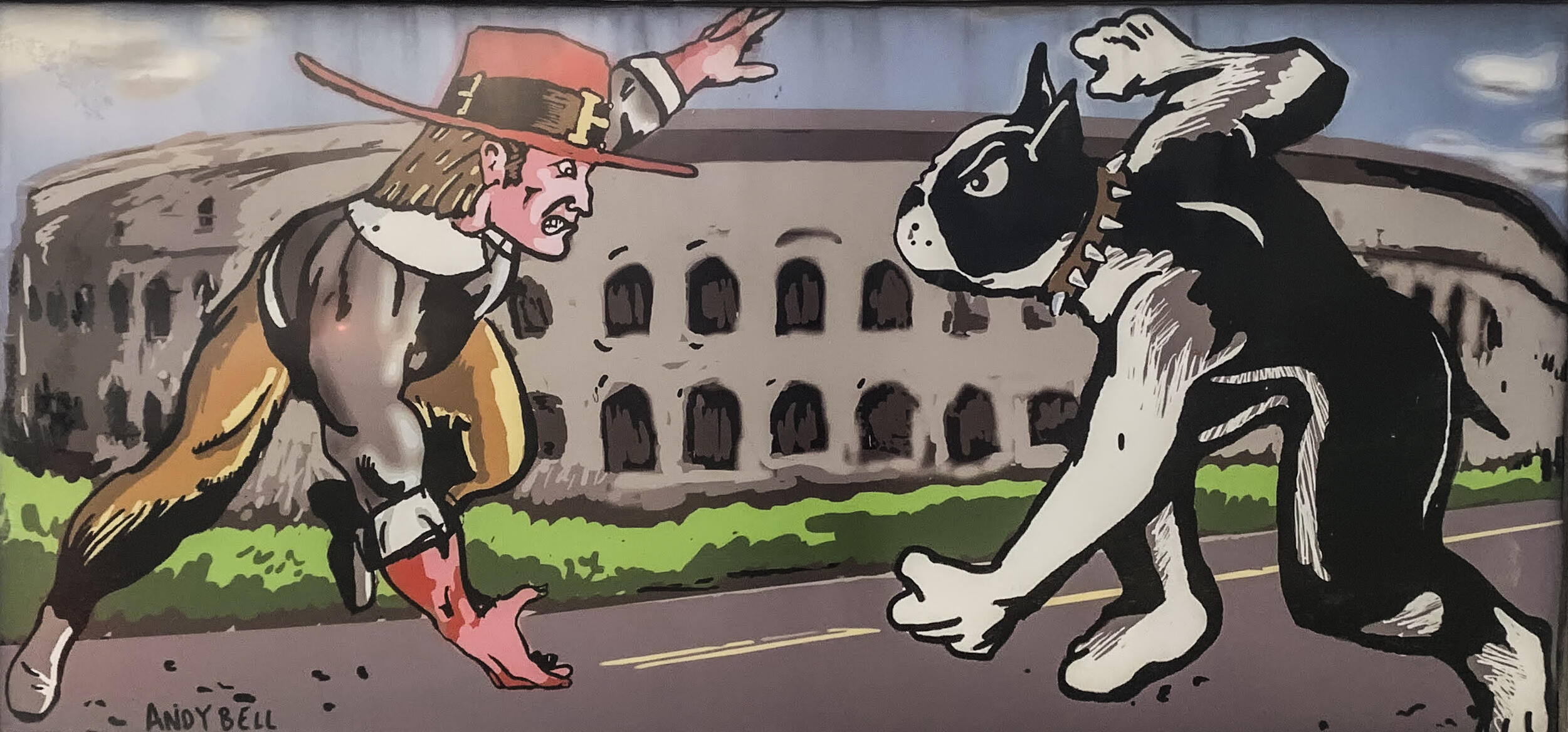 Additional collaboration efforts have also been underway with Boston University to collect artwork that was once displayed at BU West Station. 
"For years, whether you were getting off the T or driving by, these murals caught your eye. Depicting the friendly rivalry between the universities and colleges here in the city, this artwork brought great energy to the West Campus MBTA stop," said Boston University's Associate Provost and Dean of Students Kenneth Elmore. "The Boston University community is excited to become the new home for this incredible artwork. We are working on a plan for them to be displayed on BU's campus. Stay tuned."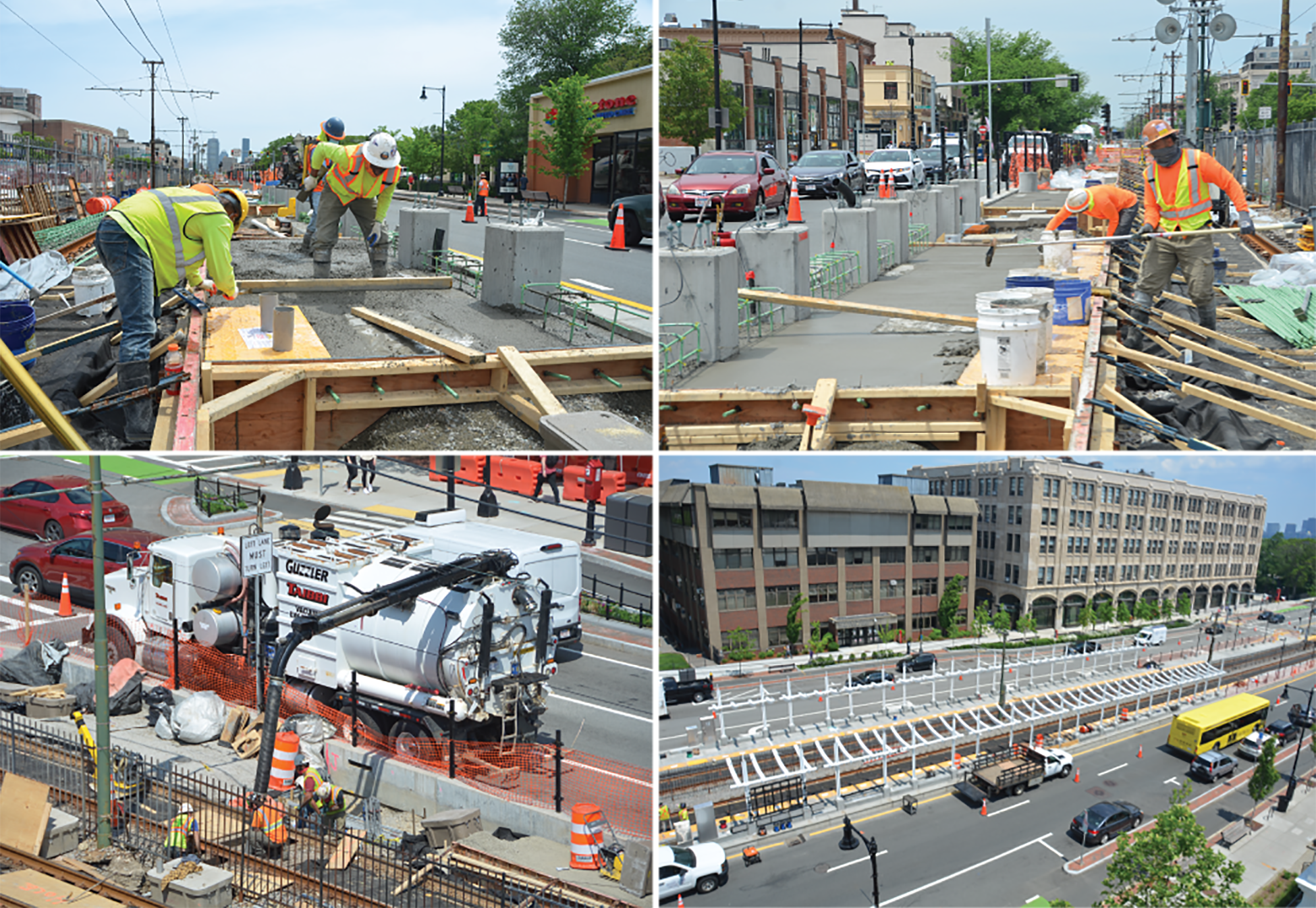 The new stations include longer, low-level platforms in both directions. These new platforms are 225 feet long, which enables them to fit a two-car train of the newly designed Type 10 "supercars" currently in procurement. The MBTA expects to award a Notice to Proceed for construction of the new Type 10 cars next year with the first pilot car anticipated to be in Boston by 2026. The new stations also feature 150-foot-long canopies at each new platform, accessible walkways, new communications and security systems, safety barriers to protect riders on the platforms from traffic, lighting, signage, new benches, and additional station elements.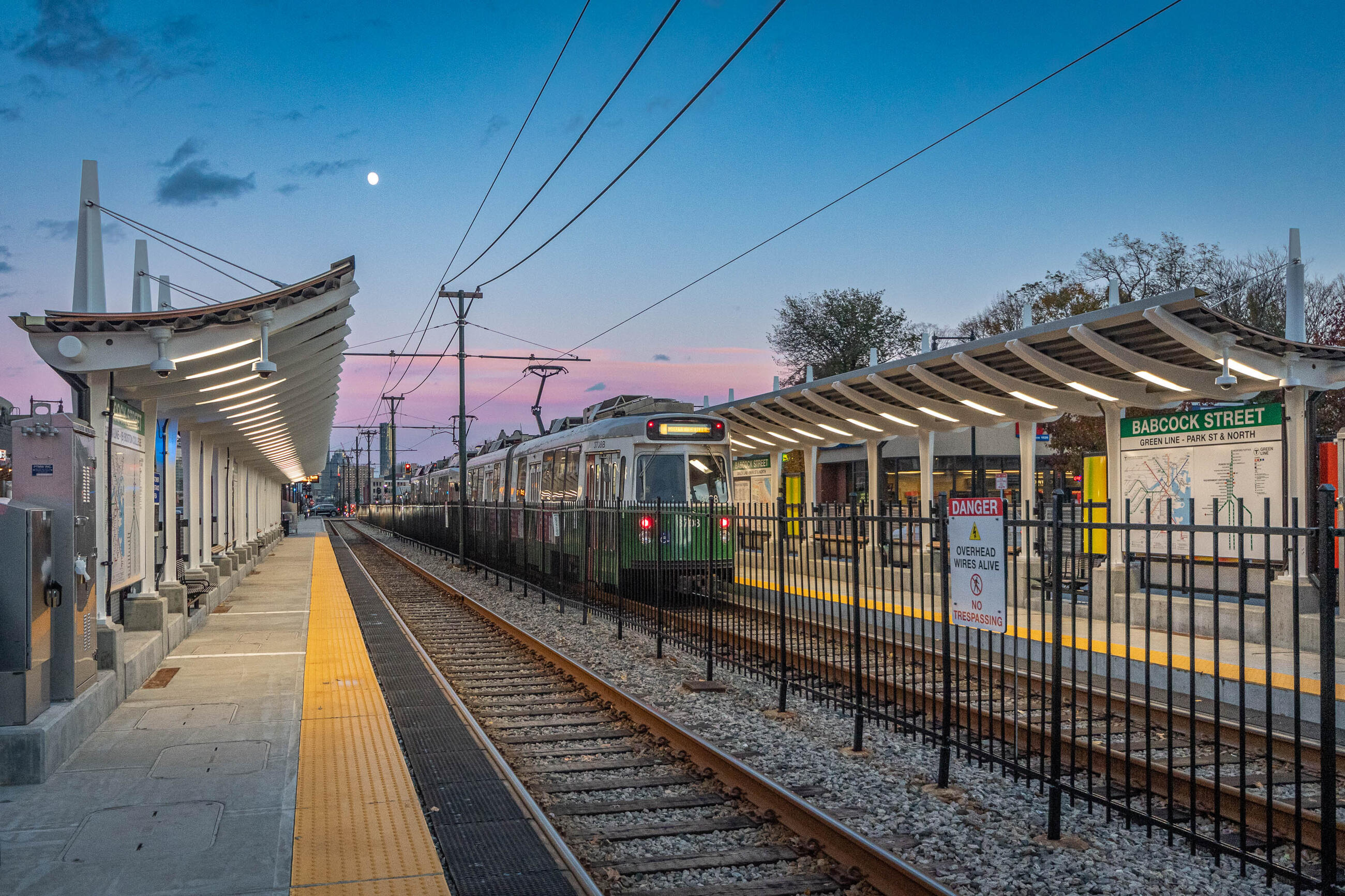 Although the stations are now available for riders, the GLT team continues to work with internal departments to make sure vehicle announcements as well MBTA maps are updated throughout the system.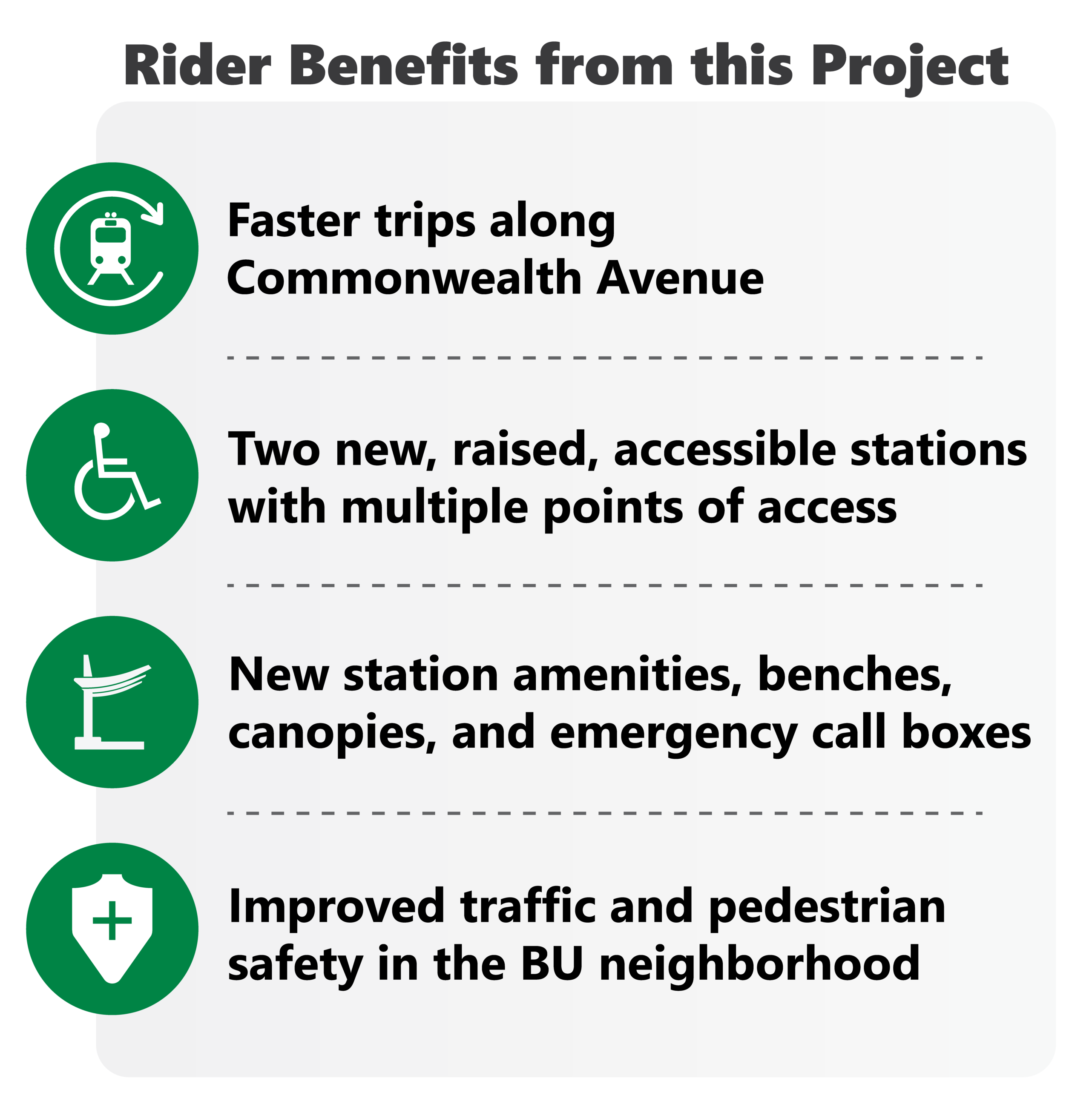 The B Branch Station Consolidation project is part of the Green Line Transformation's holistic approach to transforming the Green Line. The GLT portfolio of projects is aligned by four Levels of Transformation: Safety and State of Good Repair, Accessibility, Legacy Car Replacement, and Increased Capacity. This project is part of the MBTA's goal to make every Green Line station and vehicle accessible for all riders.
A brief video update showcasing how both stations will improve service on the B Branch is available at mbta.com/glbstations.
More Information
Media Contact Information
For all queries and comments, please contact:
MBTA Press Office