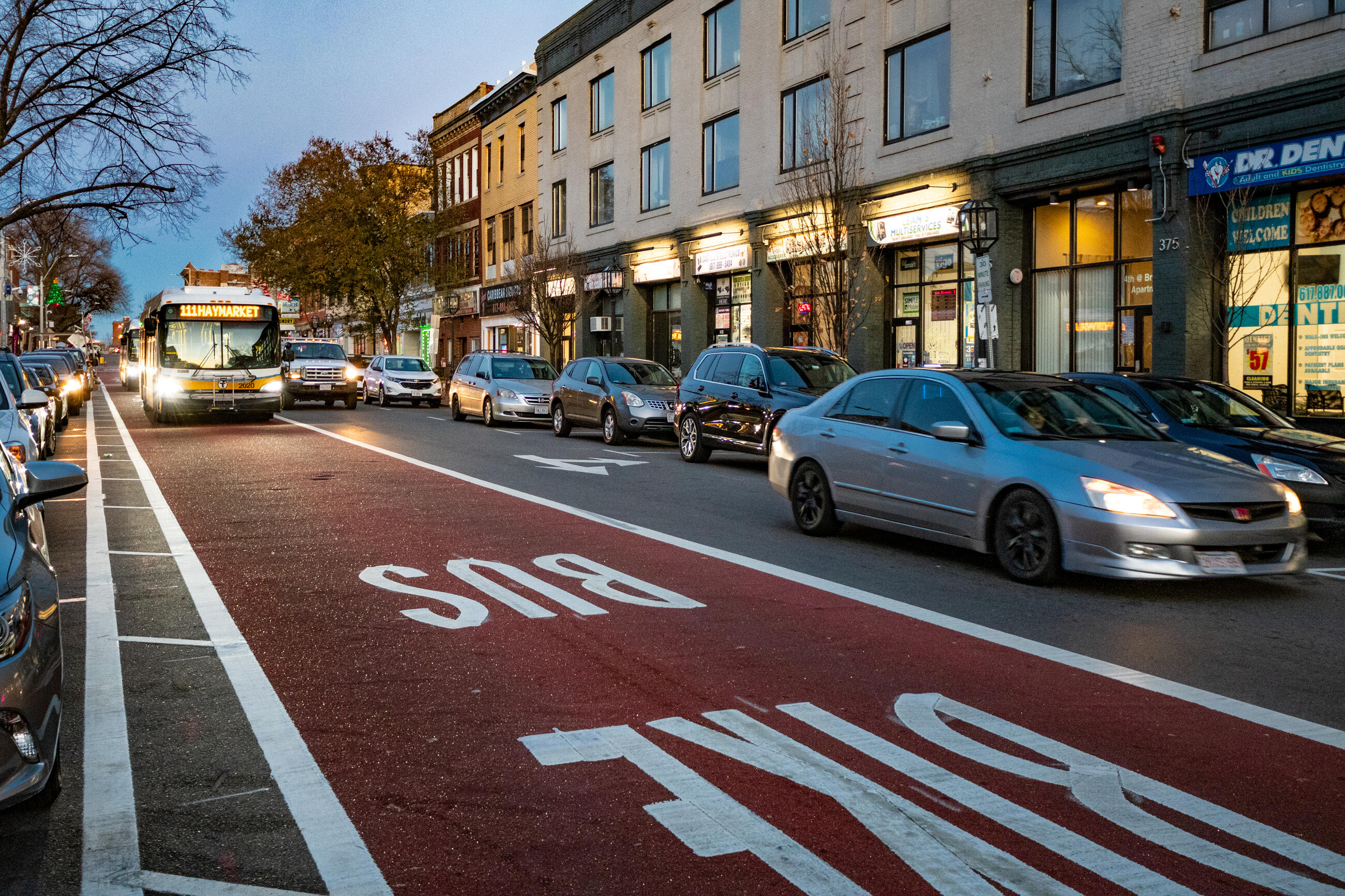 Timeline: 2018 – 2028
Status: Planning
Greater Boston has changed significantly in recent years, with shifting demographics, emerging employment districts, increasing traffic congestion, and changing travel patterns.
The Bus Network Redesign completely reimagines the MBTA's bus network to reflect these changes and create a better experience for current and future bus riders.
Rider Benefits
25% more bus service
95,000 residents of color and 29,000 low-income households gain access to high-frequency service
Project Timeline
2021–2023: Planning
Summer/Fall 2021: We talked to riders about what they wanted to see in a new network. Then, we created an online survey to gather input on our metrics and priorities. Based on that feedback, we developed a proposal for a new bus network.
Spring/Summer 2022: We shared our proposal for a new network and gathered public feedback on it in May, June, and July.
Fall 2022: We incorporated feedback into a revised network map and shared with the public.
Winter 2022: The MBTA Board of Directors approved the final proposal and accepted the Title VI Equity analyses as a major service change.
Spring 2023: We will publish a final report summarizing the final proposal and the planning process.
2023–2028: Implementation
The new network will be implemented in several phases. New route rollout will start in summer 2023, pending bus operator headcount.
We plan to add service over time as we are able to hire more bus operators and modernize roadways, MBTA facilities, and our bus fleet.
Implementation will involve several considerations:
Operator Hiring
Bus Network Redesign will provide 25% more bus service and we need more bus operators to make that a reality. The MBTA must address the bus operator shortage and hire hundreds of new operators within the next five years.
Apply to be an MBTA Bus Operator
Modernizing Roadways and MBTA Facilities
With more buses going more places in the new network, the MBTA will have to modernize busways and partner with roadway owners to construct bus priority infrastructure, like bus lanes and signals. These physical improvements will take time and will impact the phasing plan.
Modernizing our Fleet
Ongoing work to modernize and electrify the bus fleet and associated facilities will lower emissions and increase reliability in our network.
Communications
The Bus Network Redesign will require an extensive communications strategy, using multiple methods to share information. We want to make sure that all riders and staff can understand the new network before it is implemented.
Past Events
Presentations to the Board
Looking to learn more? You can view our presentations to the MBTA Board of Directors and the Fiscal Management and Control Board for more details about the Bus Network Redesign.
Contact
For other questions and comments related to Bus Network Redesign, please contact us at BetterBusProject@mbta.com.
For more information
Sign up for email updates, and check back here for opportunities to share your input with the Bus Network Redesign Team.
Recent Updates
Related Projects
Recent Updates
Related Projects