Red Line Repair and Recovery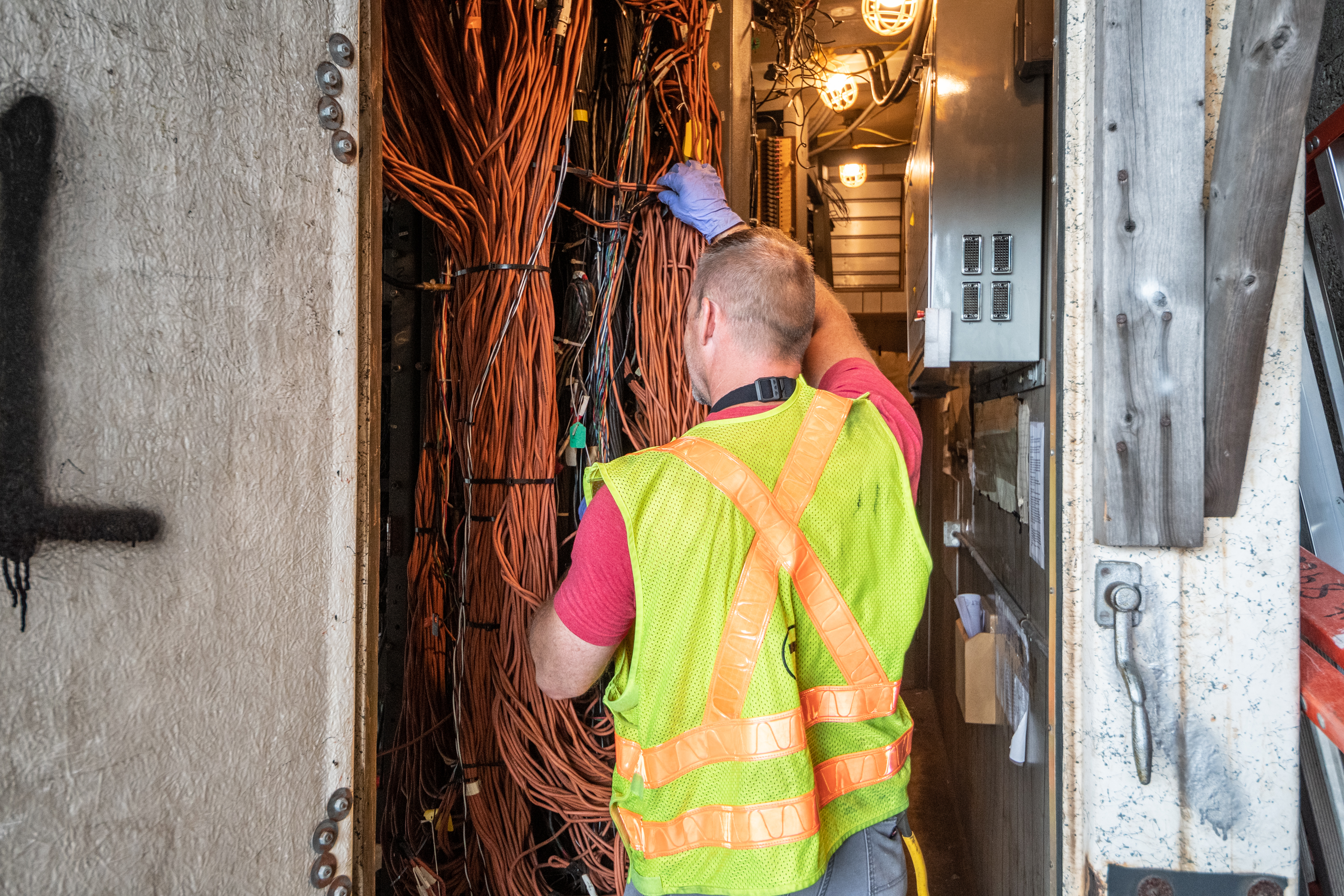 Building a Better T
As part of our $9.6 billion, 5-year capital investment plan, we're renovating stations, modernizing fare collection systems, upgrading services for our buses, subways, and ferries, and improving the accessibility of the entire system.
Wednesday, September 25, 2019
As of this week, we're happy to say that the Red Line is now back to pre-derailment service levels across the entire line. After rebuilding 20 miles of cable and hundreds of control relays, signals are now fully restored, and we're once again running the standard 28 trains every 4 – 5 minutes during rush hour.


Our work doesn't stop here. While service has been restored to pre-derailment levels, we realize that it's not enough. We're Building a Better T, and through the Red Line Improvement Program, we're working to make it so trains will arrive every 3 minutes. Our next big milestone is coming this fall, when we'll be delivering the first of 252 new pilot cars for testing.
---
Monday, September 16, 2019
Over the last month, Red Line service between JFK/UMass and North Quincy has returned to normal levels, and we've restored the signals between JFK/UMass and Fields Corner.
Our investigation determined that an axle fracture related to a weakened ground ring caused the derailment on June 11. We are completing inspections of the Red, Orange, Green, and Blue Line fleets to identify and prevent similar ground ring failures.
If you want to learn more, download the full Red Line derailment report.
View the Deputy General Manager's remarks at the September 16 FMCB meeting
---
Monday, August 5, 2019
Work continues on Red Line signal repairs and we have now:
Restored damaged signals between Broadway and JFK/UMass stations
Added 4 extra trains during rush hour service, for a total of 28 trains—the same number of trains we ran before the derailment
While the number of trains per hour is back to normal, service will continue to run slowly in areas where we're still manually operating signals. 
Our crews continue to make around-the-clock signal repairs, now expected to continue through October.
---
Friday, July 19, 2019
We expect to have the signals restored between Broadway and JFK/UMass on or around August 15, 2019. 
When signals are fully restored, trains will be able to travel faster through the area, and spend less time stopped at stations. This should save riders an extra 5 minutes on their Red Line trips.
We've also begun adding 3 additional trains that each make a single one-way run during rush hour to ease crowding on trains and platforms. 
---
Thursday, July 18, 2019
We're now able to run 24 trains during rush hour between Alewife and JFK, and you can expect trains approximately every 6 minutes during the morning and afternoon rush hours. For comparison, before the derailment, we were able to run up to 28 trains, with trains arriving approximately every 4.5 minutes.
We're also investigating the possibility of operating up to 3 additional one-way trips from Ashmont, Alewife, or Braintree during the morning and evening commutes.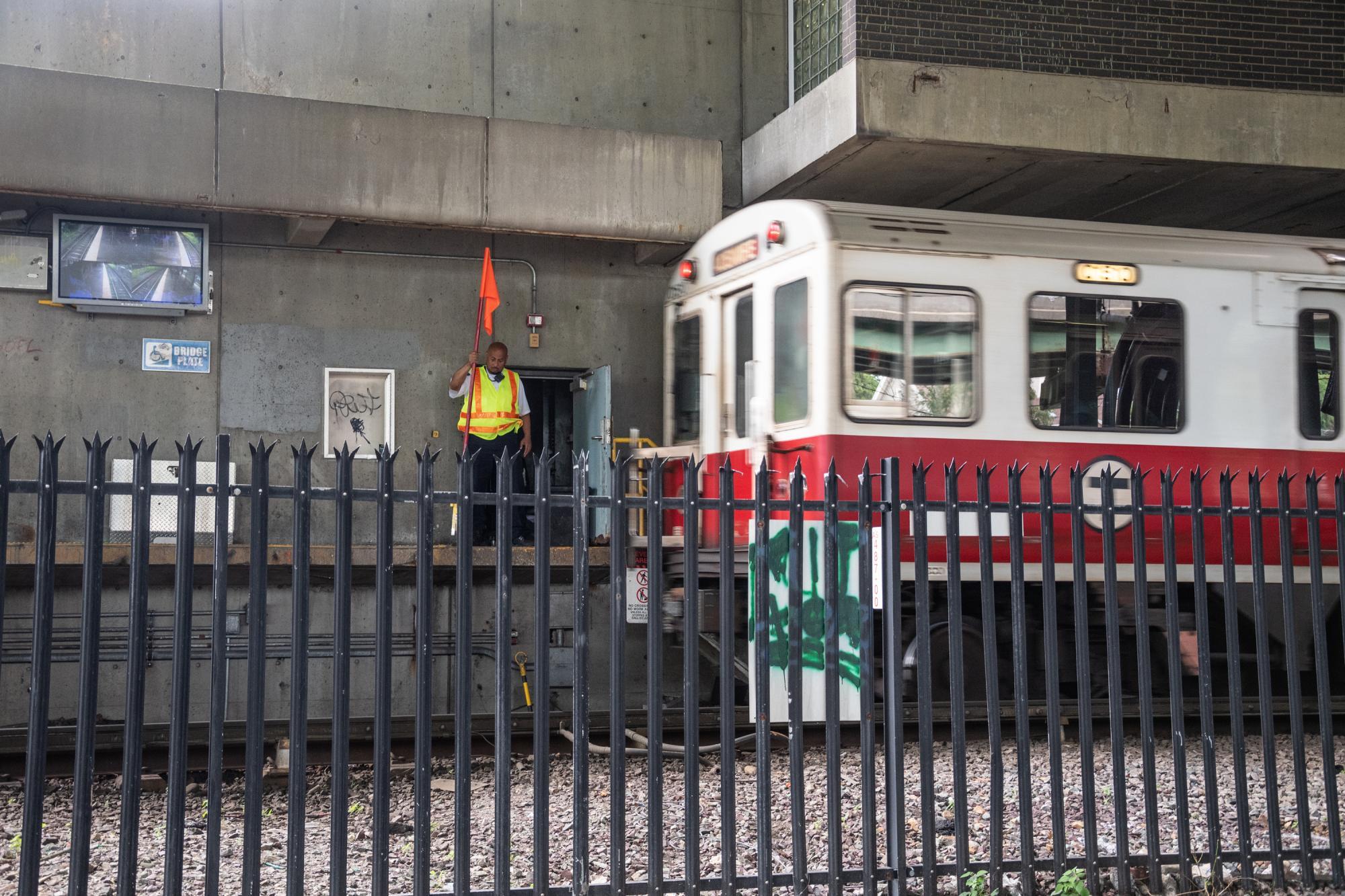 As signal repairs continue, trains are being dispatched via radio to our Operations Control Center (OCC) from workers at stations between Broadway and Fields Corner, and Broadway and North Quincy.
While we're still dispatching from the field, you might experience some delays when we need to hold trains at the station until the tracks ahead are clear.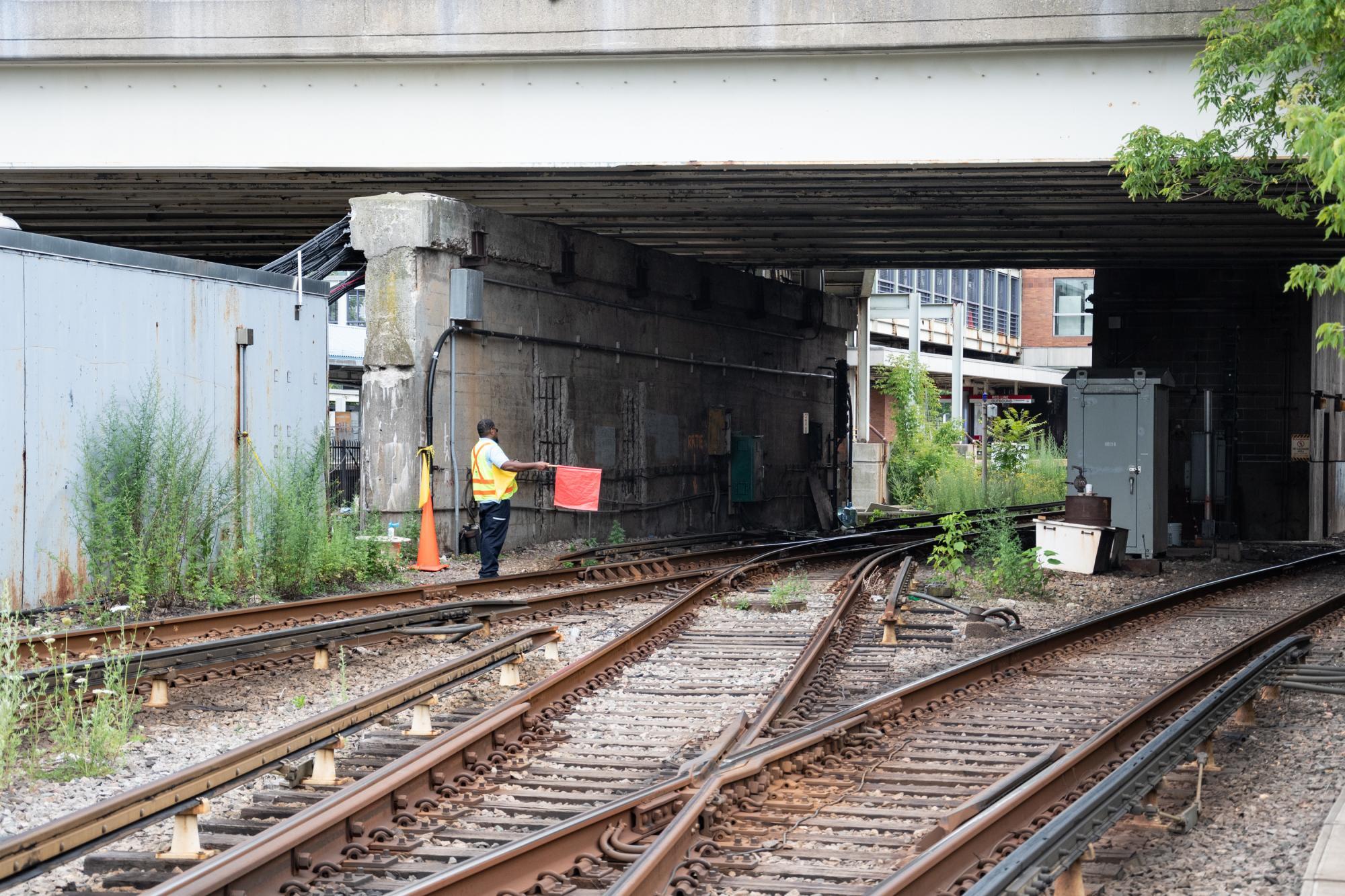 Crews continue to work 7 days a week to repair and test over 1,000 damaged electronic components. Restoration efforts will continue through Labor Day.
---
Monday, July 15, 2019
When the Red Line derailment occurred, 3 bungalows were severely damaged. Our bungalows house critical communications technology that allows signals and switches to be remotely controlled. To continue service without this technology, 50 workers a day manually operated signals and switches along the tracks.
Our crews have rebuilt 3 signal bungalows and built 1 additional bungalow for additional communications and power support. 
As of Friday, 21 of 29 signals and 11 of 19 switches are once again being remotely controlled by dispatchers at our Operations Control Center (OCC). The number of trains we can move through the area is increasing.
Crews are working around-the-clock on the remaining signals and switches that were most critically damaged. Some manual operation of signals and switches will continue in the coming weeks.
---
Tuesday, June 25, 2019
Governor Charlie Baker has announced an accelerated plan for the MBTA's capital improvement projects.
The MBTA Capital Acceleration Plan includes:
Scheduling more aggressive evening and weekend closures to expedite infrastructure improvements
Increasing proactive inspections and preventative maintenance
Negotiating with industry partners to expedite manufacturing and project schedules
Hiring a new, flexible team of additional MBTA personnel 
Seeking changes to law, to remove impediments to capital investments
Learn more about the MBTA Capital Acceleration Plan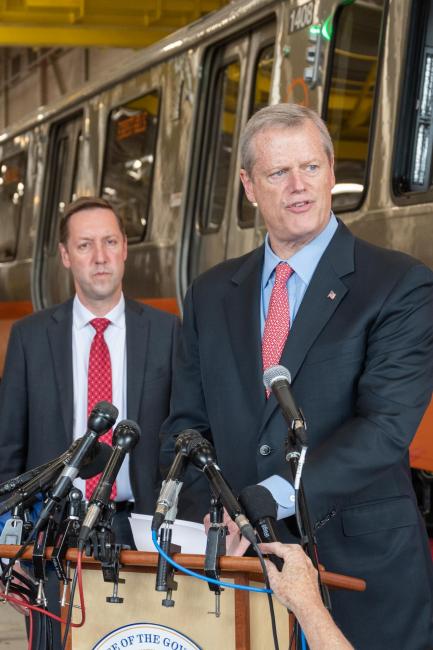 Monday, June 24, 2019
Safety Review Panel
Our board announced the formation of an Independent Safety Review Panel, which will bring outside perspectives to our safety practices.
Read more about the Independent Safety Review Panel
Investigation
We're continuing an investigation into the cause of the derailment, and vehicle parts have been sent to a lab for analysis. 
We have also completed a thorough inspection of related components of vehicles of the same type involved in the Red Line derailment. 
Signals
Major repair work to signals continues, in 4 main areas: 
Broadway-JFK 
JFK-Ashmont 
JFK-North Quincy 
JFK-Cabot 
Signal restoration is expected to continue throughout the summer.
To learn more, download the presentation or watch the general manager and deputy general manager's remarks from the June 24 Fiscal and Management Control Board Meeting.
---
Friday, June 21, 2019
We are currently operating about 10 trains per hour, and expect this level of service will continue through the summer. Prior to the derailment, the Red Line ran 14 trains per hour.
We are continuing to investigate the cause of the derailment. We have ruled out operator error, speed, foul play, and track issues, and are currently investigating the vehicle that derailed. All vehicles of similar type have also been assessed. We are also doing a comprehensive assessment of the entire Red Line fleet.
If you want to learn more about this investigation, watch General Manager Steve Poftak's update at the June 17 Fiscal and Management Control Board Meeting.
Signal Upgrades
In October 2018, a contract was awarded to replace the signals on the Red Line. That work includes upgrading the analog system to a new digital one. Those replacements will happen in sections, with work now starting at JFK/UMass.
After Friday, June 21, your CharlieCard or CharlieTicket will not be valid for Commuter Rail travel between South Station and Braintree. Due to the ongoing work at Wollaston Station, CharlieCards and CharlieTickets are valid for travel between Quincy Center Station and South Station.
---
Tuesday, June 18, 2019
Red Line service levels continue to improve, and we want to thank you for your patience while traveling on the subway or Commuter Rail over the last week.
As customers return to their regular trips on the Red Line, supplemental Commuter Rail service between Braintree and South Station is no longer needed. Today will be the last day for extra stops on the Middleborough/Lakeville, Kingston/Plymouth, and Greenbush Lines. It's also the last day for South Shore Limited service.
You can still use your CharlieCard or CharlieTicket on the Kingston/Plymouth, Middleborough/Lakeville, Greenbush, and Fairmount lines.
---
Monday, June 17, 2019
Signal repairs continue at JFK/UMass station. Please plan an extra 20 minutes for your trip on the Red Line. Most in-station countdown clocks have been turned back on, we are continuing to monitor them for accuracy.
Customers can also show their CharlieCard or CharlieTicket to take the Commuter Rail between Braintree and South Station on the Kingston/Plymouth, Middleborough/Lakeville, Greenbush, and South Shore Limited routes.
---
Sunday, June 16, 2019
Red Line service has been restored to both tracks at JFK/UMass. Customers no longer need to transfer for continued service to Braintree.
While we work to repair the signals at the station, trains will travel slowly. Please plan an extra 20 minutes for your commute.
---
Thursday, June 13, 2019
All track and third rail repairs are complete, and crews continue to work on signal repairs at JFK/UMass. Before restoring service to both tracks, we'll run test trains through the area over the weekend to ensure your safety.
---
Wednesday Evening, June 12, 2019
The power and signal systems at JFK/UMass were heavily damaged during the derailment, and trains will continue to travel slowly through the station until repairs are complete.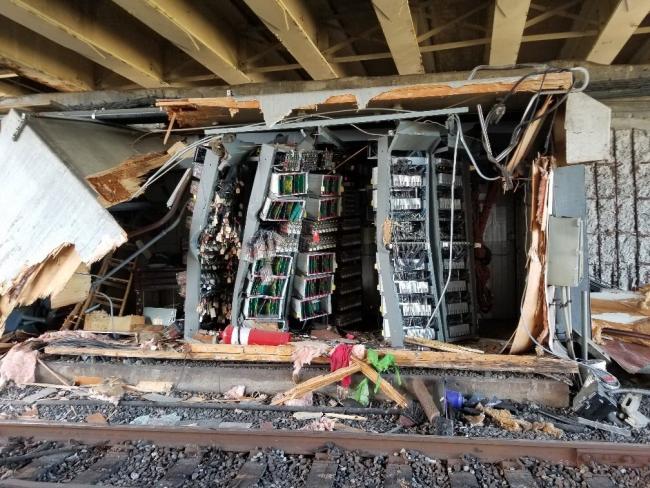 We expect this work to take some time, as the signal system is complex, and it sends important data out to a number of places. For example, dispatchers at the Operations Control Center (OCC) use it to monitor trains traveling through the system and maintain even headways (headways are the gaps between each train in the system).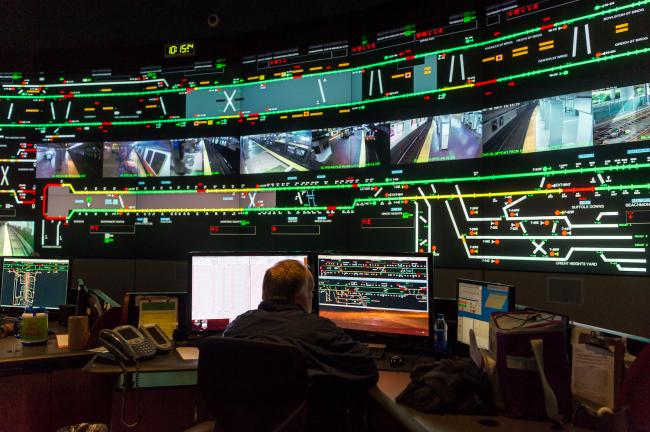 The signal system also informs a lot of the data you might see while planning a trip or waiting on a platform. It's what we display on in-station countdown clocks and on our website. It's also used by 3rd party apps like Google Maps and Transit.
While the signals are repaired, inspectors are out in the field, manually operating track switches and sharing train location info with dispatchers at OCC. This is safe and effective, but not as efficient as automatic data updates. Headway times between trains are longer, which means we can't put as many trains into service as we usually do.
This signal damage also adds complexity to the way we deliver information to you about when to expect trains at certain stations.
Usually, as a train passes through Broadway Station, the signal data helps predict its arrival at the next few stations, based on typical travel times. That's the information you see on the countdown clocks at platforms—for example, while you wait for a northbound train at Park Street.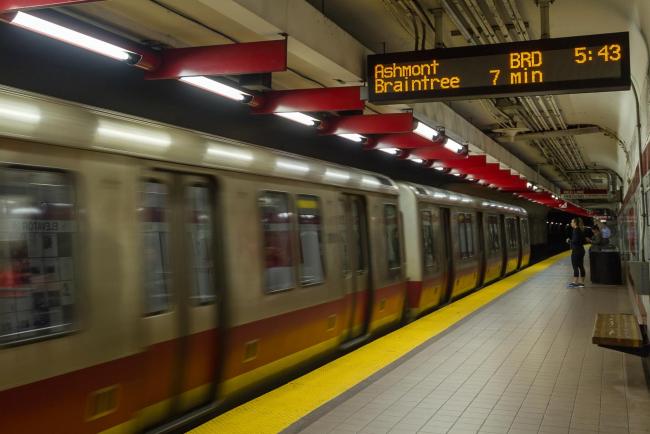 Without that data, our system can't make those predictions. This has a ripple effect on customers outside the affected area—those waiting for southbound trains at Kendall/MIT, for example.
While repairs are completed, we're making adjustments to our system to use the data we have at other stations to make more accurate predictions along the Red Line. We may have to turn some in-station countdown clocks off for short periods of time while we make these adjustments.
---
Wednesday Afternoon, June 12, 2019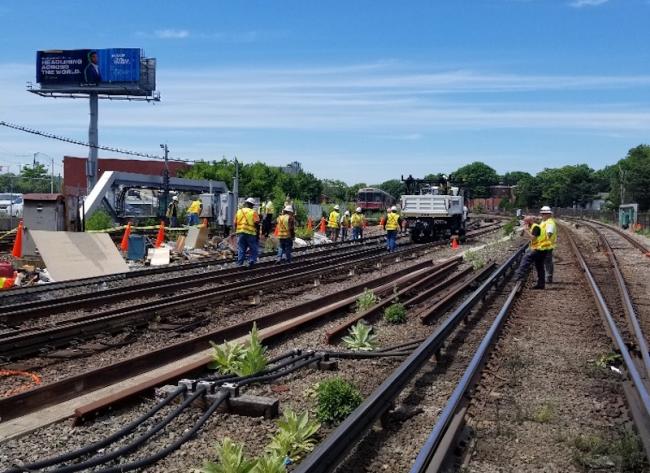 The train that derailed on Tuesday damaged 200 feet of tracks and the third rail at JFK/UMass Station. Sections of both were replaced during the week, including Wednesday afternoon during a partial service shutdown. We appreciate your understanding during these repairs.
---
Tuesday, June 11, 2019
Red Line service to Ashmont and Braintree has been restored. Braintree branch riders need to switch trains at JFK/UMass for continued service to South Station or Braintree.
Building a Better T
As part of our $9.6 billion, 5-year capital investment plan, we're renovating stations, modernizing fare collection systems, upgrading services for our buses, subways, and ferries, and improving the accessibility of the entire system.