History and Impact of MBTA/BCIL Settlement Agreement
More from

Accessibility

Use the following resources to plan a fully accessible trip on the MBTA.
Early Activism
As recently as the 1970s, access to public transit for people with disabilities wasn't guaranteed, and in many places did not exist at all.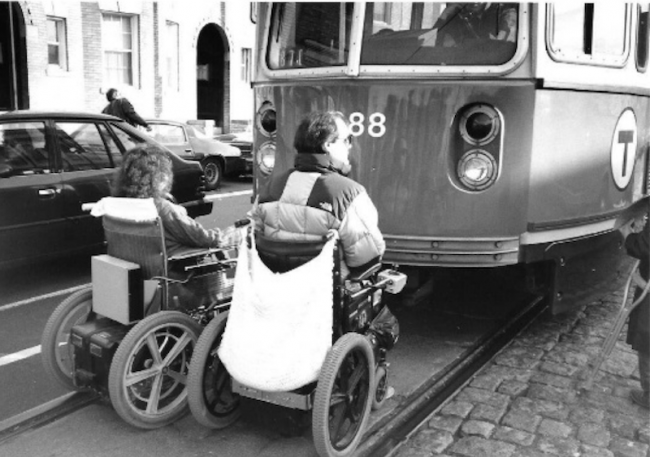 Decades of groundbreaking advocacy from disability groups like ADAPT, whose members blocked Chicago and Denver bus routes with their bodies, paved the way for cities like Boston to make significant progress in accessible transit.
In 1973, the Rehabilitation Act required that any programs or services funded by the federal government be made accessible. In 1990, The Americans with Disabilities Act (ADA) reiterated these responsibilities, and changed the way cities treated public transit accessibility.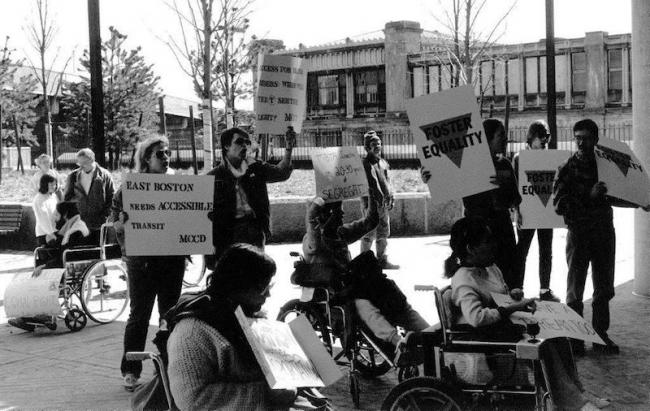 Boston was no exception: The MBTA purchased a fleet of wheelchair-accessible buses and created an ADA-compliant Key Station Plan to outline how the agency would make popular subway and Commuter Rail routes accessible.
The MBTA/BCIL Settlement Agreement
Despite early progress, by the 2000s, customers with disabilities still could not safely or reliably access key MBTA services, even though it was required under both federal and state laws.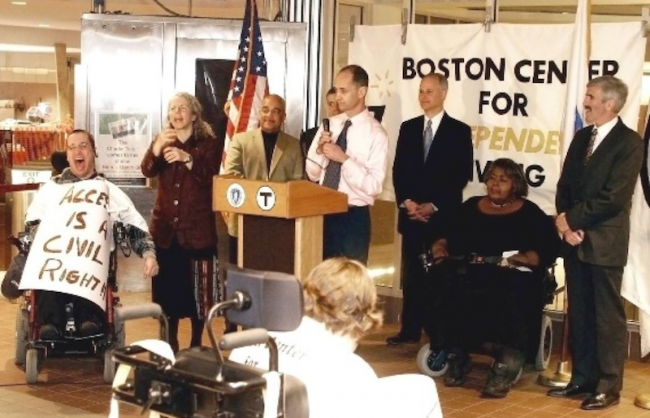 At the time, studies found that many MBTA elevators at busy stations were often out of service. Furthermore, bus operators weren't always boarding customers with disabilities, either by choice or because accessibility equipment wasn't working.
In 2002, represented by Greater Boston Legal Services, a group of 11 customers along with the Boston Center for Independent Living (BCIL), filed a class-action lawsuit against the MBTA, Joanne Daniels-Finegold, et al. v. Massachusetts Bay Transportation Authority. In 2006, the parties entered into  the MBTA/BCIL settlement agreement, forever changing the future of accessibility at the T.
"This agreement is based on a shared vision between plaintiffs and the MBTA to make the MBTA a model transit system accessible to all. There is a mutual commitment and desire to comply not only with the letter but also the spirit of the Americans with Disabilities Act, with the complete understanding that all people with disabilities must have every opportunity to be fully participating members of our community and that fundamental to this opportunity is the right and ability to use public transportation in an equal, effective, and dignified manner."
Download the original MBTA/BCIL Settlement Agreement
Impact of the Settlement Agreement
Since the MBTA/BCIL Settlement Agreement was signed, a number of significant, sweeping improvements have been made to the system.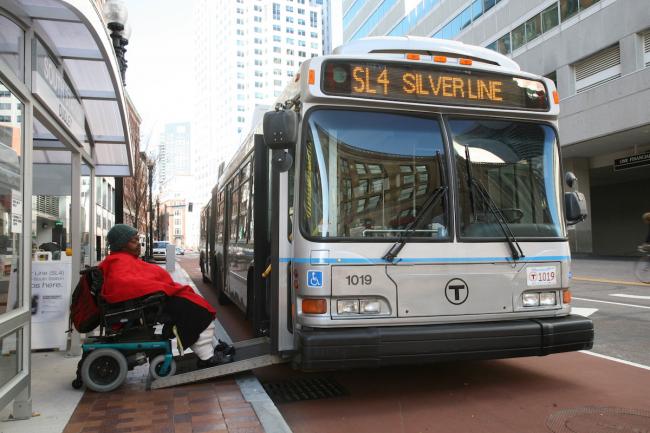 Some changes are required by the settlement, but many are not. The MBTA strives to go above and beyond the terms of the agreement to create a model of accessible transit for the entire country. Each change has been the result of a strong partnership between the plaintiffs, the MBTA, and Judge Patrick King, who serves as Independent Monitor of the settlement.
Creation of the Department of System-Wide Accessibility
One of the settlement's major provisions was the creation of the Department of System-Wide Accessibility (SWA) in 2007.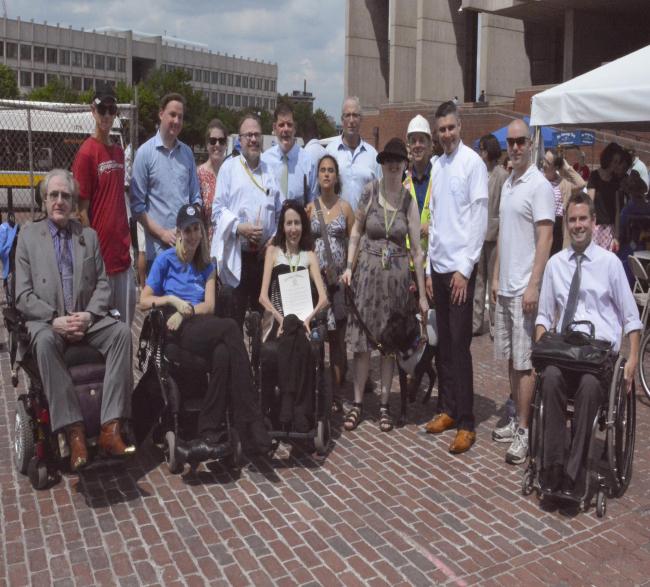 SWA is led by an Assistant General Manager who reports directly to the General Manager and oversees the accessibility of bus, subway, ferry, and Commuter Rail operations.
SWA reviews most construction plans and projects to ensure accessibility is properly considered and implemented. The department is a leader in the creation of customer-facing policies and procedures, as well as in the development of internal programs and employee training.
On July 13, 2016, the City of Boston declared a"System-Wide Accessibility Day" to celebrate the T's commitment to improving access to public transit.
New and More Reliable Elevators
Previous to a new maintenance contract for MBTA elevators in 2006, station elevators were only worked on when they were broken or in disrepair. Since the signing of the new contract, MBTA elevators are maintained year-round, resulting in system-wide uptime averaging 99.5%.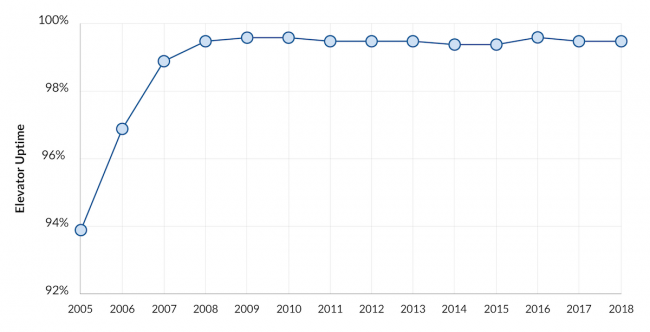 The MBTA also changed design standards for all elevators, which now feature transparent wall panels and more space to improve customer safety and comfort. Since 2006, more than 50 new elevators have been added to the system, with 10 additional elevators under construction, and 60 in design. 
Improved Access to Bus Service
Along with elevator upgrades, improving access to bus service was a primary goal of the MBTA/BCIL settlement. Today, all bus operators are thoroughly trained to provide excellent service to customers with disabilities. 
Over the last decade, the purchase of hundreds of new low-floor buses have enabled the MBTA to retire every lift-equipped high-floor bus. Today, the entire MBTA bus fleet is accessible, improving service for 450,000 daily bus riders.
SWA also began overseeing an Internal Access Monitoring Program that provides real-time feedback about how the system is—or isn't—working.
Bus operator training and system-wide monitoring have reduced the number of times that customers with disabilities are unable to access bus service due to the following barriers:
Barriers to Bus Service Access
2005
2016
Barriers to Bus Service Access
Operator denies boarding to a customer
2005
11%
2016
1%
Barriers to Bus Service Access
Bus can't be boarded due to broken lift/ramp
2005
19%
2016
0%
Barriers to Bus Service Access
Operator refuses to kneel or lower the bus
2005
11%
2016
0%
Barriers to Bus Service Access
Signs are missing at destination stops
2005
15%
2016
1%
Barriers to Bus Service Access
Wheeled mobility devices not properly secured
2005
91%
2016
8%
Amended Agreement of 2018
On December 4, 2018, the MBTA reaffirmed its commitment to fulfilling the MBTA/BCIL settlement by entering into an amended agreement that clarifies remaining work, outlines a plan for evaluating compliance and defines obligations that will continue even after the end of the agreement.
Download the Amended MBTA/BCIL Settlement Agreement
Looking Beyond the Settlement
As the MBTA continues working towards full compliance with the settlement, there are a number of projects currently underway that will help build a system that's fully accessible to all customers.
For example:
The Plan for Accessible Transit Infrastructure (PATI), aims to identify and prioritize repairs for barriers for accessibility at all MBTA stops and stations.
A pilot program for bluetooth beacon micro-navigation systems help customers who are blind or have low vision navigate the system.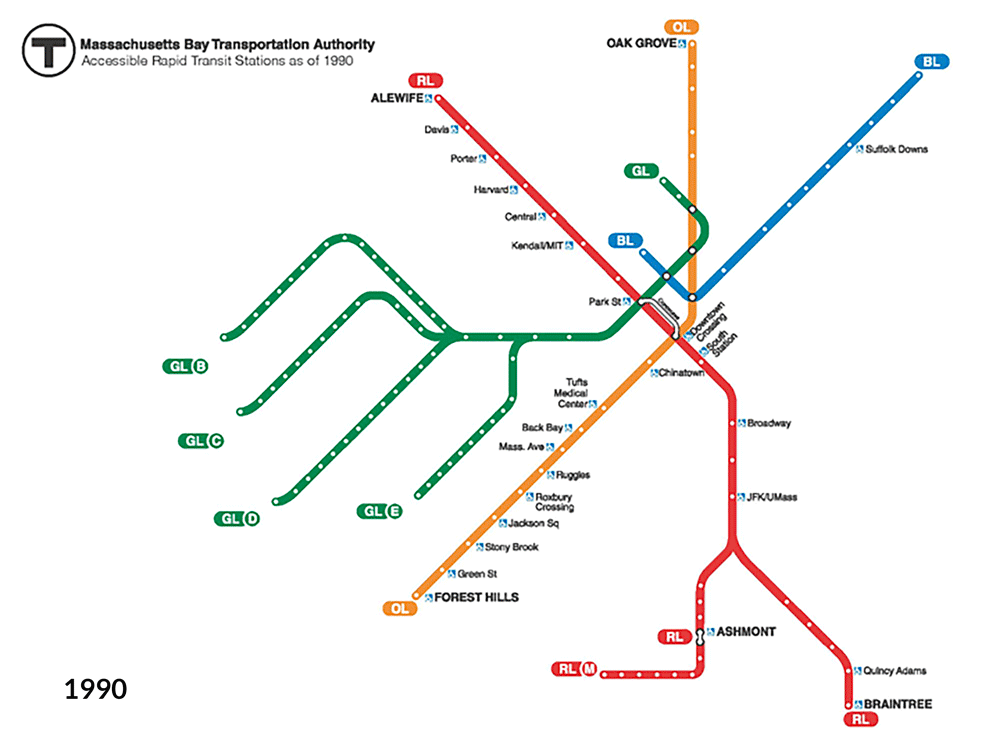 The MBTA system has changed substantially between 1990 and 2017. As of today, almost the entire system is accessible, including the entirety of the Orange and Silver Lines, most of the Red and Blue Lines, and major sections of the Green Line. Upgrades to Wollaston Station in 2018 will make the entire Red Line accessible to people with disabilities.
Learn more about current accessibility initiatives
More Information About the MBTA/BCIL Settlement
MBTA-BCIL Joint Assessment, 2010