First New MBTA Orange Line Cars Enter Passenger Service
Posted on August 14, 2019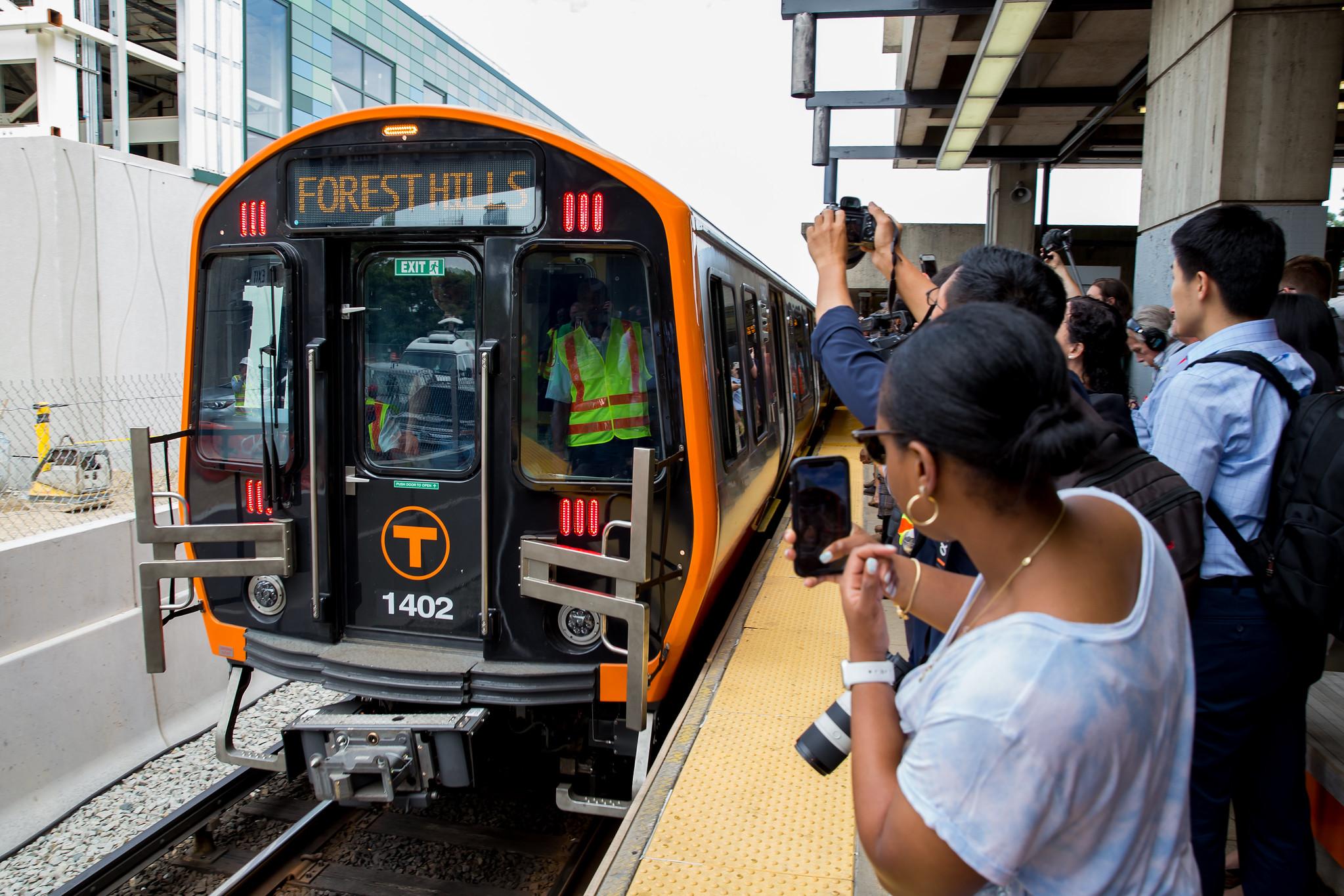 Today, Governor Charlie Baker, MassDOT Secretary and CEO Stephanie Pollack, and MBTA General Manager Steve Poftak introduced the first new Orange Line train comprised of 6 brand new cars into regular service from Wellington Station. These 6 new cars entering passenger service today are the first of 152 new Orange Line cars that will completely replace and expand the current Orange Line fleet (which is comprised of 120 cars), ensuring an additional 30,000 riders per day can be accommodated on the Orange Line once all cars have entered passenger service.
"Introducing the first of the new Orange Line cars into service is an important milestone in our administration's work to deliver a modern, reliable, and safe transportation system for riders," said Governor Charlie Baker. "Over the next several years, the MBTA will significantly increase daily capacity across the Red and Orange Lines, giving people more options for getting where they need to go."
"The new cars will provide Orange Line customers with a more comfortable and accessible ride, improving customer experience," said Lt. Governor Karyn Polito. "We are excited to see these cars start to go into service, and our administration will continue working with the MBTA to make signal and infrastructure upgrades to support the new vehicles."
"The job of the transportation system is to move people," said Transportation Secretary and CEO Stephanie Pollack. "When the entire Orange Line fleet is replaced, it will be able to carry more passengers per hour than ever before, there will be shorter times between trains, and customers will have more confidence that they can depend on public transportation system to get them where they need to go. In the words of the Governor's Commission on the Future of Transportation, 'Our duty is to build and nurture a reliable, sustainable, well-maintained, and financed multi-modal mobility system for the future' and this new Orange Line train puts us on that path."
"These new Orange Line cars are tangible signs of progress towards building a better MBTA.  They are just one of many projects that will improve service on the Orange Line," said MBTA General Manager Steve Poftak. "With nearly $2 billion of investments in the Red and Orange Line improvement program – which includes replacing and expanding both fleets with new cars, replacing and upgrading the signal systems, upgrading track, and improving maintenance facilities – we're very excited for these first Orange Line cars to enter service so our customers can experience a more modern, more comfortable, more accessible, and more reliable ride."
As part of the MBTA's $8 billion, 5-year capital investment plan, the Orange Line is being completely rebuilt. The Orange Line Improvement Program includes infrastructure improvements, signal upgrades, and the complete replacement of the Orange Line car fleet. 
In 2014, the MBTA awarded CRRC MA Corporation a contract to design and manufacture 152 new Orange Line and 252 new Red Line subway cars (the FMCB approved the expanded procurement from 132 Red Line cars to 252 Red Line cars in December 2016), completely replacing and expanding both car fleets. Total value of the Red Line and Orange Line New Vehicle Procurement Program is about $1 billion.
The new Orange Line cars incorporate a variety of new features that improve reliability, maintainability, communications, safety, and comfort. They include more spacious interiors, LED lighting, automatic passenger counters, closed circuit cameras and video recording, and onboard diagnostics for operators and maintenance staff. The new vehicles also feature various accessibility improvements, including wider door openings, gap mitigation devices, additional passenger emergency intercoms, more handrails, 4 accessible access locations per car (2 more than current cars), and modern audio and visual passenger information.
When all new cars are in service and infrastructure projects have been completed, Orange Line headways (time between trains) will be reduced from 6 minutes to 4.5 minutes with an increase in capacity by almost 40 percent. The larger standardized fleet of entirely new cars will also allow the MBTA to implement a lifecycle maintenance program that will result in better maintained vehicles, fewer disabled trains and breakdowns that cause service disruptions, and an extended service life of at least thirty years. 
Delivery of the new Orange Line cars is underway with all cars being assembled and tested at CRRC's Rail Car Assembly Facility in Springfield, Massachusetts, before entering a testing phase at the Wellington Yard and Maintenance Facility. It is anticipated that the next brand new 6-car Orange Line train will enter service in the fall 2019 with new cars continuing to enter passenger service incrementally through 2022. 
Additional Work as Part of the Orange Line Improvement Program
Work includes new signal infrastructure, upgrades to test tracks, an expanded and upgraded maintenance facility, and an upgraded yard. Contracts have been awarded for the following projects as part of this initiative:
Orange Line signal upgrades: Design begun in 2019, expected completion in May 2022.

Digital signals require less manual labor than the current analog system, reducing the time and money required for maintenance. This will result in improved service reliability, a renewed lifespan for the entire system, and more efficient communications about system diagnostics.

Wellington Yard and Maintenance Facility updates: Wellington Yard work began in spring 2018 and is anticipated to be complete in spring 2021; Maintenance Facility work began in summer 2017 and is anticipated to be complete in spring 2021.

The upgraded and expanded Wellington Yard will make it easier for crews to move vehicles around the facility, decreasing the time needed for maintenance. 
Will feature all new tracks, power systems, and signals; expanded vehicle storage space; more space for vehicle maintenance; new diagnostics equipment; and an efficient, environmentally friendly car wash.
The following projects are now complete:
Rehabilitation of Orange Line test track: Completed summer 2018.
Storage track expansions at Wellington Yard: Completed spring 2019.
MBTA and Orange Line Investments
The $8 billion that the MBTA plans to spend over the next 5 years is the most in any 5-year period ever—and this funding will have tangible results and provide a more reliable ride for MBTA customers.
The MBTA is investing nearly $2 billion in the Red and Orange Line improvement program, which will completely replace the cars, replace the signal systems, and upgrade track and maintenance facilities for both lines.
The MBTA is investing $350 million on the signal systems and $470 million for track and maintenance facility upgrades.
The MBTA has also made a number of investments along the Orange Line since 2015 including replacing third rail, replacing track, and signal work.
---
Photo courtesy of the Governor's Press Office on Flickr, taken by Joshua Qualls (CC BY-NC-SA 2.0)
More Information
Media Contact Information
For all queries and comments, please contact:
MassDOT Press Office