The RIDE COVID-19 Policies
Updated December 29, 2022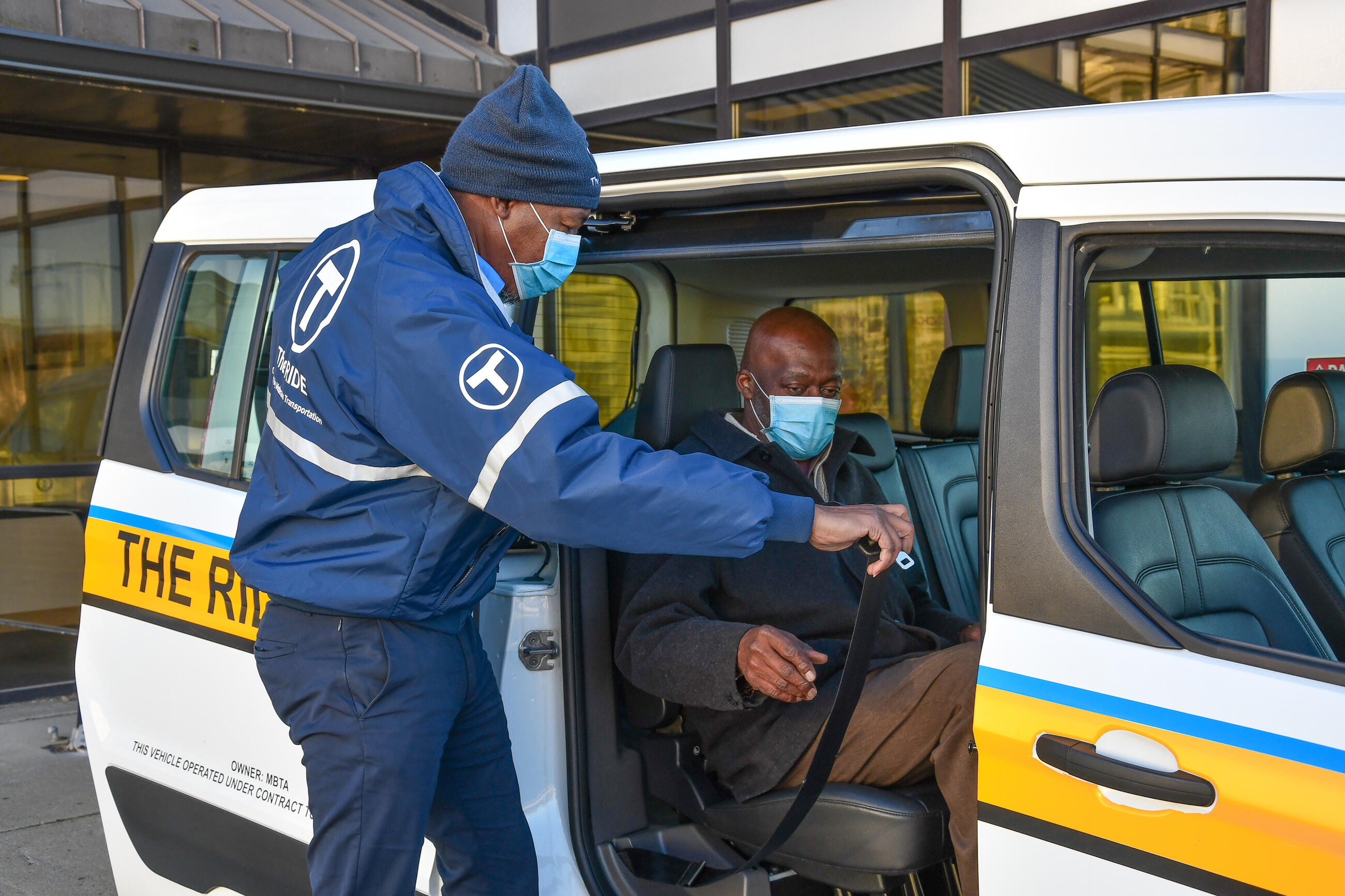 Mask Policy
As of January 1, 2023, masking will be optional but encouraged for passengers on The RIDE. Drivers will still be required to wear masks in the vehicle. Please note that we are still unable to transport customers with an active COVID-19 diagnosis.
Positive COVID Test Policy
The RIDE is not a medical transport, and we cannot provide service to customers with an active COVID diagnosis. The RIDE is small-vehicle public transit, and it is not possible to safely distance riders with COVID from others, including the driver.
If you are or have been ill with COVID, you must make transportation arrangements other than The RIDE until you have been medically cleared.
If The RIDE transports you to a COVID testing site and you are confirmed to be COVID positive, we cannot transport you home after the positive test.
Additional Policy Changes Effective May 29, 2021
Consistent with the MBTA's decision to remove capacity restrictions from vehicles, ridesharing has been reintroduced. 
Booking windows have been adjusted. RIDE customers must book trips one to five days in advance.
The Mobility Center
Not sure where to start? Call the Mobility Center to learn more about accessible transit options, including The RIDE.
The RIDE
Booking The RIDE to and from Vaccination, Booster, and Testing Sites
The RIDE customers can book trips to travel to and from their vaccination, booster, and testing appointments.
We recommend that customers book two trips on The RIDE for each appointment—one for the drop off at the appointment site, and one for the return trip. Drivers cannot wait after dropping off customers for appointments.
The RIDE Flex* with Uber and Lyft enables customers to book trips within minutes of needing them. 
*The RIDE Flex is a pilot program available to all eligible RIDE customers. It includes options to:
Request a wheelchair accessible vehicle (WAV)
Order trips with or without a smartphone
Sign up and be approved within two business days (including switching providers)
Booking Tips for In-person and Drive-through Sites
Ready to schedule a trip to and from your appointment? Consider these tips first:
To be dropped off, schedule your trip based on your appointment time. Leave some extra time in case of delays.
For your return trip, please allow extra time as the site may require you remain there for observation after your vaccination.
Please note that The RIDE vehicles will not stay at the site during your vaccination or test.
Confirm with the site in advance that you can be vaccinated if you are not in a vehicle.
Since customers cannot stay in the vehicle, follow the same booking tips as you would for an in-person site.
Vaccination and Booster Site Accessibility
All Massachusetts vaccine sites offer the following:
Accessible entrances
Waiting areas with seating available before and after vaccine appointments
Staff available for mobility assistance and direction
Accessible pick-up and drop-off areas
Wheelchairs provided on-site
Wearing Masks on The RIDE Flex
Our RIDE Flex partners, Uber and Lyft, have different mask policies than the T. Stay up to date so you can pick the ride that's most comfortable for you.
Check for the latest RIDE Flex mask mandates
Additional Vaccination and Booster Travel Options
In-home vaccination and booster programs

In-home vaccination programs offered by the state may be available to people unable to leave their homes.

Learn more about in-home vaccination programs

Riders can also check with their local board of health or council on aging, as some municipalities are operating local homebound vaccination programs as well.

MassHealth transportation

All MassHealth members are eligible for transportation to and from vaccine sites. If you are a member who normally has access to transportation, you may ask your doctor to submit a vaccine transportation request on your behalf.

Call the MassHealth Customer Service Center at 800-841-2900.

RideMatch

RideMatch assists users in finding public and private transportation options in their communities.
MBTA Coronavirus Updates
The Mobility Center
Not sure where to start? Call the Mobility Center to learn more about accessible transit options, including The RIDE.
The RIDE
MBTA Coronavirus Updates