Bus Facility Modernization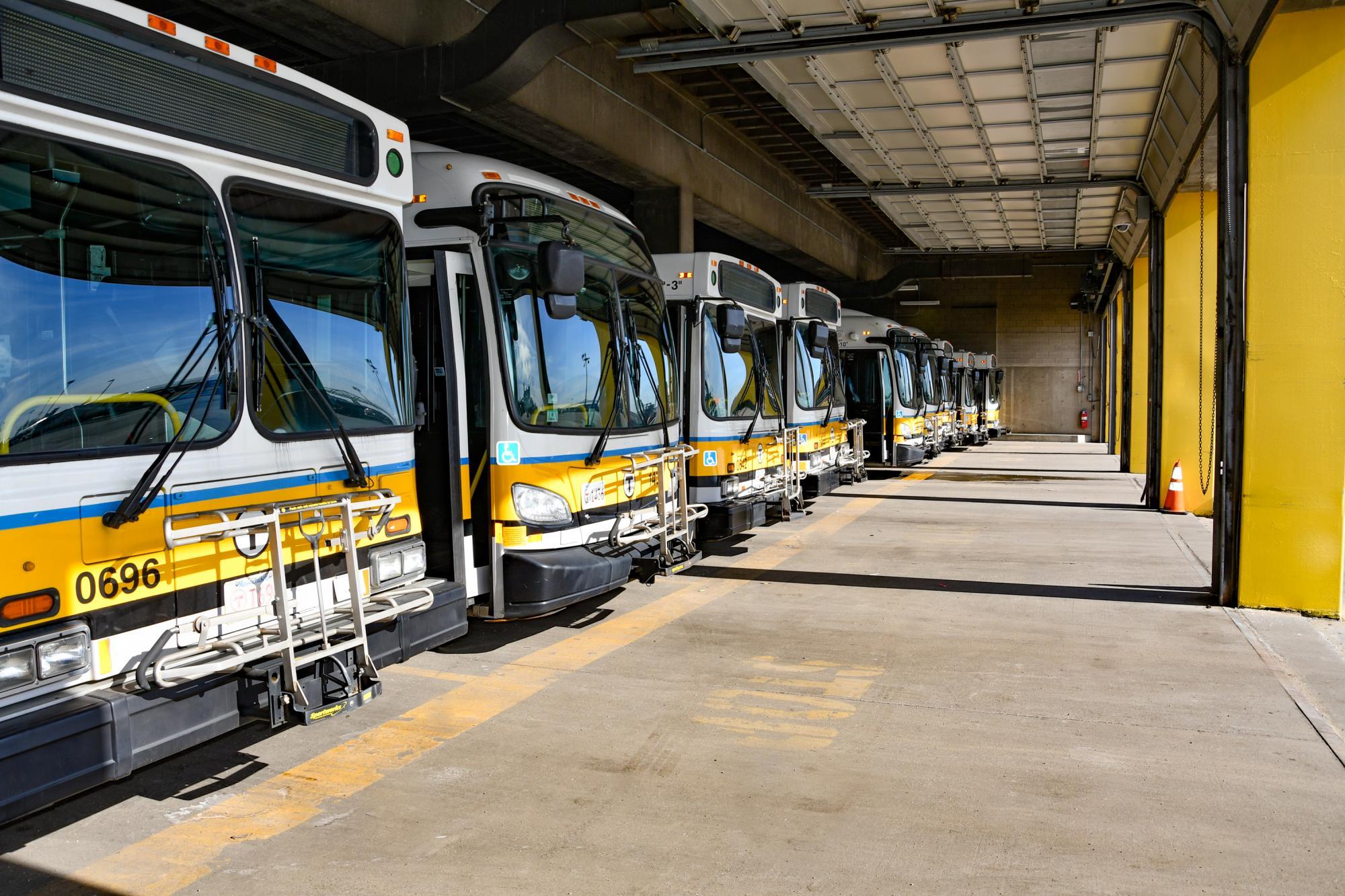 Timeline: Ongoing
Status: 75% design (Quincy) | 15% design (Arborway)
As part of the Better Bus Project, our Bus Facility Modernization program will improve the MBTA garages where we store and maintain our fleet of buses. Starting with the Quincy Bus Maintenance Facility, our redesigned garages will provide major benefits, including the following:
Expanded system capacity for more buses and additional service
Ability to accommodate a zero-emissions fleet of battery electric buses (BEBs)
Modern, efficient work environments for our employees
Building a Better T
As part of our $8 billion, 5-year capital investment plan, we're renovating stations, modernizing fare collection systems, upgrading services for our buses, subways, and ferries, and improving the accessibility of the entire system.
Our Plan for Modernized Facilities
The MBTA currently operates a fleet of 1,100 buses from nine bus maintenance facilities across the network. Planning, design, environmental review, and construction of fully modernized facilities will require significant resources and multiple years to implement.
We are prioritizing the modernization of certain facilities before others based on the following rider, worker, and community needs and the bus system's logistical requirements.
Buses serve a greater share of minority and low-income riders than any other mode, and the routes from some garages serve higher proportions of these populations than others.
To help us provide improved transit and environmental benefits to riders in these areas, our plans prioritize upgrades that will improve service and air quality in transit-critical communities and neighborhoods surrounding bus facilities. 
Larger facilities will also allow us to operate more 60-foot buses, which will increase the number of riders served, and lessen crowding.
Some of our facilities can only accommodate older buses nearing the end of their service life. These vehicles must be replaced, but first we need to retrofit or rebuild the facilities that house them.
Outdated facilities create challenging working conditions for our employees and have increased maintenance costs. Modernized facilities will also lessen noise and visual impacts on surrounding communities. 
We will work with local utility companies to determine the most efficient and cost-effective approaches for upgrading services at each of our facilities.
In cases where we plan to rebuild existing facilities in their current locations, we need to expand capacity at other locations first to maintain regular bus service during construction.
Quincy Bus Maintenance Facility
As the oldest facility in our system, the Quincy Bus Maintenance Facility lacks the required technology and space to support newer buses. Because only older buses can run from this garage, Quincy routes experience limited service frequency and more reliability issues.
We're designing a new facility for a larger, more modern fleet. This will accommodate BEBs and allow for potential service expansion in the future. The new facility will be located across the street from Quincy Adams Station on the Red Line, within a mile of Quincy Center Station, where many Quincy bus routes start.
Public engagement
We will continue to provide updates throughout the new Quincy Bus Maintenance Facility's planning and construction phases. We have completed the public feedback phase of the environmental review process, and we invite public input during this design review period.
Plans for the MBTA Quincy Bus Facility are undergoing review as part of the state environmental permitting process. To initiate this process, we submitted an Environmental Notification Form (ENF) to the Massachusetts Environmental Policy Act (MEPA) Office.
On September 21, 2020, MEPA hosted a virtual session with the MBTA to describe the proposed project, potential impacts and mitigation, and answer questions.
You can review the information submitted to MEPA in response to public comments and questions about:
Public comment was accepted from September 29 to October 27, 2020.
On November 6, MEPA issued a certificate on the Environmental Notification Form signifying that this project does not require an Environmental Impact Report (EIR).
The MBTA also completed the National Environmental Protection Act (NEPA) process for the project. In December 2020, the Federal Transit Administration (FTA) issued a categorical exclusion for the projects, as it will not have significant environmental impacts. This finding means the federal environmental review is complete and the project does not need to complete an Environmental Impact Statement.
Arborway Bus Maintenance Facility
To support a 100% BEB fleet, we're designing a larger Arborway Bus Maintenance Facility. The facility will be located next to the existing one at Washington Street and Arborway in Boston, near Forest Hills station. 
 
Today, the Arborway garage supports buses serving routes in neighborhoods with high proportions of transit-critical riders from low-income households and households of color in Roxbury, Dorchester, Mattapan, Hyde Park, Roslindale, Jamaica Plain, and areas southwest of Boston. The new, larger facility will support 60-foot BEBs that will serve more routes and reduce bus crowding in these areas.  
The new Arborway facility is targeted to open by the end of 2027. As existing compressed natural gas (CNG) buses are retired starting in 2028, the new facility can start replacing them with zero-emissions BEBs. 
Public engagement 
Join us for our first virtual public meeting on Thursday, December 9. We will provide an introductory overview of the project and discuss plans for development of the Arborway site, including the bus maintenance facility and the portion designated for community use. Questions and feedback are welcome.
Upcoming Events
Past Events
Contact Us
For all questions and comments related to the Bus Facility Modernization program or the Quincy or Arborway Bus Maintenance Facility improvements, please contact Scott Hamwey at shamwey@mbta.com.
Related Projects
Building a Better T
As part of our $8 billion, 5-year capital investment plan, we're renovating stations, modernizing fare collection systems, upgrading services for our buses, subways, and ferries, and improving the accessibility of the entire system.
Related Projects