Bus Facility Modernization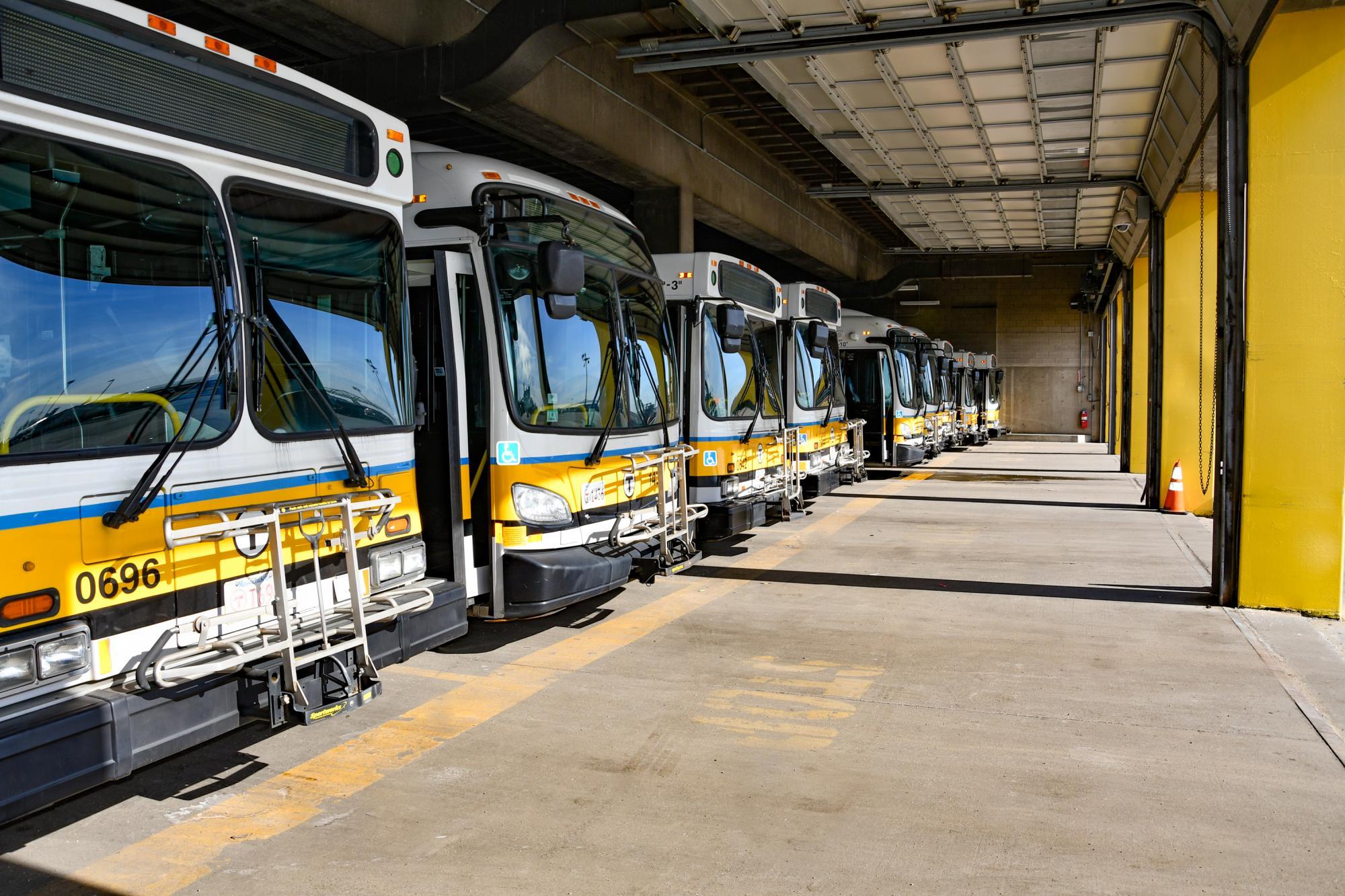 Timeline: Ongoing
Status: 100% design (Quincy) | 15% design (Arborway)
We have a long-term plan to fully replace our bus fleet with battery electric buses (BEBs). These all-electric vehicles emit no greenhouse gases, allowing the MBTA to significantly reduce our carbon footprint. A newer, emissions-free fleet will let us provide more sustainable, equitable, reliable, and convenient service to riders—all initiatives of our comprehensive Better Bus Project. 
To provide operational support for an enlarged and upgraded fleet, we need to improve our bus facilities. The Bus Facility Modernization program will allow us to provide our riders and employees with major benefits, including: 
More service during peak demand times 
Larger, roomier buses on some routes 
Cleaner air along bus routes and in maintenance facility neighborhoods  
Modern, efficient work environments for our employees 
More sustainable, resilient, and environmentally friendly infrastructure
We're prioritizing facility upgrades along some of our busiest routes in areas where residents are heavily reliant on transit. These riders will be among the first to experience improved bus service and benefit from new zero-emissions vehicles. 
Learn how modernizing bus facilities helps lower our carbon emissions
Building a Better T
As part of our $9.6 billion, 5-year capital investment plan, we're renovating stations, modernizing fare collection systems, upgrading services for our buses, subways, and ferries, and improving the accessibility of the entire system.
Our Plan for Modernized Facilities
Today, the MBTA operates a fleet of 1,100 buses from nine bus maintenance facilities across the network. The planning, design, environmental review, and construction of fully modernized facilities will require significant resources and multiple years to implement.  
In April 2021, we presented to our plan to modernize the bus fleet and bus maintenance facilities. The plan defines: 
A goal of fully electrifying the fleet by 2040  
A prioritized path for facility replacements based on equity, ridership, and bus fleet and facility condition 
The scale of investment required to support new facility construction, including real estate purchase costs 
We are prioritizing the modernization of certain facilities before others based on rider, worker, and community needs and the bus system's logistical requirements. 
Buses serve a greater share of minority and low-income riders than any other mode, and the routes from some garages serve higher proportions of these populations than others.
To help us provide improved transit and environmental benefits to riders in these areas, our plans prioritize upgrades that will improve service and air quality in transit-critical communities and neighborhoods surrounding bus facilities. 
Larger facilities will also allow us to operate more 60-foot buses, which will increase the number of riders served.
Some of our facilities can only accommodate older buses nearing the end of their service life. These vehicles must be replaced, but first we need to retrofit or rebuild the facilities that service them.
Outdated facilities create challenging working conditions for our employees, have greater noise and visual impacts on surrounding communities, and are more costly for the MBTA to maintain.
We plan to rebuild our three core facilities (Charlestown, Cabot, and Southampton) in their current locations. We will replace these last so that we can move their buses to facilities where we've already expanded capacity. We will maintain regular bus service during construction.
For facility expansions that require building in new locations, we'll work with local utility companies to determine where to install the necessary charging infrastructure to serve our needs cost-effectively and efficiently. 
As we update facilities and purchase new buses, we will continue to refine our plan and share updates with riders. 
Quincy Bus Maintenance Facility
As the oldest facility in our system, the Quincy Bus Maintenance Facility lacks the required technology and space to support newer buses. Because only older buses can run from this garage, Quincy routes experience limited service frequency and more reliability issues.
We're constructing a new facility for a larger, more modern fleet. This will accommodate BEBs and allow for potential service expansion in the future while supporting our efforts to lessen our environmental impact. The new facility will be located across the street from Quincy Adams Station on the Red Line, within a mile of Quincy Center Station, where many Quincy bus routes start.
Construction activities 
Before constructing the new facility, crews demolished the existing building (formerly Lowe's) at 599 Thomas Burgin Parkway.
To prepare the site for construction, crews also performed additional activities, including surface and subsurface demolition and installation of proposed utilities.
In addition, construction of shared use pathway was completed. Construction of the new bus maintenance facility is anticipated to begin in 2023.
Public engagement
Now that the environmental review process and the design review phase are complete, and early construction activities have begun, we encourage the public to view past public meeting presentations and submit any comments or questions to quincybus@mbta.com.
Plans for the MBTA Quincy Bus Facility are undergoing review as part of the state environmental permitting process. To initiate this process, we submitted an Environmental Notification Form (ENF) to the Massachusetts Environmental Policy Act (MEPA) Office.
On September 21, 2020, MEPA hosted a virtual session with the MBTA to describe the proposed project, potential impacts and mitigation, and answer questions.
You can review the information submitted to MEPA in response to public comments and questions about:
Public comment was accepted from September 29 to October 27, 2020.
On November 6, MEPA issued a certificate on the Environmental Notification Form signifying that this project does not require an Environmental Impact Report (EIR).
The MBTA also completed the National Environmental Protection Act (NEPA) process for the project. In December 2020, the Federal Transit Administration (FTA) issued a categorical exclusion for the projects, as it will not have significant environmental impacts. This finding means the federal environmental review is complete and the project does not need to complete an Environmental Impact Statement.
Arborway Bus Maintenance Facility
To support a 100% BEB fleet and advance the MBTA's decarbonization initiatives, we're designing a larger Arborway Bus Maintenance Facility. The facility will be located next to the existing one at Washington Street and Arborway in Boston, near Forest Hills station. 
 
Today, the Arborway garage supports buses serving routes in neighborhoods with high proportions of transit-critical riders from low-income households and households of color in Roxbury, Dorchester, Mattapan, Hyde Park, Roslindale, Jamaica Plain, and areas southwest of Boston. The new, larger facility will support 60-foot BEBs that will serve more routes and reduce crowding in these areas.  
The new Arborway facility is targeted to open by the end of 2027. As existing compressed natural gas (CNG) buses are retired starting in 2028, the new facility can start replacing them with zero-emissions BEBs. 
Public engagement 
We presented our initial design concept during a public meeting in December 2021. At our next meeting, we'll share updated plan information based on the feedback we receive. 
Upcoming Modernization Projects
We're moving forward with a number of other initiatives to address urgent needs at existing facilities. We are also planning to modernize other facilities following our renovations at Quincy and Arborway.
Facility retrofits
We will continue to provide full bus service for riders during our facilities' design, renovation, and construction. We're retrofitting some existing facilities and, when necessary, we'll temporarily move some buses to alternate facilities in order to maintain bus service on all routes. The MBTA is making targeted investments to continue to meet operational needs while cost-effectively managing time-sensitive fleet replacements.
Like Quincy, the Albany Bus Maintenance Facility was only able to accommodate the oldest diesel buses due to insufficient vertical clearance. A targeted $2 million investment in reconstructing garage doors alleviated this problem, allowing Albany to accommodate newer hybrid buses until it is replaced with a BEB facility.
North Cambridge services the MBTA's fleet of electric trolleybuses, which are the oldest buses in our system. The eventual system-wide transition to BEBs will allow the North Cambridge fleet to maintain the same buses as the rest of the fleet. This will reduce operating costs and improve operating efficiency and reliability.
Roadway construction in Cambridge and Watertown requires the suspension of electric trolleybus service from March 2022 through 2027, which will allow us to retrofit the facility for BEBs. We'll complete design of the charging infrastructure in 2022, and plan to complete installation by the end of 2023.
The Southampton Bus Maintenance Facility houses our Silver Line buses, as well as the 60-foot buses that operate on Routes 28 and 39. We're expanding parking space at the facility to accommodate delivery of additional buses in summer 2022.
Upcoming future facility improvements
We are prioritizing the modernization of our bus maintenance facilities based on equity, ridership, and bus fleet and facility condition. We plan to open updated Wellington and Lynn facilities by 2030, and the remaining facilities every two to three years between 2030 and 2040.
We plan to build a BEB maintenance facility at Wellington to service and accommodate 200 buses. The new facility would replace the existing facility at Fellsway and absorb the Chelsea and East Boston routes from Lynn.
This project is currently in conceptual design and early planning. We expect to begin the design process in late 2022.
We plan to build a BEB maintenance facility in Lynn to house 65 buses. The new facility would replace the existing facility in Lynn and operate routes that serve Lynn and the North Shore. We are working with local partners to evaluate locations for this facility, and expect to open it in 2030.
We plan to consolidate the Albany and North Cambridge facilities in a single new location because their routes are close to each other.
The size and location of the new facility will be determined once the bus network redesign is complete, and post-pandemic ridership trends are evaluated. This process will ensure that we can meet the new network's operational needs.
We plan to rebuild the Southampton Bus Maintenance Facility on the existing site to maintain the operational benefits of its location within the core of our network. We're currently conducting early planning for this renovation.
We plan to rebuild the Cabot Bus Maintenance Facility on the existing site to maintain the operational benefits of its location within the core of our network. The site is also key to the operation of the Red Line, signals, and training facilities. We're conducting early planning for this renovation, and coordinating with MBTA and non-MBTA projects adjacent to the facility to ensure consistency with the bus facility's needs. We'll develop a master plan for the site in coming years.
We plan to rebuild the Charlestown Bus Maintenance Facility on its existing site to maintain the operational benefits of its location within the core of our network. In addition to housing our largest bus maintenance facility, the Charlestown campus includes the shops, storage, and support spaces needed for the maintenance staff who care for our tracks, power infrastructure, and stations.
In September 2021, the MBTA completed a master plan for the entire campus documenting the layout for all facilities. We are coordinating with the City of Boston to ensure that the redesign of Sullivan Square and Rutherford Avenue are consistent with the operational needs outlined in the master plan. We'll begin the preliminary design of these facilities in coming years.
Past Events
Contact Us
For all questions and comments related to the Bus Facility Modernization program or the Quincy or Arborway Bus Maintenance Facility improvements, please contact Scott Hamwey at shamwey@mbta.com.
Recent Updates
Related Projects
Building a Better T
As part of our $9.6 billion, 5-year capital investment plan, we're renovating stations, modernizing fare collection systems, upgrading services for our buses, subways, and ferries, and improving the accessibility of the entire system.
Recent Updates
Related Projects