Parking Prices Update
Updated on September 6, 2018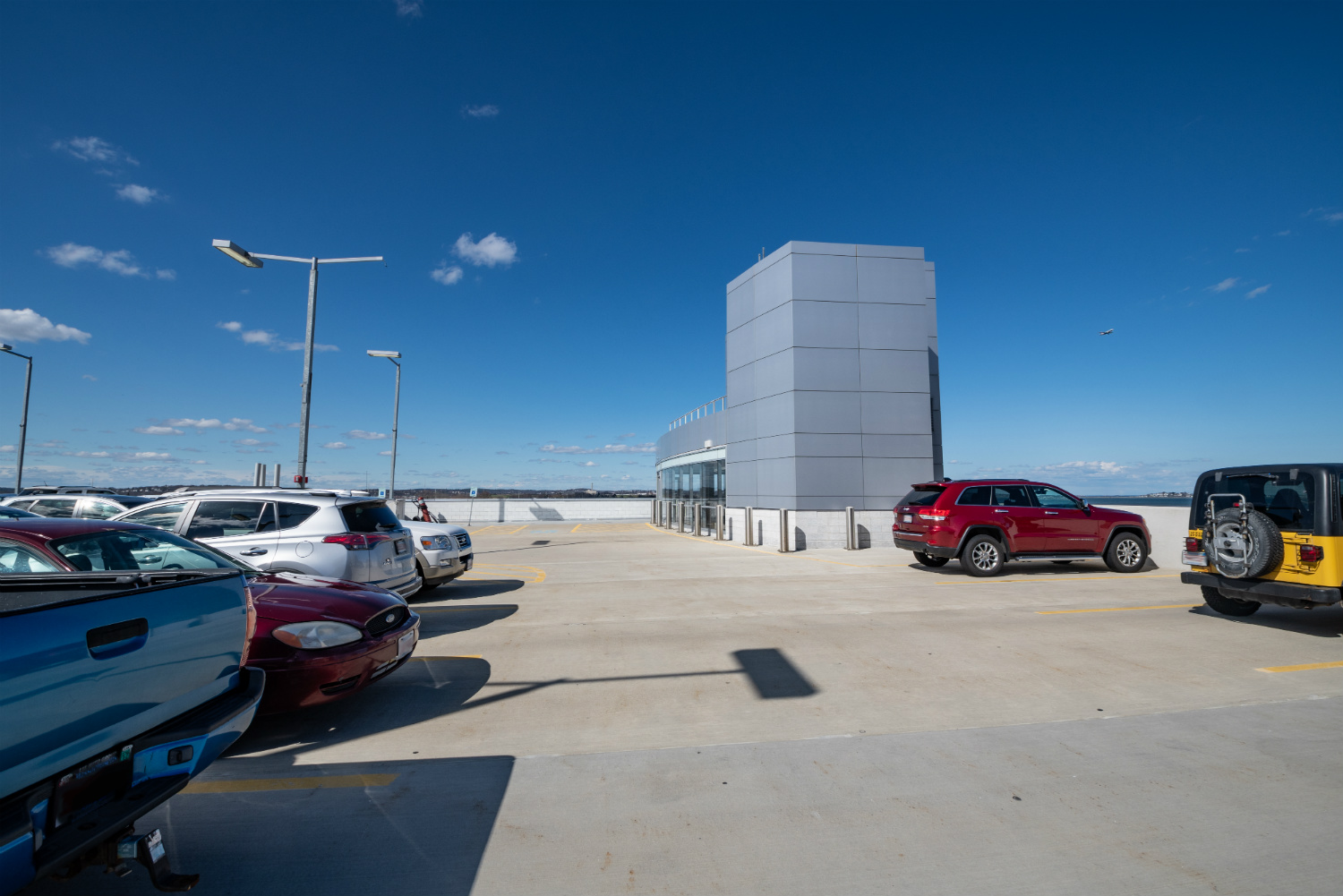 About the Project
Timeline: 2018
Status: Complete
On September 1, 2018, daily and monthly parking rates at MBTA lots and garages were adjusted to encourage parking at stations with more capacity. We expect these changes will make it easier for you to predict parking availability during peak travel hours. 
How are prices changing?
The biggest changes include:
Reduced weekend rates at almost every station 
Reduced weekday rates at locations with more availability
Increased weekday rates at locations that reach capacity early in the day
Changes to monthly rates that reflect new weekday rates
Changes to garage rates based on duration of stay
Increased invoicing fee
Find your lot or garage on the map below to view the new prices, or view the entire list.
How did we decide to make these changes?
The MBTA hasn't changed parking rates in more than 10 years. The current fee structure doesn't account for variations in demand for parking across the system, which has led to overcrowding at many stations.
Instituting a flat, system-wide increase still wouldn't address these inefficiencies. Instead, we relied on feedback from customers and lot attendants, as well as data about current and historic parking conditions. The new pricing structure also considers the total cost of your commute, including the price of your Commuter Rail pass.
After the new pricing goes into effect, we will continually evaluate its efficacy and address any gaps or inefficiencies periodically.
Why are we doing this?
We're investing more in our parking garages and surface lots to address necessary maintenance and rehabilitation. Our investments include:
South Shore Garages: $64 million in a full-scale rehabilitation of Quincy Adams and Braintree garages resulting in better access, brighter lighting, and extending the useful life of the garages for decades to come.
Surface Lot Reconstruction: More than $10 million to improve pavement, lighting, security, and customer access at MBTA surface parking lots.
Better Maintenance: We're investing more in things like painting, sweeping, and lighting to make our facilities better places to park.
Real-Time Information: In our garages at Alewife, Beverly, Braintree, Quincy Adams, Route 128, Salem, Wonderland, and Woodland we'll be providing real-time, accurate parking availability. 
We're also trying to make room for more people to park across the whole MBTA system. Other cities have found that when you change parking prices in a way that considers occupancy, it improves availability for everyone. We will carefully monitor this part of our program and make changes as we go forward.
---
Parking Prices Starting September 1, 2018
Please note:
At MBTA garages, daily rates are good for up to 14 hours of parking. After the first 14 hours, the daily rate is $15. Monthly passes aren't available for garages, but you can prepay for months or weeks of parking with a garage tap card.
At MBTA surface lots, the listed price is for customers who use PayByPhone (the mobile app, the website, or their phone system). Mailed invoices are subject to a $1 fee per day of parking.
Station
Mon – Fri
Sat – Sun
Monthly
Notes
Station
Abington
Mon – Fri
$4
Sat – Sun
$2
Monthly
$70
Notes
 
Station
Alewife Garage
Mon – Fri
$9
Sat – Sun
$3
Monthly
--
Notes
 
Station
Andover
Mon – Fri
$4
Sat – Sun
$2
Monthly
$70
Notes
 
Station
Ashland
Mon – Fri
$4
Sat – Sun
$2
Monthly
$70
Notes
 
Station
Auburndale
Mon – Fri
$6
Sat – Sun
$2
Monthly
$105
Notes
 
Station
Ballardvale
Mon – Fri
$4
Sat – Sun
$2
Monthly
$70
Notes
 
Station
Beachmont
Mon – Fri
$5
Sat – Sun
$2.50
Monthly
$87.50
Notes
 
Station
Bellevue
Mon – Fri
$4
Sat – Sun
$2
Monthly
$70
Notes
 
Station
Beverly Depot Garage
Mon – Fri
$2
Sat – Sun
$2
Monthly
--
Notes
 
Station
Bradford
Mon – Fri
$2
Sat – Sun
$2
Monthly
$35
Notes
 
Station
Braintree Garage
Mon – Fri
$9
Sat – Sun
$3
Monthly
--
Notes
Premium spots available; garage under renovation
Station
Brandeis/Roberts
Mon – Fri
$4
Sat – Sun
$2
Monthly
$70
Notes
 
Station
Bridgewater
Mon – Fri
$4
Sat – Sun
$2
Monthly
$70
Notes
 
Station
Butler
Mon – Fri
$4
Sat – Sun
$2
Monthly
$70
Notes
 
Station
Campello
Mon – Fri
$2
Sat – Sun
$2
Monthly
$35
Notes
 
Station
Canton Center
Mon – Fri
$4
Sat – Sun
$2
Monthly
$70
Notes
 
Station
Canton Junction
Mon – Fri
$4
Sat – Sun
$2
Monthly
$70
Notes
 
Station
Chestnut Hill
Mon – Fri
$9
Sat – Sun
$3
Monthly
$157.50
Notes
 
Station
Cohasset
Mon – Fri
$2
Sat – Sun
$2
Monthly
$35
Notes
 
Station
Dedham Corporate
Mon – Fri
$2
Sat – Sun
$2
Monthly
$35
Notes
 
Station
East Weymouth
Mon – Fri
$6
Sat – Sun
$2
Monthly
$105
Notes
 
Station
Eliot
Mon – Fri
$9
Sat – Sun
$3
Monthly
$157.50
Notes
 
Station
Fairmount
Mon – Fri
$4
Sat – Sun
$2
Monthly
$70
Notes
 
Station
Forest Hills
Mon – Fri
$9
Sat – Sun
$3
Monthly
$157.50
Notes
 
Station
Forge Park/Route 495
Mon – Fri
$4
Sat – Sun
$2
Monthly
$70
Notes
 
Station
Framingham
Mon – Fri
$4
Sat – Sun
$2
Monthly
$70
Notes
 
Station
Franklin
Mon – Fri
$6
Sat – Sun
$2
Monthly
$105
Notes
 
Station
Gloucester
Mon – Fri
$2
Sat – Sun
$2
Monthly
$35
Notes
 
Station
Grafton
Mon – Fri
$4
Sat – Sun
$2
Monthly
$70
Notes
 
Station
Greenbush
Mon – Fri
$2
Sat – Sun
$2
Monthly
$35
Notes
 
Station
Halifax
Mon – Fri
$2
Sat – Sun
$2
Monthly
$35
Notes
 
Station
Hamilton/Wenham
Mon – Fri
$4
Sat – Sun
$2
Monthly
$70
Notes
 
Station
Hanson
Mon – Fri
$4
Sat – Sun
$2
Monthly
$70
Notes
 
Station
Haverhill
Mon – Fri
$2
Sat – Sun
$2
Monthly
$35
Notes
 
Station
Hersey
Mon – Fri
$4
Sat – Sun
$2
Monthly
$70
Notes
 
Station
Highland
Mon – Fri
$4
Sat – Sun
$2
Monthly
$70
Notes
 
Station
Hingham Shipyard
Mon – Fri
$2
Sat – Sun
$2
Monthly
$35
Notes
 
Station
Holbrook/Randolph
Mon – Fri
$4
Sat – Sun
$2
Monthly
$70
Notes
 
Station
Hyde Park
Mon – Fri
$4
Sat – Sun
$2
Monthly
$70
Notes
 
Station
Islington
Mon – Fri
$4
Sat – Sun
$2
Monthly
$70
Notes
 
Station
Kingston/Route 3
Mon – Fri
$4
Sat – Sun
$2
Monthly
$70
Notes
 
Station
Littleton/Route 495
Mon – Fri
$6
Sat – Sun
$2
Monthly
$105
Notes
 
Station
Lynn
Mon – Fri
$2
Sat – Sun
$2
Monthly
$35
Notes
 
Station
Malden Center
Mon – Fri
$7.50
Sat – Sun
$3
Monthly
$131.25
Notes
 
Station
Mattapan
Mon – Fri
$2
Sat – Sun
$2
Monthly
$35
Notes
 
Station
Middleborough/Lakeville
Mon – Fri
$4
Sat – Sun
$2
Monthly
$70
Notes
 
Station
Milton
Mon – Fri
$6
Sat – Sun
$2
Monthly
$105
Notes
 
Station
Montello
Mon – Fri
$2
Sat – Sun
$2
Monthly
$35
Notes
 
Station
Montserrat
Mon – Fri
$4
Sat – Sun
$2
Monthly
$70
Notes
 
Station
Nantasket Junction
Mon – Fri
$2
Sat – Sun
$2
Monthly
$35
Notes
 
Station
Needham Heights
Mon – Fri
$4
Sat – Sun
$2
Monthly
$70
Notes
 
Station
Needham Junction
Mon – Fri
$6
Sat – Sun
$2
Monthly
$105
Notes
 
Station
Newburyport
Mon – Fri
$4
Sat – Sun
$2
Monthly
$70
Notes
 
Station
Norfolk
Mon – Fri
$4
Sat – Sun
$2
Monthly
$70
Notes
 
Station
North Beverly
Mon – Fri
$4
Sat – Sun
$2
Monthly
$70
Notes
 
Station
North Quincy - Hancock St
Mon – Fri
$5
Sat – Sun
$3
Monthly
$87.50
Notes
 
Station
North Quincy - Newport Ave
Mon – Fri
$5
Sat – Sun
$3
Monthly
$87.50
Notes
 
Station
North Scituate
Mon – Fri
$4
Sat – Sun
$2
Monthly
$70
Notes
 
Station
Norwood Central
Mon – Fri
$4
Sat – Sun
$2
Monthly
$70
Notes
 
Station
Norwood Depot
Mon – Fri
$2
Sat – Sun
$2
Monthly
$35
Notes
 
Station
Oak Grove
Mon – Fri
$9
Sat – Sun
$3
Monthly
--
Notes
Premium spots available
Station
Orient Heights
Mon – Fri
$5
Sat – Sun
$2.50
Monthly
$87.50
Notes
 
Station
Plymouth
Mon – Fri
$2
Sat – Sun
$2
Monthly
$35
Notes
 
Station
Quincy Adams Garage
Mon – Fri
$9
Sat – Sun
$3
Monthly
--
Notes
Premium spots available; garage under renovation
Station
Reading
Mon – Fri
$6
Sat – Sun
$2
Monthly
$105
Notes
Station
Readville
Mon – Fri
$2
Sat – Sun
$2
Monthly
$35
Notes
 
Station
Riverside
Mon – Fri
$6
Sat – Sun
$3
Monthly
$105
Notes
 
Station
Roslindale Village
Mon – Fri
$4
Sat – Sun
$2
Monthly
$70
Notes
 
Station
Route 128 Garage
Mon – Fri
$7
Sat – Sun
$3
Monthly
--
Notes
 
Station
Rowley
Mon – Fri
$2
Sat – Sun
$2
Monthly
$35
Notes
 
Station
Salem Garage
Mon – Fri
$5
Sat – Sun
$2
Monthly
--
Notes
 
Station
Savin Hill
Mon – Fri
$7.50
Sat – Sun
$2.50
Monthly
$131.25
Notes
 
Station
South Attleboro
Mon – Fri
$6
Sat – Sun
$2
Monthly
$105
Notes
 
Station
South Weymouth
Mon – Fri
$2
Sat – Sun
$2
Monthly
$35
Notes
 
Station
Southborough
Mon – Fri
$6
Sat – Sun
$2
Monthly
$105
Notes
 
Station
Stoughton
Mon – Fri
$4
Sat – Sun
$2
Monthly
$70
Notes
 
Station
Suffolk Downs
Mon – Fri
$2.50
Sat – Sun
$2.50
Monthly
$43.75
Notes
 
Station
Sullivan Square
Mon – Fri
$9
Sat – Sun
$6
Monthly
$157.50
Notes
 
Station
Swampscott
Mon – Fri
$6
Sat – Sun
$2
Monthly
$105
Notes
 
Station
Waban
Mon – Fri
$9
Sat – Sun
$3
Monthly
$157.50
Notes
 
Station
Wakefield
Mon – Fri
$6
Sat – Sun
$2
Monthly
$105
Notes
 
Station
Walpole
Mon – Fri
$4
Sat – Sun
$2
Monthly
$70
Notes
 
Station
Watertown Yard
Mon – Fri
$2.50
Sat – Sun
$2.50
Monthly
$43.75
Notes
 
Station
Wellington
Mon – Fri
$9
Sat – Sun
$4
Monthly
$157.50
Notes
 
Station
West Gloucester
Mon – Fri
$2
Sat – Sun
$2
Monthly
$35
Notes
 
Station
West Hingham
Mon – Fri
$4
Sat – Sun
$2
Monthly
$70
Notes
 
Station
West Medford
Mon – Fri
$5
Sat – Sun
$2
Monthly
$87.50
Notes
 
Station
West Natick
Mon – Fri
$6
Sat – Sun
$2
Monthly
$105
Notes
 
Station
West Newton - Washington St
Mon – Fri
$4
Sat – Sun
$2
Monthly
$70
Notes
 
Station
West Newton - Webster St
Mon – Fri
$4
Sat – Sun
$2
Monthly
$70
Notes
 
Station
West Roxbury
Mon – Fri
$6
Sat – Sun
$2
Monthly
$105
Notes
 
Station
Westborough
Mon – Fri
$6
Sat – Sun
$2
Monthly
$105
Notes
 
Station
Weymouth Landing/East Braintree
Mon – Fri
$4
Sat – Sun
$2
Monthly
$70
Notes
 
Station
Whitman
Mon – Fri
$6
Sat – Sun
$2
Monthly
$105
Notes
 
Station
Wilmington
Mon – Fri
$6
Sat – Sun
$2
Monthly
$105
Notes
 
Station
Wollaston
Mon – Fri
$5
Sat – Sun
$2.50
Monthly
$87.50
Notes
Prices may change after station renovation
Station
Wonderland Garage
Mon – Fri
$7
Sat – Sun
$2
Monthly
--
Notes
 
Station
Wonderland Lot
Mon – Fri
$7
Sat – Sun
$2
Monthly
$122.50
Notes
 
Station
Woodland Garage
Mon – Fri
$6
Sat – Sun
$3
Monthly
--
Notes