What to Expect on Your Trip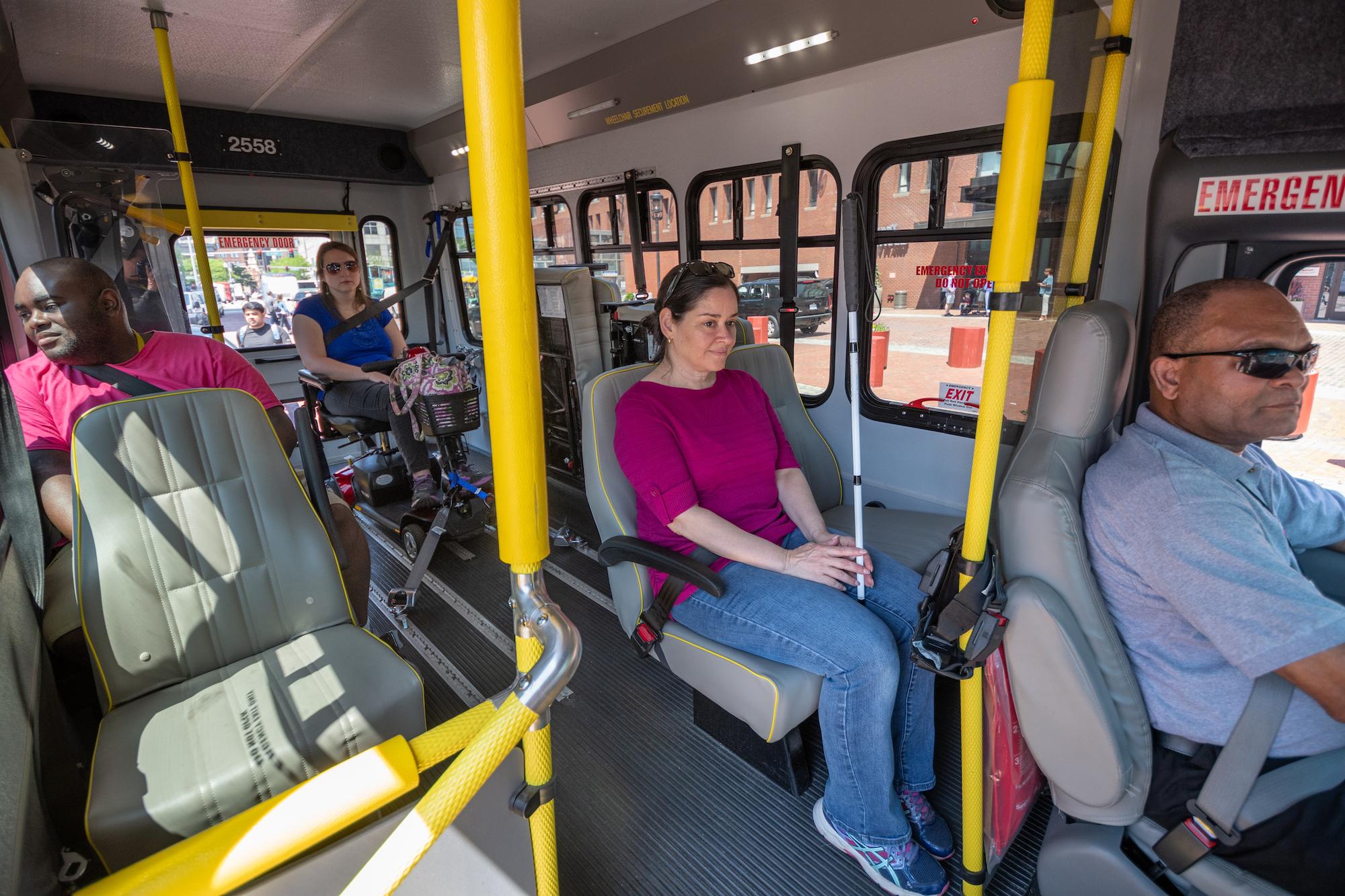 ---
Temporary Changes to The RIDE
Updated May 29, 2021
All riders and drivers are required to wear face coverings while on MBTA vehicles, including people who are fully vaccinated. 
As part of the continuing effort to protect the health and safety of customers and MBTA employees, and to preserve the continuity of essential travel services, the following service changes have been made in consultation with The Riders' Transportation Access Group, the Boston Center for Independent Living, and the Massachusetts Senior Action Council. 
Consistent with the MBTA's decision to remove capacity restrictions from vehicles, ridesharing has been fully reintroduced as of May 29, 2021. 
The RIDE Eligibility Center (TREC)is closed for in-person appointments until further notice. All interaction with TREC, including ADA Visitor Requests, will be conducted during business hours over the phone. 
Booking windows have been adjusted. As of May 29, RIDE customers need to book trips 1 – 5 days in advance.
The RIDE customers can book trips to travel to and from their vaccination or testing appointments.
We recommend customers book two trips on The RIDE—one for your drop off at the site, and one for your return trip.
Booking the day before: Schedule a trip online or call 844-427-7433.
Booking with flexibility: The RIDE Flex* with Uber and Lyft enables customers to book trips within minutes of needing them. 
*The RIDE Flex is a pilot program available to all eligible RIDE customers. It includes options to:
Request a Wheelchair Accessible Vehicle (WAV)
Order trips with or without a smartphone
Sign up and be approved within 2 business days (including switching providers)
For in-person vaccination and testing sites:
To be dropped off, schedule your trip based on your appointment time. Leave some extra time in case of delays.
For your return trip, please allow extra time as the site may require you remain there for observation.
For drive-through vaccination and testing sites:
Please note that The RIDE vehicles will not stay at the site during your vaccination or test.
Confirm with the site in advance that you can be vaccinated or tested without a vehicle.
Since customers cannot stay in the vehicle, follow the same booking tips as you would for an in-person site.
All Massachusetts vaccine sites offer:
Accessible entrances
Waiting areas with seating available before and after vaccine appointments
Staff available for mobility assistance and direction
Accessible pick-up and drop-off areas
Wheelchairs provided on-site
In-home Vaccination Programs
In-home vaccination programs offered by the state may be available to people unable to leave their home.
Learn more about in-home vaccination programs
Riders can also check with their local board of health or council on aging, as some municipalities are operating local homebound vaccination programs as well.
Mass Health Transportation
All MassHealth members are eligible for transportation to and from vaccine sites. Members who normally have access to transportation can ask their doctor to submit a vaccine transportation request on their behalf.
Call the MassHealth Customer Service Center at 800-841-2900.
RideMatch
RideMatch assists users in finding public and private transportation options in their community.
---
Getting Ready for Your Trip
Be ready to travel at least 5 minutes before your scheduled pick-up time. Please be prepared to wait up to 15 minutes after that time for The RIDE to arrive, and dress appropriately for the weather. Carry needed medications, oxygen, etc. in case you travel longer than expected.
The driver will go to your door and wait for you—up to 5 minutes after your scheduled pick-up time. If you are not there after 5 minutes, the driver will contact their dispatcher to get clearance to leave.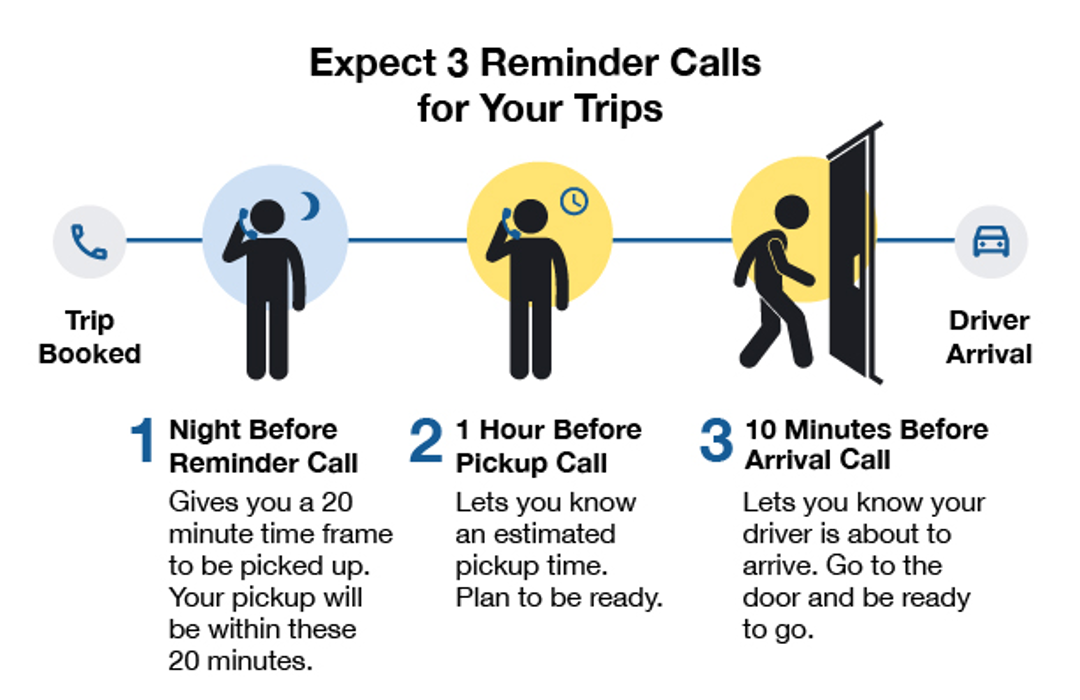 Your RIDE is not considered late until 15 minutes after your scheduled pick-up time. If it has not arrived in that time window please contact The RIDE Access Center (TRAC). 
You can track your driver's estimated time of arrival within 1 hour of your pick-up window using the web portal, or interactive voice response (IVR) system. The web portal allows you to track your vehicle on a map.
Do not leave your pick-up location to call before the end of the 15-minute waiting period.
Please be patient—schedules change for many reasons, including traffic, customer delays, and weather. Dispatchers coordinate with drivers, MBTA staff, and customers to troubleshoot problems and keep schedules running on time.
If you require assistance at any time, call TRAC as soon as possible at 844-427-7433.
When Your Driver Arrives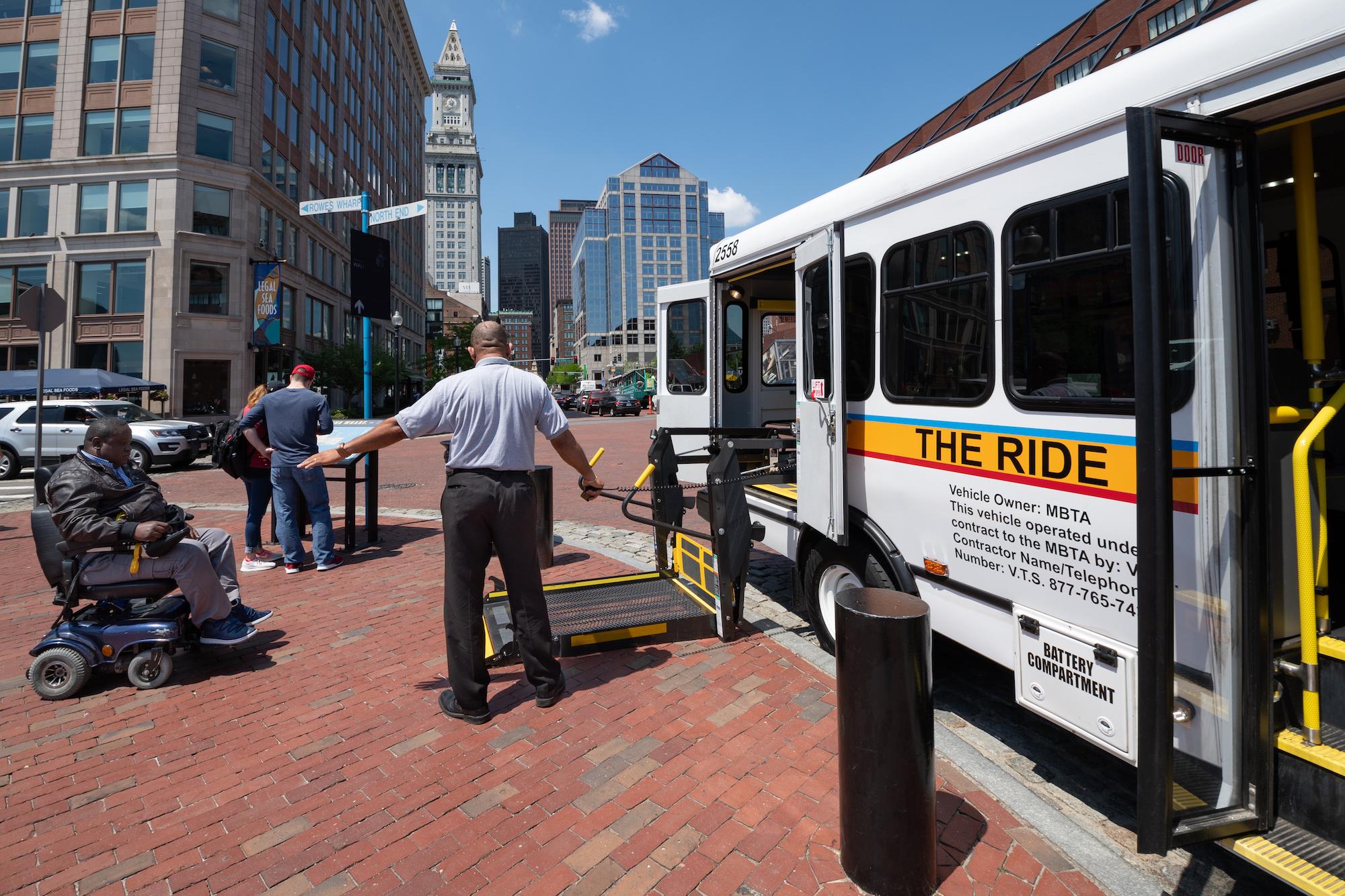 All drivers receive sensitivity and safety training. They'll ask for your name to ensure they're picking up the correct person. Let them know if you'd like to use the lift to board the vehicle.
Even if you have a PCA traveling with you, your driver will assist you door-to-door to and from the RIDE vehicle. However, your driver can't accompany you inside your home, or past the main lobby of buildings.
If you have personal items, your driver must be able to carry them in one trip while safely assisting you. Please limit heavy or large items. Transportation will not be provided to customers who do not follow this policy at time of pick-up.  
Children need to ride in a customer provided car seat that is appropriate for their age and weight. Drivers will assist in carrying the seat to and from the vehicle, but the customer or their PCA must provide and install the car or booster seat in accordance with all federal and state laws. School transportation is not provided.
Mobility Devices on The RIDE
If you're able to walk, but use a manual wheelchair or walker, the driver will collapse and store it in the cargo area once you're on board. The driver can help you get over 1 curb and 1 step, but can't carry you or your mobility device.
Your driver will offer you the optional use of an MBTA body belt when they greet you. They'll also explain how they will fasten and unfasten seat belts on the vehicle's wheelchair/scooter securement system.
If you use a support cane, you can choose to hold it or store it in the cargo area. You can't store it on the floor of the vehicle. If you use a red or white cane that collapses, you may collapse it and keep it with you.
Transfers
Trips spanning multiple communities within the MBTA service area, or trips to MetroWest Regional Transit Authority and Brockton Area Transit, may require a transfer trip. If your trip originates in the MBTA service area TRAC will coordinate travel on your behalf.
You will either remain on your vehicle until the actual transfer to the other vehicle takes place, or if required, be assisted to the receiving agency's transfer location and then continue on your trip. There is no assistance available at the Brockton Area Transit drop location.
Running Late for your RIDE?
If you are delayed at an appointment, call TRAC at 844-427-7433 and ask to be put on "will-call" status. This will trigger the premium non-ADA fare of $5.60.
We'll do our best to incorporate your modified trip into the day's schedule, but it may not be guaranteed. Always book your return trips with sufficient time should unforeseen circumstances arise.
The RIDE Guide
Download a PDF version of the important information that explains how to get started with The RIDE.
The RIDE Guide
Download a PDF version of the important information that explains how to get started with The RIDE.