What to Expect on Your Trip
More from

The RIDE

Learn more about The RIDE, MBTA's door-to-door, shared-ride paratransit service.
Getting Ready for Your Trip
Be ready to travel at least 5 minutes before your scheduled pick-up time. Please be prepared to wait up to 15 minutes after that time for The RIDE to arrive, and dress appropriately for the weather. Carry needed medications, oxygen, etc. in case you travel longer than expected.
The driver will go to your door, and then must wait for you—up to 5 minutes after your scheduled pick-up time. If you are not there after 5 minutes, the driver will contact their dispatcher to get clearance to leave.
Your RIDE is not considered late until 15 minutes after your scheduled pick-up time. If it has not arrived in that time window, please call The RIDE Access Center (TRAC) at 844-427-7433 to locate the vehicle or estimate its time of arrival. Do not leave your pick-up location to call before the end of the 15-minute waiting period.
Please be patient—schedules change for many reasons, including traffic, customer delays, and weather. Dispatchers coordinate with drivers, MBTA staff, and customers to troubleshoot problems and keep schedules running on time. 
If you require assistance at any time, call TRAC as soon as possible.
When Your Driver Arrives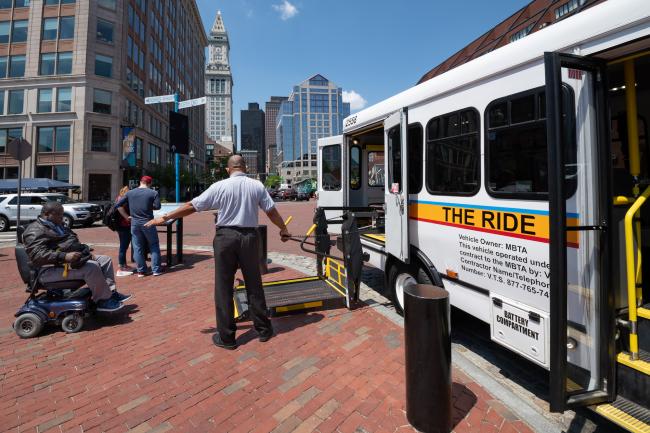 All drivers receive sensitivity and safety training. They will ask for your name to ensure they're picking up the correct person. Tell them if you'd like to use the lift to board the vehicle.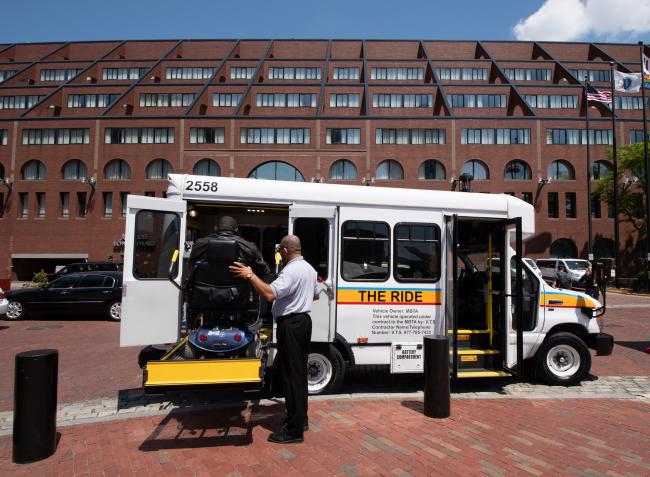 They will assist you door to door to and from the RIDE vehicle, but they can't accompany you inside your home or past the main lobby of buildings.
Even if you have a personal care assistant (PCA) traveling with you, your driver will assist you with getting on and off the vehicle.
Keep in mind that if you have personal items, your driver must be able to carry them in one trip to or from the vehicle while at the same time safely assisting you. Please limit heavy or large items. Transportation will not be provided to customers who do not follow this policy at time of pick-up.  
Manual Wheelchair and Walker Users
If you're ambulatory but use a manual wheelchair or walker, the driver will collapse and store it in the cargo area once you're on board. The driver can help you get over 1 curb and 1 step, but cannot carry you or your mobility device.
Cane Users
If you use a support cane, you can choose to hold it or store it in the cargo area. You can't store it on the floor of the vehicle.
If you use a red or white cane that collapses, you may collapse it and keep it with you.
Power Wheelchair and Scooter Users
Your driver will offer you the optional use of an MBTA body belt when they greet you. They'll also explain how they will fasten and unfasten seatbelts on the vehicle's wheelchair/scooter securement system.
On Your Trip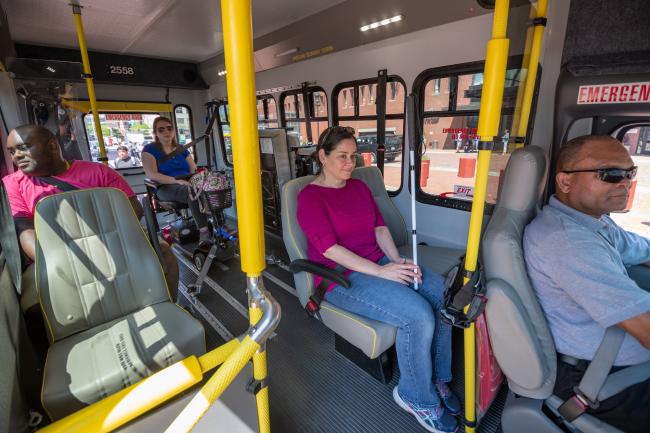 Once you're on the way, please follow The RIDE's policies to ensure that everyone has a pleasant trip.
Transfers
If your trip has a transfer, your driver will take you to the designated transfer point. You will stay on the first vehicle until the second one arrives, and then your driver will assist you to make the transfer.
Appointment Delays
If you are delayed at an appointment, call TRAC at 844-427-7433 and ask to be put on "will-call" status. This will trigger the premium non-ADA fare.
TRAC will do its best to incorporate your modified trip into the day's schedule, but it may not be guaranteed. Always book your return trips with sufficient time should unforeseen circumstances arise.