More from

Reduced Fares

Learn more about reduced fare programs available for children, students, seniors, and people with disabilities.
It's easy to take the T to school. In fact, most middle and high school students in Boston take it every day! 
College students are not eligible for reduced fares through the MBTA, but some schools offer a Semester Pass. Contact your college administrator for more details.
Card Types
Students receive a discount on fares on the bus and subway. Check with your school administrator or Boston Public Schools (BPS) Transportation to find out if you're eligible and how to get a card.
All student passes expire on August 31 of each year.
There are 2 types of cards in the program. Which one you receive depends on your school.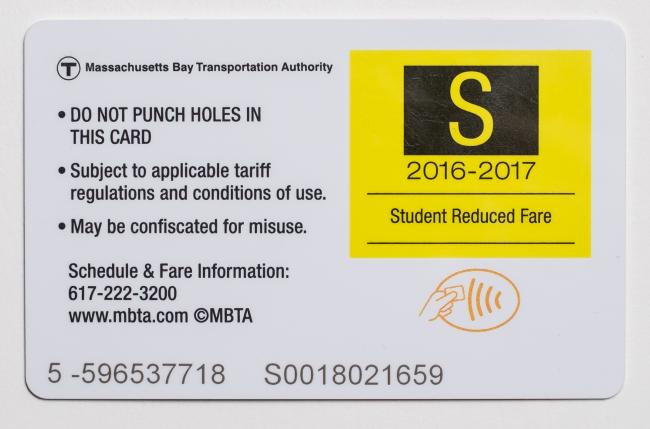 S-Card 
An S-Card is just like a CharlieCard, so you can add cash value, buy monthly passes, and use it to tap into T vehicles and stations. S-Cards work on the subway, local bus, and express bus.
M7 Card 
M7 cards are pre-loaded monthly passes for the school year, from September to June. They work on the bus, subway, and Commuter Rail Zones 1A, 1, and 2. In July and August, you can use your M7 card like an S-Card, and load cash value or passes onto it. 
Paying Your Fare
Bus and Subway
S-Card
You can load value or passes onto it at any fare vending machine or at fare boxes on buses and above-ground Green Line trolleys. Then just tap the black box on the fare gate or fare box to enter.
M7 Card
Your card is pre-loaded with monthly passes for the school year, so just tap through the gates or at the fare box. 
Commuter Rail and Ferry
S-Card
Show your S-Card at the ticket window or on the ferry or Commuter Rail* to pay 50% of the standard 1-way fare in cash.
If you pay on board, there is an additional $3.00 fee.
M7 Card
M7 Cards work on the Commuter Rail* zones 1, 1A, and 2.
Show your M7 Card at the ticket window or on the train if you're traveling further than that to pay 50% of the interzone fare. Do the same if traveling by ferry.
* Students can also receive the reduced rate on Commuter Rail by showing a valid middle or high school ID.
Please note, discounted monthly passes are not available for the ferry or commuter rail. You can purchase 10-ride tickets for 50% of the standard fare.
Planning Your Trip
The T has a Trip Planner that can help you find the best route to your school. You can even tell it when you need to arrive so you aren't late. Review your route options with your parent or guardian to choose the one that's right for you.
Each morning, check the Service Alerts to make sure your bus or train is running on time. Traffic, weather, mechanical problems, and more can delay service, and our Alerts have the most up-to-date information about what's going on.
While You Ride
To help make riding the T a pleasant experience for everyone, follow our rider etiquette guide, and read our rules for bringing bikes on the T.
Staying Safe
Be aware of your surroundings when riding public transportation. Follow our safety tips and remember—if you see something, say something.
More Information
Visit the Boston Public Schools Transportation webpage or contact your school administrator for more information about transit options for students.
School administrators can learn more by visiting the pass program website or by calling 617-222-5710.