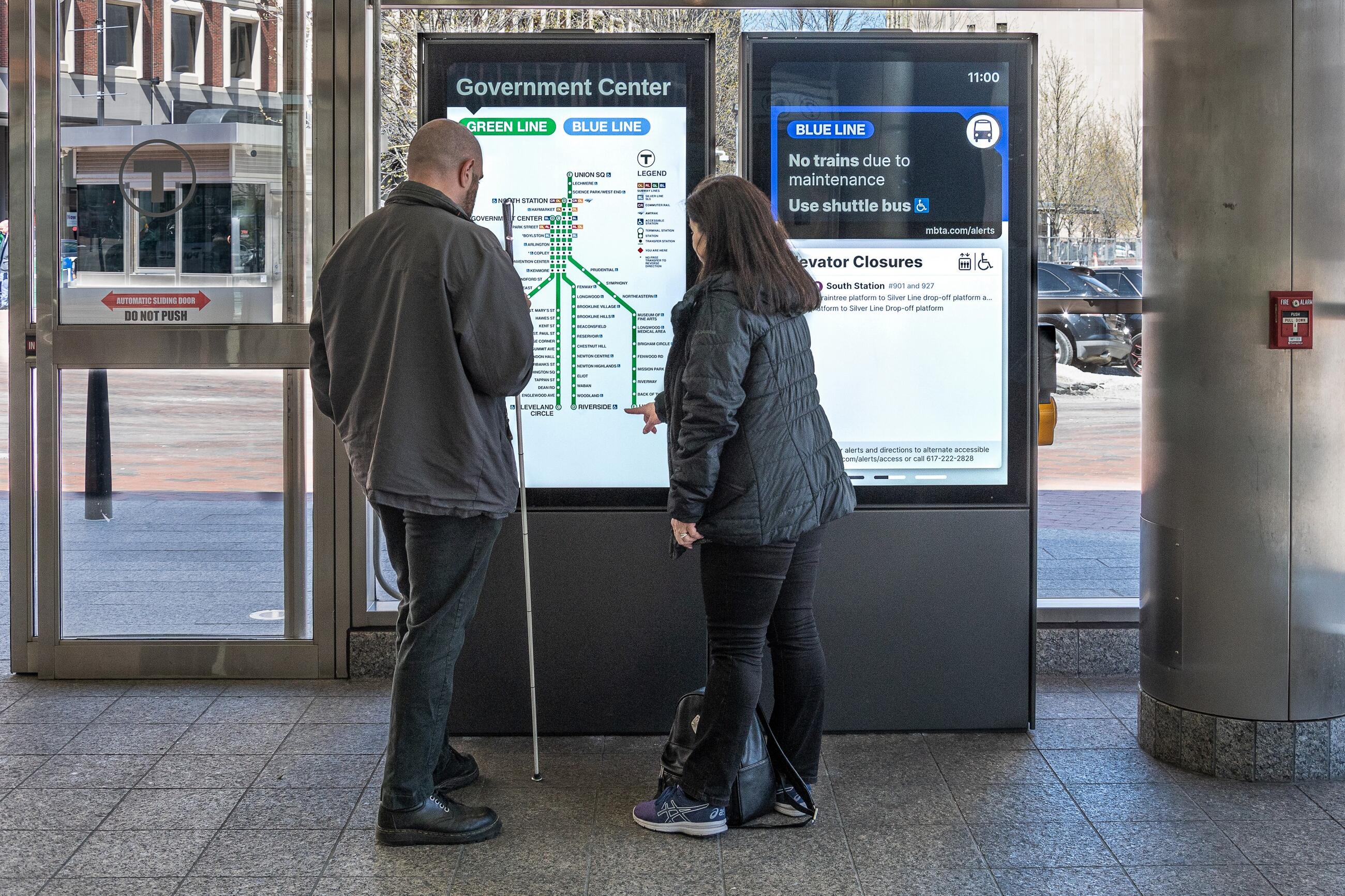 In 2019, the MBTA Department of System-Wide Accessibility (SWA) and the Customer Technology Department (CTD) partnered to create a program focused on finding and developing technology to improve our system's accessibility. In this program, we explore ways to harness technology so that riders with disabilities have better, more accessible journeys on the T. CTD teams are always working on new tools that enhance communication and improve mobility. 
We Want to Hear from You
We invite you to give us your suggestions, questions, or complaints about accessible technology. Please contact MBTA Customer Support, let us know if your comments are related to accessibility, and provide as many details as possible so we can give the most helpful response.
Phone
Voice: 617-222-3200
TTY: 617-222-5146
Identifying Problems and Solutions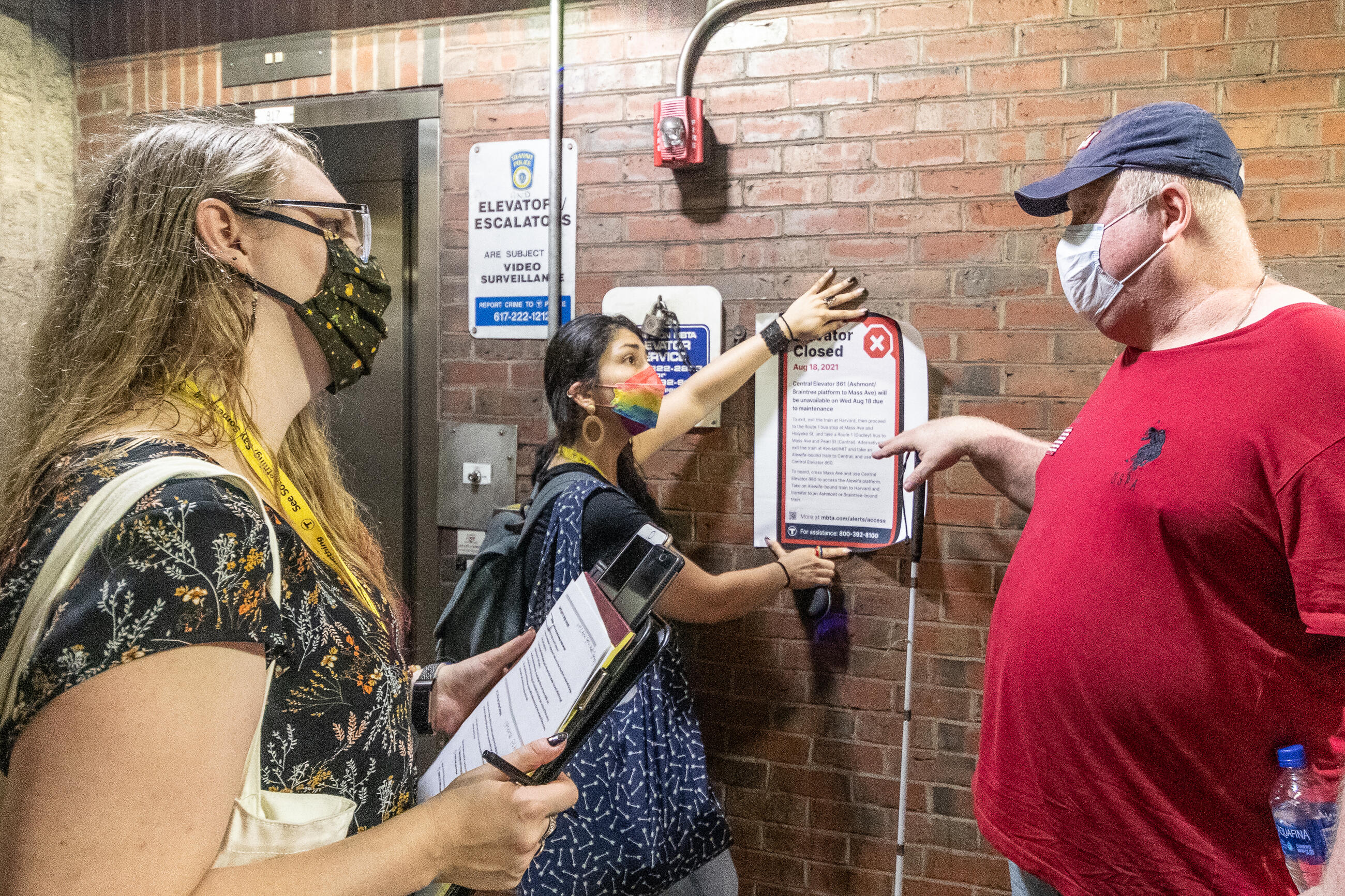 Our first step is to identify existing problems by turning to our greatest resource—our riders. When we listen to comments at public meetings, hold focus groups, or go with riders on ride-alongs during their daily commutes, our first goal is to understand the problems faced by riders with disabilities before we explore accessible solutions.
Here are some of the problems you've helped us identify, and a few of the solutions we've developed.
Current projects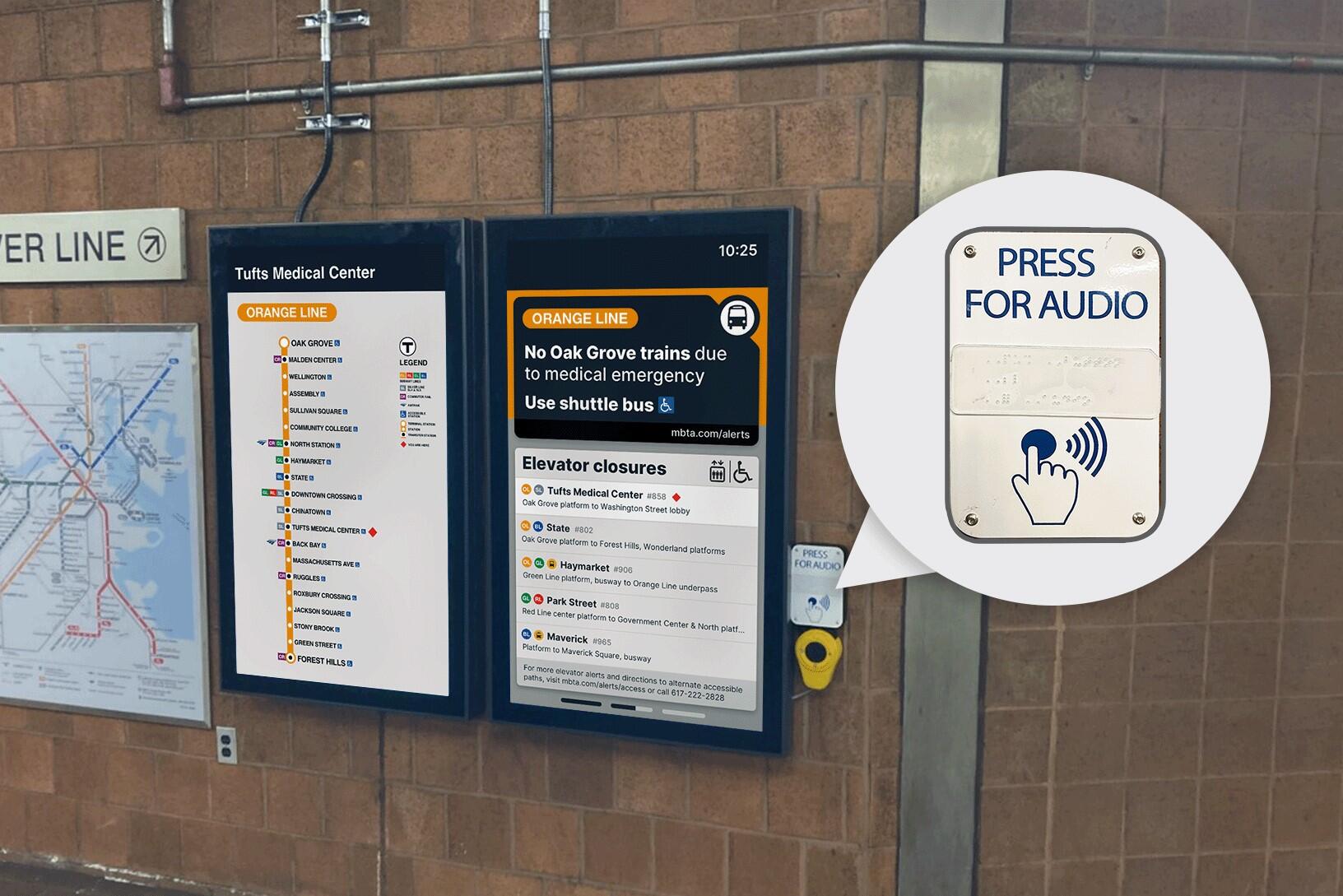 Several accessible technology projects are currently underway at the MBTA, with pilot programs in active development.
Exploratory projects
Some projects are still in the "brainstorming" phase. This includes actively researching existing technology to study how it might benefit our riders.
The Mobility Center Can Help You Choose How to Ride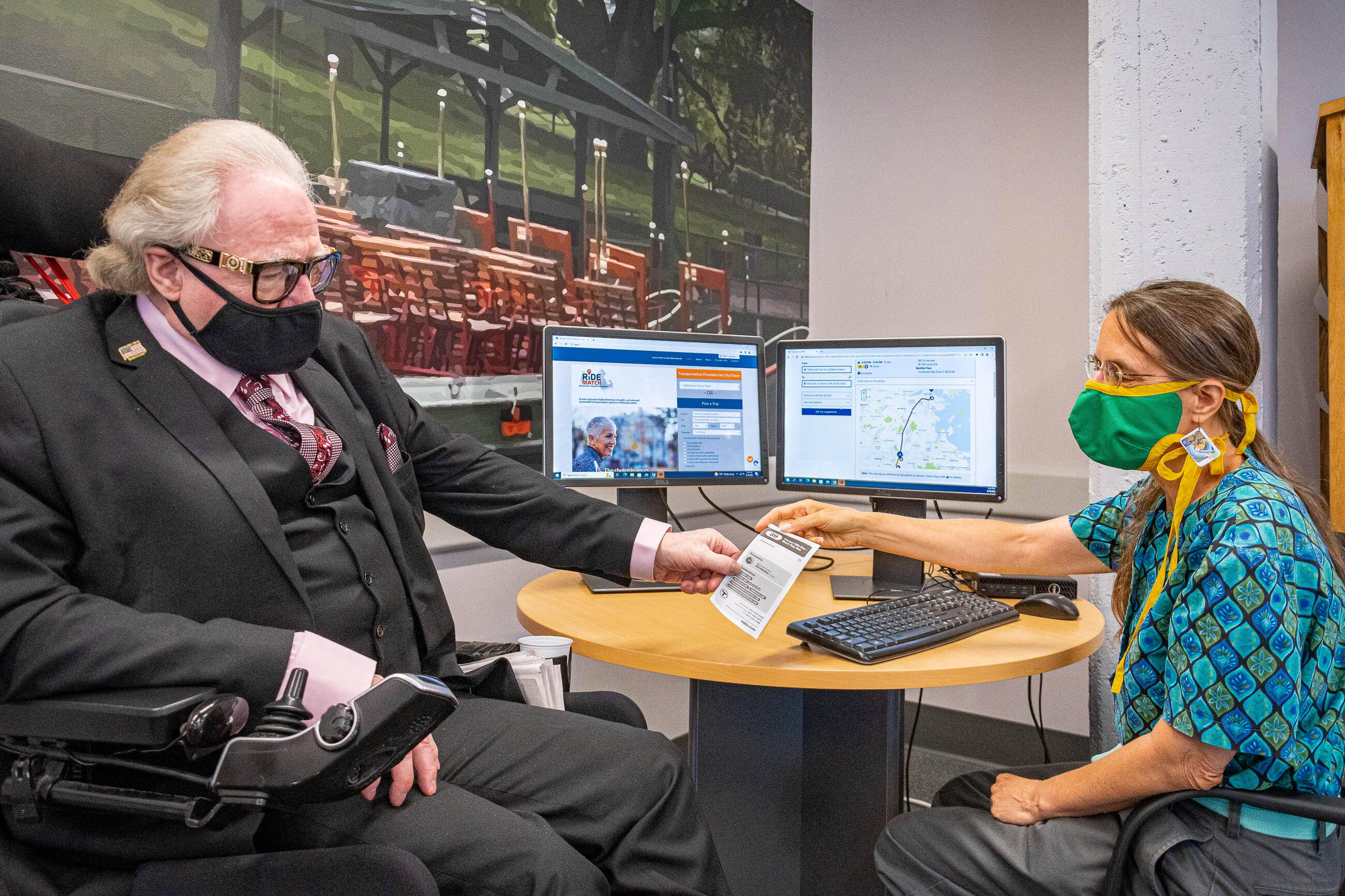 The Mobility Center, located in Boston at 1000 Massachusetts Ave, can help you plan trips, apply for reduced fare passes, sign up for The RIDE, and more.
Call boxes are currently located in every station to connect riders to the Operations Control Center (OCC), so they can ask questions about their journey on the T. Call boxes don't require that riders have Internet access, but they provide only audio assistance. Call boxes can be difficult to find, and older boxes provide lower-quality sound. We're researching how call boxes are used today, and how we can improve them to make calling for help at a station more accessible for everyone.
In 2016, Perkins School for the Blind developed Blindways, an iPhone app that uses navigational clues to help riders who are blind or have low vision to find and navigate MBTA bus stops. While helpful, clues were provided by app volunteers, and did not always provide enough context to help riders find their way with confidence. 
In 2021, we started exploring ways to use emerging technology to upgrade Blindways. A strong contender is ultra-wideband (UWB) radio technology, which provides real-time micronavigation. This gives users more precise information about locations and directions, which could help them feel safer and more confident while traveling to bus stops. UWB beacons are significantly more accurate and reliable than Bluetooth beacons. Products such as Apple Airtag trackers use UWB to help people find things like keys by using an iPhone app.
We are continuing our UWB research, and investigating opportunities for potential future pilot programs.
Providing accessible wayfinding to blind and low-vision riders can be a challenge in indoor environments where GPS often doesn't work. Luckily, new technology is emerging to help riders safely navigate from a station's entrance to a subway platform, and from the train to the exit.
We're working with indoor wayfinding companies and considering piloting their technology at some stations. Once we determine the best approach for a pilot, we'll seek feedback on these applications from blind and low-vision users, local community groups, and potentially from the general public. If feedback is positive, we'll consider permanently installing the pilot technology, and expanding it to other locations.
Past explorations and accomplishments
We're always learning from our efforts, whether we're deploying a pilot or collaborating with other organizations. Below are some of our recent research efforts:
Analyzed barriers to access at bus stops—this led Google Maps to make Boston one of the first cities included in their new wheelchair-accessible trip-planning feature
Interviewed an orientation and mobility (O&M) specialist
Conducted 13 interviews and went on four ride-alongs with riders who are blind or have low-vision
Interviewed six riders who depend on elevators
Formed a focus group with over 15 riders who are blind or have low vision
Held five app-testing sessions
Collected informal feedback and input from dozens of riders
Below are a couple of the questions and answers we've uncovered in our work that helped us shape the accessible technology projects we're working on today.
The MBTA has an elevator and escalator outage hotline that riders can call to hear recordings of accessibility-related outages that may impact their travel. Because the outages are given in audio format, anyone with a telephone can call in, ensuring that riders without Internet access have the ability to make informed decisions about their travel.
CTD recently automated this hotline to provide real-time, automatic updates. Previously, outage messages were manually recorded every two hours. The upgrade improved audio quality and timeliness of available information, and reduced the amount of work involved for the Operations team.
Aira is a visual interpretation service that connects blind and low-vision users with highly trained agents who provide real-time information about users' surroundings. In 2019, we launched a six-month pilot program to explore ways that MBTA riders could use Aira. We set up areas around MBTA stations and stops where riders could use the app for free to ask transit-related questions.
Here's what we learned:
Participants enjoyed having access to a real-time agent who provided support for tasks like getting directions, reading signs, and finding seats
Only a handful of participants accessed the app on a regular basis during the pilot
Connectivity issues sometimes resulted in dropped calls
Most calls were successfully completed quickly, and would be covered under Aira's free five-minute call plan
Related Projects
Related Projects